The China-Pakistan Economic Corridor—Hard Reality Greets BRI's Signature Initiative
The Belt and Road Initiative's flagship project in Pakistan is struggling to fulfill China's hopes.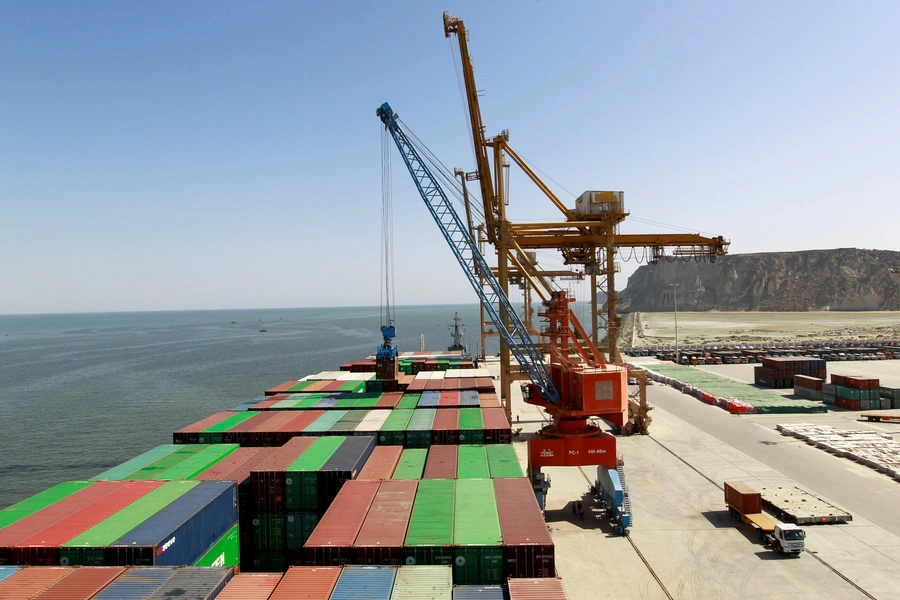 Jennifer Hillman and David Sacks are codirectors of the CFR-sponsored Independent Task Force report on a U.S. Response to China's Belt and Road Initiative, which is co-chaired by Jacob J. Lew and Gary Roughead. 
During an April 2015 visit to Islamabad, Chinese President Xi Jinping and Pakistani Prime Minister Nawaz Sharif unveiled the $46 billion China-Pakistan Economic Corridor (CPEC), the Belt and Road Initiative's (BRI) flagship project and its most ambitious undertaking in any single country.
Beijing hoped to leverage its close partnership with Islamabad to build new transportation and power infrastructure across the country, setting Pakistan's economy on an improved trajectory and providing a model that other BRI countries could follow. Left unspoken were the Chinese government's likely hopes that CPEC would open up a direct route between China and the Indian Ocean, that a prosperous Pakistan would no longer be a hotbed of extremism, in turn stabilizing Xinjiang (though anger in Xinjiang is primarily driven by Beijing's brutal policies there), and that a stronger Pakistan would advantage China over its strategic competitor, India, and by extension the United States.
CPEC quickly ballooned to $62 billion in pledges—one-fifth of Pakistan's GDP—covering dozens of envisioned high-profile projects. The derelict port of Gwadar, located on the Arabian Sea at the mouth of the Strait of Hormuz, emerged as CPEC's jewel. China planned to transform it into a modern port, build supporting infrastructure, and establish a free trade zone next to the port.
Most CPEC funds, however, have gone to building new coal-fired power plants to help Pakistan overcome its crippling power shortages. Other prominent projects included a $7 billion upgrade to the railway from Peshawar to Karachi, two hydroelectric power plants in the disputed Kashmir region, a metro system in Lahore, the establishment of multiple special economic zones (SEZs), and Huawei fiber-optic cables running from China to Pakistan.
Pakistani Prime Minister Sharif called CPEC a "game changer," and it did improve Pakistan's infrastructure, reduce its blackouts, create tens of thousands of jobs, and boost economic growth.
At the same time, CPEC was plagued by stalled projects, reports of corruption, and terrorist attacks. A Pakistani government committee concluded that Chinese contractors were overcharging Islamabad by $3 billion on two CPEC power plants, and reports emerged that Chinese investors were guaranteed large annual returns on their investments. Almost no commercial shipping calls at Gwadar, and the Lahore metro appears to be economically unviable. Although Pakistan formed a fifteen-thousand-person security force to protect CPEC construction, it was not enough to prevent a string of terrorist attacks.
Pakistanis began to criticize CPEC, arguing that China benefited more from the initiative than Pakistan, and in response CPEC was effectively put on hold and then rebooted in a slimmed-down package.
Although Pakistan's economic woes preceded BRI, CPEC sparked a further rise in the country's debt. The International Monetary Fund (IMF) warned that CPEC was contributing to a widening current-account deficit in Pakistan, as the country imported billions of dollars of materials for the projects. Pakistan soon experienced a balance-of-payments crisis and turned to the IMF for a three-year, $6.3 billion bailout.
Pakistan began undertaking the painful reforms necessary to get its economy back on track, but because of COVID-19 its economy contracted in 2020. Pakistan is now looking to delay debt repayment to China for a decade and drastically cut the interest rate on loans from Chinese banks. Ultimately, CPEC is unlikely to ever fulfill the grand vision laid out in 2015. Going forward, CPEC instead will comprise smaller projects with less potential economic impact.
CPEC has likely been a humbling experience for China; if it could not pull off transformative development in a country with which it enjoys strong ties and shares a border, then it will have to scale back its ambitions in other BRI countries.
Even with CPEC's shortcomings, however, the initiative has the potential to bolster China in its growing geostrategic rivalry with India. With control of the Gwadar port in Pakistan and the Hambantota port in Sri Lanka, as well as construction of the Payra port in Bangladesh, China's navy has the potential to gain access on all sides of India. China has been pressing Pakistan to strengthen its control over contested areas of Kashmir because Beijing wants to avoid the appearance of CPEC projects being built in disputed territory. As a result, negotiation over the Kashmir issue will become more difficult, and China could use its economic leverage over Pakistan to encourage it to take a more aggressive position vis-à-vis India in an attempt to weaken New Delhi.
CPEC has implications for U.S. interests. The United States does not necessarily need to worry about new roads, railways, or even ports being built in Pakistan. The United States should welcome them if they are economically viable and contribute to Pakistan's economic growth and political stability.
At the same time, with a retired Pakistani general now overseeing CPEC's implementation and China working primarily through the Pakistani army to smooth out any political or economic issues and silence critics, the initiative has strengthened the Pakistani military's role in society, further eroding the country's democracy.
China's construction of telecommunications infrastructure and fiber-optic cables in Pakistan also has the potential to enable Pakistan to crack down on civil liberties and spread Chinese internet governance norms.
China also probably has ensured that a prominent Muslim country on its border will not speak out as Beijing continues to persecute its Uyghur minority. China meanwhile has used its seat on the UN Security Council to shield Pakistan-based terrorist groups from terror designations and international sanctions.
Finally, because Pakistan has access to another source of largely unconditional aid, the ability of the United States to marshal Pakistan's support on regional issues and counterterrorism is diminished.
CPEC is unlikely to ever fulfill the aspirations that Xi Jinping and Nawaz Sharif articulated in 2015. While CPEC has contributed to an improvement in Pakistan's infrastructure, its shortcomings, principally corruption, opacity, and a willingness to fund economically unviable projects, have led Beijing and Islamabad to moderate their expectations.
China has had mixed success investing tens of billions of dollars in Pakistan, a country with which it shares a border and enjoys strong historical ties. CPEC thus stands as an example of BRI's limits and leads to questions about the initiative's wager that massive investments in infrastructure alone can lead to transformational change in countries.