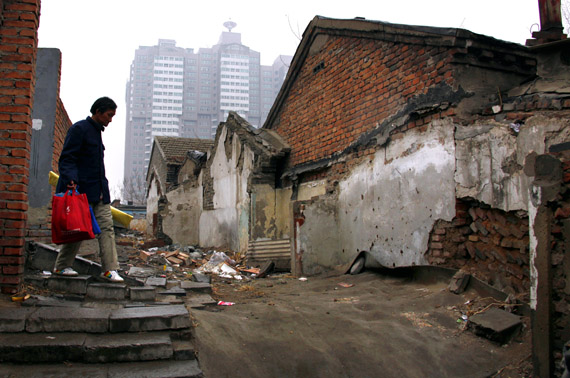 Over at The New Yorker, Evan Osnos has posted a fun piece on his "Letter from China" blog.  He nicely captures the ambivalence so many in China seem to feel these days about becoming the world's second-largest economy.
"Why the long face," Evan asks?  The news "has sent China into a frenzy of self-flagellation, in the hope of reminding people that it is still home to a lot of very poor people."
Actually, this is hardly the first time we've seen China go into this kind of denial:  Back in 2006, China became the world's number one emitter of greenhouse gases.  And in 2009, according to the International Energy Agency (IEA), it became the world's largest consumer of energy.   Now, in the second quarter of 2010, China, at $1.33 trillion, became the world's second-largest economy, surpassing Japan and moving into position to overtake the United States by about 2030.
So ... why aren't they cheering in Beijing?
In today's China, where you sit is often where you stand.  Indeed, as I've written before on this blog, including here, here, here, and here, admirals and diplomats like to loudly trumpet China's new clout.  But for China's economic managers, these "achievements" are unwelcome, even dubious, and they obscure the difficult path China has yet to travel.  Such milestones are likely, too, to subject China to much greater international scrutiny—and thus to calls for greater Chinese "ownership" of global problems, and for a greater Chinese burden of responsibility in resolving them.
One response has been to hush up all the big news.  Some in Beijing insist China still trails the United States in greenhouse emissions.  Others flatly contest the IEA's energy figures.  And even the foreign ministry dismisses China's new status as the world's number-two economy, issuing a press release stressing, "China's developing country identity remains unchanged."
In short, different Chinese elites often reach diametrically opposed conclusions from the very same events and trends.
Just take the most recent global financial crisis:  For some in China's strategic class, the crisis reinforced breathtaking conclusions about China's "rise" and American "decline."  It fed sweeping (and exaggerated) conclusions about shifts in the balance of power.  But for China's economic managers, this crisis has been deeply unsettling:  Domestic and household consumption are up; but they aren't rising fast enough to replace global demand as a source of new economic growth.  China is exiting its $586 billion stimulus.  Planners worry about asset bubbles in the property market.  And, despite efforts to "rebalance" the Chinese economy, China ended July with a $29 billion trade surplus.
China's strategic class may preen, then.  But those who focus on China's economy, society, and politics increasingly emphasize difficult challenges and tough questions:  Where will sustained and robust growth come from if global demand remains slack?  Can China manage the political implications of slower growth?  Can China continue to protect its exporters in the face of growing international pressure on the value of its currency?
There's been a boatload of articles lately, using a veritable menagerie to describe today's China.  Crouching tiger.  Hidden dragon.  Ascending phoenix.  Creeping sea-turtle.  Slithering sea cucumber.  (Okay, maybe not the sea cucumber, but you pick your exotic animal ... ).
But, of course, there's more than one picture of China.
Merely saying so has become about as cliché as invoking one of the animals in the menagerie.  And yet it bears repeating, I think, that even as some of their colleagues chest-thump and preen, some in China—and especially some of China's most powerful economic managers—are, in some ways, quite insecure.
Their China is brittle, conflicted, and, let's face it, much less confident.  It's a country with just one umbrella labor federation but beset by sporadic and unpredictable strikes.  It's a country run by a party that came to power with peasant support but peppered with rural violence.  It's a country approaching a political succession in 2012.  And it's a country seeking to pursue an economic transition.
Some Chinese leaders, at least, are quietly wringing their hands.  They seem happy to leave the preening to others, not least in the Chinese military and among China's strategic chattering classes.
Photo courtesy of REUTERS/David Gray.