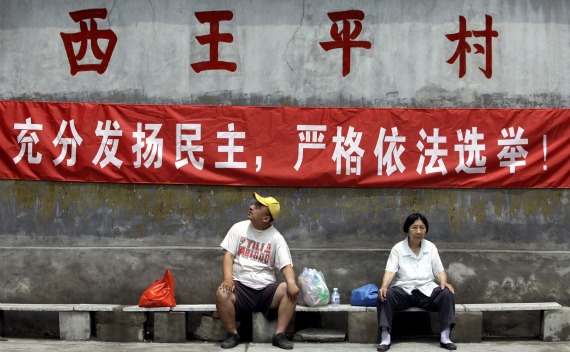 It is election time in China. With more than 2 million seats up for grabs in 2,000 counties and 30,000 townships, it could be a raucous campaign season. Of course, 99.99% of the seats will be won by candidates supported by the Communist Party. However, more than thirty Chinese citizens have announced their intent on microblogs to run for local district legislatures as independent candidates, standing outside the umbrella of the Communist Party. While most are activists of one form or another, at least one businessman is also running (perhaps not surprisingly he works for an internet company).
This is not the first time that "independent candidates" have run—indeed, the lawyer Xu Zhiyong even won his Beijing district's election in 2003. However, the apparent burst of enthusiasm for such independent candidates, particularly in the midst of such a challenging political atmosphere, has left the Party scrambling to find ways to dampen the possibility that many (or should I say any) of these candidates will win. The Chinese media have been reporting on various official statements suggesting that there are a number of bureaucratic hurdles that will have to be overcome for any candidate not backed initially by the party.
While most of the candidates seem unfazed at the prospect of working within the formal system to try their hand at independent politics, "bureaucratic hurdles" may actually turn out to be simply a euphemism for a far more unattractive and extra-legal form of dissuasion. Already, one candidate, Liu Ping—a former iron and steel plant worker turned labor rights activist after she was laid off in 2009—saw her candidacy effectively quashed last month by local officials and police who detained her and harassed her supporters.
Still, other candidates are pushing forward; and once again the Internet is changing the nature of the political game. Li Chengpeng, a writer, is running for a seat in western Chengdu and blogging about it as he goes along. His microblog has almost 3 million followers. Upping the ante is the support offered such independent candidates by public intellectuals and cultural figures such as Yu Jianrong and Han Han; the latter is openly supporting Li on his own blog. The fact that these independent candidates are now followed by people throughout the country places additional pressure on Beijing to adapt to a changing political world. After all, it is one thing if a candidate loses a rigged election and no one hears about it; it is another if several are cheated out of their chance and millions learn of it. Stay tuned as more of these elections play out over the next several months.