The China–North Korea Relationship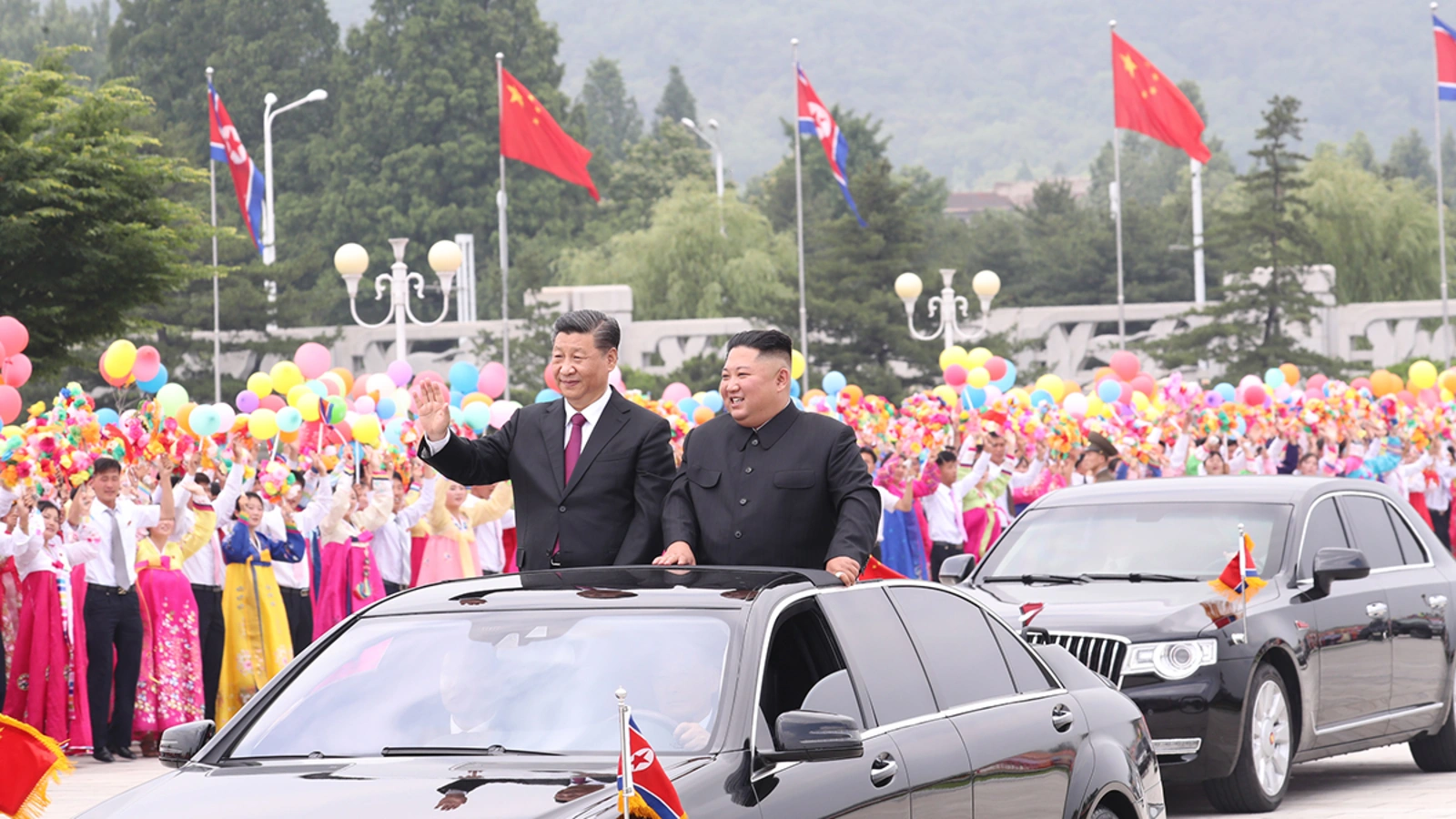 China is North Korea's biggest trade partner and arguably has the most leverage on Kim Jong-un's regime. But while Beijing appears willing to condemn its neighbor's nuclear developments, analysts say its policies remain focused on stability.
Last updated June 25, 2019 8:00 am (EST)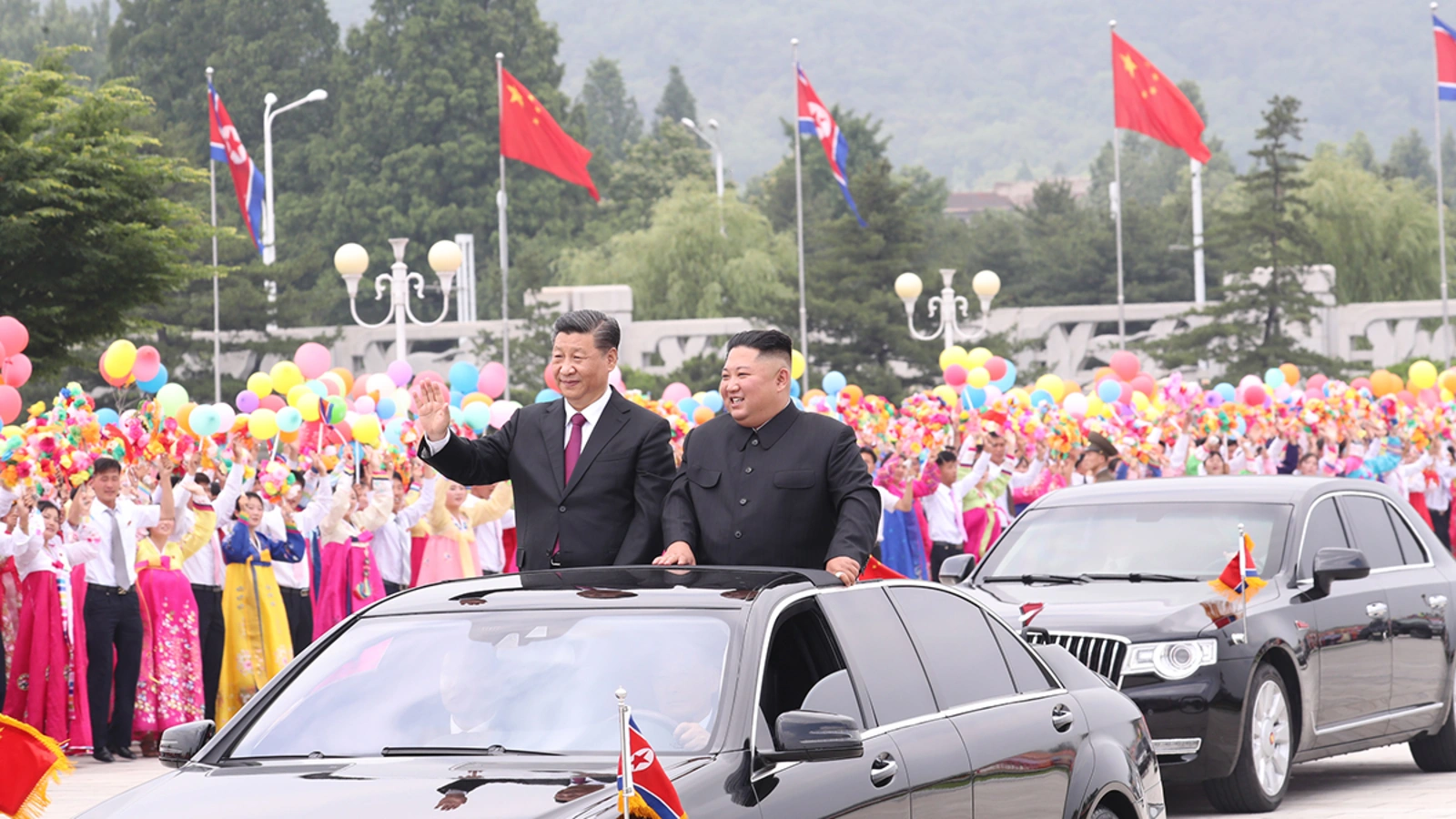 Backgrounder

Current political and economic issues succinctly explained.
China is North Korea's most important trading partner. It has helped sustain Kim Jong-un's regime, and has opposed harsh international sanctions on North Korea in the hope of avoiding regime collapse and a refugee influx across their 870-mile border.
Pyongyang's nuclear tests and missile launches have complicated its relationship with Beijing, which has advocated for the resumption of the Six Party Talks, the multilateral framework aimed at denuclearizing North Korea. A purge of top North Korean officials since Kim came to power also spurred concern from China about the stability and direction of North Korean leadership. Yet North Korea's recent diplomatic push with the United States and South Korea appears to have paved the way for a rapprochement between Kim and China's Xi Jinping.
Relationship Under Strain
China's support for North Korea dates back to the Korean War (1950–1953), when its troops flooded the Korean Peninsula to aid its northern ally. Since the war, China has lent political and economic backing to North Korea's leaders: Kim Il-sung (estimated 1948–1994), Kim Jong-il (roughly 1994–2011), and Kim Jong-un. But strains in the relationship surfaced when Pyongyang tested a nuclear weapon in October 2006 and Beijing backed UN Security Council Resolution 1718, which imposed sanctions on Pyongyang. With this resolution and subsequent ones, Beijing signaled a shift in tone from diplomatic support to punishment. After North Korea's missile launch test in November 2017, China called on North Korea to cease actions that increased tensions on the Korean Peninsula.
Still, China's punitive steps have been somewhat restrained. While China has backed UN resolutions, in some cases it has withheld support until they were watered down. Additionally, Western officials and experts doubt China's commitment to implementing even limited trade restrictions and have at times accused the country of circumventing sanctions.
Beijing continues to have sizeable economic ties with Pyongyang. Bilateral trade increased tenfold between 2000 and 2015, peaking in 2014 at $6.86 billion, according to figures from the Seoul-based Korea Trade-Investment Promotion Agency. With the advent of tougher sanctions, trade growth has slowed, but Pyongyang is still dependent on Beijing for economic activity.
Although Beijing has upheld some of the international sanctions against Pyongyang and taken some measures to squeeze it economically, including the suspension of fuel sales and restrictions on financial activities, relations appear to have thawed.
Aid and Trade for Pyongyang
Overall ties between the two neighbors have grown even amid a drop in trade caused by sanctions. In 2018, Chinese imports from North Korea plummeted by 88 percent, while exports dropped by 33 percent. Even in the face of mounting trade restrictions, established informal trade along the China-North Korea border in items such as fuel, seafood, silkworms, and cell phones appears to be ongoing, signaling that China may be softening its restrictions.
The two countries have expanded physical links in recent years. In September 2015, they opened a bulk-cargo and container shipping route to boost North Korea's export of coal to China, and China established a high-speed rail route between the Chinese border city of Dandong and Shenyang, the provincial capital of China's northeastern Liaoning Province. The same year, the Guomenwan border trade zone opened in Dandong with the intention of bolstering bilateral economic exchanges, much like the Rason economic zone and the Sinujiu special administrative zone established in North Korea in the early 1990s and 2002, respectively.
Beijing also provides aid [PDF] directly to Pyongyang, primarily in food and energy assistance. China, Japan, South Korea, and the United States have provided more than 75 percent of food aid to North Korea since 1995. North Korea, whose famine in the 1990s killed between eight hundred thousand and 2.4 million people, has repeatedly faced extensive droughts and severe flooding, which seriously damage harvests, threatening the food supply. UN agencies estimate that up to 43 percent of the population, or eleven million people, are undernourished and food insecure. An estimated one in five children suffers from malnutrition.
Kim, since declaring his country's nuclear force complete in late 2017, seems poised to prioritize policies aimed at rejuvenating and modernizing the economy. While China has been a source of aid, analysts say the isolated Kim regime is likely to be more interested in exploring potential economic opportunities with its neighbor, including foreign investment.
China's Priorities
China has regarded stability on the Korean Peninsula as its primary interest. Its support for North Korea ensures a buffer between China and the democratic South, which is home to around twenty-nine thousand U.S. troops and marines. "While the Chinese certainly would prefer that North Korea not have nuclear weapons, their greatest fear is regime collapse," writes Jennifer Lind, a professor at Dartmouth University.
The specter of hundreds of thousands of North Korean refugees flooding into China has been a worry for Beijing. China's promise to repatriate North Koreans escaping across the border has consistently triggered condemnation from human rights groups, and Beijing began constructing a barbed-wire fence more than a decade ago to prevent migrants from crossing. The majority of North Korean refugees first make their way to China before moving to other parts of Asia, including South Korea. However, tightened border controls under Kim Jong-un have decreased the outflow of refugees.
Though Beijing favors a stable relationship with Pyongyang, it has also bolstered its ties with Seoul. China's Xi Jinping has met with South Korean President Moon Jae-in and his predecessor, Park Geun-hye, on several occasions. China was South Korea's top trading partner in 2018 and the destination for more than a quarter of the South's exports. Meanwhile, South Korea ranked fourth among China's trade partners.
A Defense Alliance?
Experts say China has been ambivalent about its commitment to defend North Korea in case of military conflict. The 1961 Sino-North Korean Treaty of Friendship, Cooperation, and Mutual Assistance, up for renewal in 2021, says China is obliged to intervene against unprovoked aggression. But Bonnie Glaser of the Center for Strategic and International Studies says the Chinese government has tried to persuade North Korean leaders to revoke the clause that would force Beijing to come to Pyongyang's defense. It has also intimated that if Pyongyang initiates conflict, it would not abide by its treaty obligation and instead stay neutral. Some experts, such as Oriana Skylar Mastro, have suggested that in the event of conflict, Chinese forces may not be involved in coming to North Korea's defense, but rather would seek to play a significant role in shaping a "post-Kim peninsula to its liking."
Kim and Xi did not meet for years but appeared to strike a more amicable chord in March 2018, when the two held a secretive meeting in Beijing that marked the North Korean leader's first trip abroad since coming to power. Xi heralded the tradition of friendship between China and North Korea, and Kim reiterated a commitment to denuclearization and a willingness to hold a dialogue with the United States. The two leaders have since met four more times, in May 2018, June 2018, January 2019, and June 2019. During their most recent meeting, Xi was welcomed to Pyongyang, marking the first time a Chinese leader visited North Korea since 2005. (Xi previously traveled there in 2008 as vice president.)
The meetings between Xi and Kim came as North Korea also participated in summits with the South and with the United States. China has urged world powers not to push North Korea too hard, for fear of precipitating the leadership's collapse and triggering dangerous military action.
Washington's Role
The United States has pushed North Korea to irreversibly give up its nuclear weapons program in return for aid, trade, diplomatic benefits, and normalization of relations. But experts say Washington and Beijing, while sharing the goal of denuclearizing North Korea, have different views on how to reach it.
Washington has tried to pressure Beijing to lean more heavily on Pyongyang and leverage China's economic influence over the North by imposing sanctions on firms or individuals contributing to its ability to finance nuclear and missile development. Some measures target North Korean funds in Chinese banks, while others focus on its mineral and metal export industries, which make up an important part of trade with China. Others have targeted Chinese businesses and individuals believed to be facilitating North Korean financing in violation of sanctions. Meanwhile, the Donald J. Trump administration has challenged the U.S.-China relationship by pressing to bring down the large bilateral trade deficit, spurring the imposition of a series of escalating and retaliatory tariffs by both Washington and Beijing.
The Trump administration has also shaken up U.S. policy toward North Korea and China's mediating role. "The first phase was to treat China as part of the solution, and if that didn't work, then treat them as part of the problem," Victor Cha of the Center for Strategic and International Studies told the Wall Street Journal. The administration's rhetoric on North Korea has vacillated from blustery threats to praise, especially in light of Pyongyang's surge in diplomacy with Washington and the region.
In the long-term, "[the U.S.] goal should be convincing China that as a near superpower, or near peer of the United States, it no longer needs North Korea as a buffer state," write Isaac Stone Fish and Robert E. Kelly in Foreign Affairs.
Looking Forward
Ultimately, China wants to ensure that it will have an influential role in any resolution that materializes on the Korean Peninsula, to protect its own national interests. While questions remain about China's influence over North Korea's behavior, the recent resumption of top-level talks between the two regimes underscores China's importance.
Experts say that the pattern of Kim-Xi meetings serves to enhance Pyongyang's bargaining position with Seoul and Washington. For Xi, the appearance of closer ties with North Korea also helps China in managing its relationship with the United States, demonstrating that Beijing could be useful in brokering a denuclearization deal.
Lindsay Maizland contributed to this article.