Competing with China: Lessons From the Belt and Road
To compete with China's Belt and Road, the U.S. should focus on R&D, immigration, technology, and trade.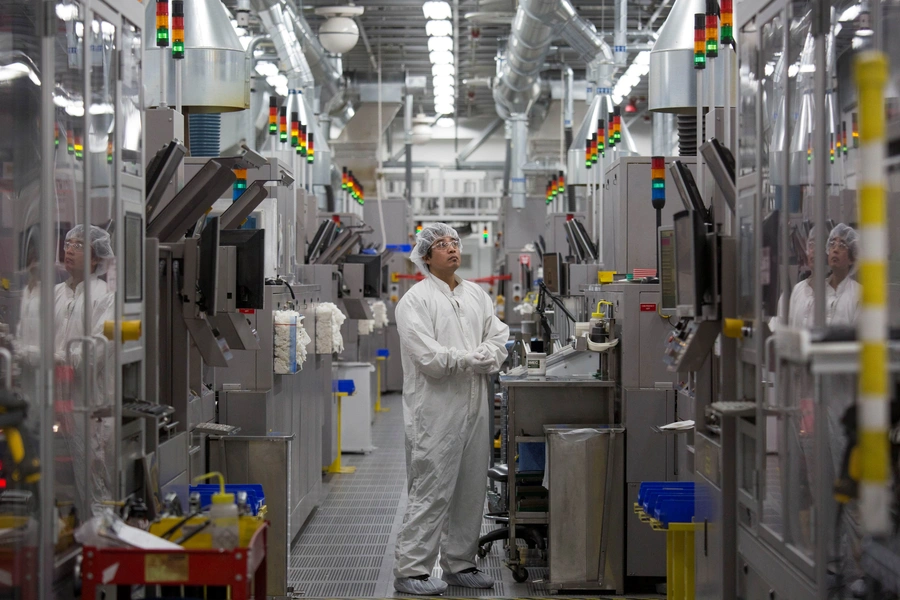 The following is a guest post by Jennifer Hillman, senior fellow for trade and international political economy, and Alex Tippett, research associate for international economics, at the Council on Foreign Relations.
Jennifer Hillman and David Sacks are codirectors of the CFR-sponsored Independent Task Force on a U.S. Response to China's Belt and Road Initiative, which is co-chaired by Jacob J. Lew and Gary Roughead.
A massive global investment program led by the Chinese state, the Belt and Road Initiative (BRI) creates significant risks for the United States' economic and security interests. As our recent Independent Task Force report outlines, to effectively respond to BRI the United States must first become more competitive with China.
Many of the advantages long enjoyed by the United States are starting to decline, particularly in high-tech areas like artificial intelligence (AI). In a few areas, like high-speed rail and 5G, the United States is already outmatched. To counter BRI, the United States has be able offer its partners a compelling alternative to Chinese products, technology, and investment. Last week, President Biden suggested that the United States should, along with its partners, pursue a large-scale infrastructure initiative to rival BRI. For such an initiative to be successful, however, the United States will have to take assertive steps to rebuild its own competitiveness.
That effort should begin at home and be focused on three critical areas: 1) research and development, 2) immigration, and 3) technology and tech standards. It must then move to support U.S competitiveness through actions abroad, particularly through stepped up commercial diplomacy and a reenergized trade agenda.
Support for Research and Development and Basic Science is Critical
To keep our edge in generating the world's leading technologies, the stagnation in federal investment and support for research and development (R&D) must be reversed. Currently, federal R&D spending is at its lowest level in roughly sixty years. China, by contrast, is set to increase its R&D funding by seven percent annually for next five years, starting from an already high level. To effectively compete, the federal government should boost its research and development spending to the historical average of 1.1 percent of GDP, if not more. 
Much of this funding should be directed towards critical areas such as AI, quantum computing, advanced battery storage, and next-generation telecommunications research. In these cutting-edge arenas, public sector investment plays an important role as it can engage in long-term or high-risk projects, as well as basic research, that may not attract the private sector. The fruits of these public sector investments then frequently serve as fuel for private sector innovation.
Fostering innovation and creativity, however, also requires foundational investments in basic science, technology, engineering, and mathematics (STEM) skills. Increasing investment in STEM education at all levels—from kindergarten to graduate school—will be essential to boosting American competitiveness.
This week, as part of the American Jobs Plan, President Biden proposed an additional $180 billion dollars in federal research expenditure in addition to investments in other critical industries. The bill also includes large investments in education and retraining programs. If passed, this spending would likely enhance the United States' ability to offer a competitive alternative to BRI.
Attracting and Retaining Talent Matters
Effectively competing with China will also require the United States reform its immigration system to attract global talent. One area of particular importance is the ability to attract and retain foreign students. In 2015, nearly eighty percent of U.S. graduate students in computer science and electrical engineering were foreign nationals. There is a risk, however, that students in critical areas like AI may choose to return home if the United States does not carry out the reform needed to continue to attract students, potentially cutting off American firms from important human capital.
The Biden administration should move to grant green cards to postgraduate degree holders, raise the cap on H-1B visas, and create visas specifically for those employed in critical technology sectors. The Biden administration's proposed immigration bill already takes an important step in this direction by removing limits on green cards for doctoral STEM graduates. If it is unable to implement policies that allow it to draw on this talent pool, the United States could struggle to keep up with China. As the recent report by the National Security Commission on Artificial Intelligence put it, "immigration reform is a national security imperative."
Particular care should be given to Chinese students, who represent roughly thirty percent of foreign students in the United States. While there are real security concerns associated with certain Chinese students, an overly aggressive set of security policies could discourage the remainder of these students from bringing their talent to this country.
Technology is the Lynchpin
The COVID-19 pandemic has forced China to recalibrate BRI. The building of roads, railways, ports, and power plants has given way to a BRI centered on technology—primarily telecommunications, health care, and financial services. This shift to a technology-focused BRI presents additional risks for the United States.
The success of Chinese companies such as Huawei and ZTE in building 5G in Africa and parts of Asia is making it difficult for Western companies to sell similar technologies in these regions. China's financial technology giants, like Ant Group and Tencent, have used government subsidies and the vast amounts of data available from mobile payment apps to establish dominant positions in many BRI countries. China's preferred technical standards are becoming the norm in many BRI countries, due in part to intense Chinese participation at international standards setting bodies such as the International Telecommunications Union (ITU).
To respond, the United States should support the commercialization of advanced technologies. It should also work to ensure the standards governing those technologies reflect American interests. That means encouraging the U.S. private sector—particularly small and medium-sized enterprises (SME)—to engage with international standards settings organizations, as well as coordinated and consistent participation in standards-setting activities by the U.S. government.
Re-energizing Commercial Diplomacy and Trade
For the United States and American companies to earn back a reputation as a better alternative to China for infrastructure or technology or health care needs, the United States should shore up its commercial diplomacy, clearly communicating the long-term advantages of partnering with U.S. firms—including transparency in terms, financial sustainability, environmental impact assessments, product quality, and greater transfer of skills and knowledge to local workforces—to BRI nations.
Part of that outreach should also include the establishment of regional hubs in Africa, Latin America, and Southeast Asia, staffed with officials from the U.S. Export-Import Bank, Development Finance Corporation, the Department of Commerce, and the Department of State to facilitate the packaging of American technological services into a single competitive tender.
The United States should also look to implement high standards trade agreements that provide opportunities and competitive advantages to American firms. It should build on the U.S.-Japan Digital Trade Agreement and work to maintain a free and open internet linking the U.S. with like-minded countries. It should also signal the interest of the United States in improving and then joining the Comprehensive and Progressive Agreement for Trans-Pacific Partnership (CPTPP).
In sum, China's BRI presents an imposing challenge. The United States can best meet that challenge by making reforms that accentuate its existing strengths. Doing so will allow the United States to offer developing nations a credible alternative to Chinese technology and investment without compromising its fundamental values.