Contenders Shaping Up for 2019 Indonesian Presidential Election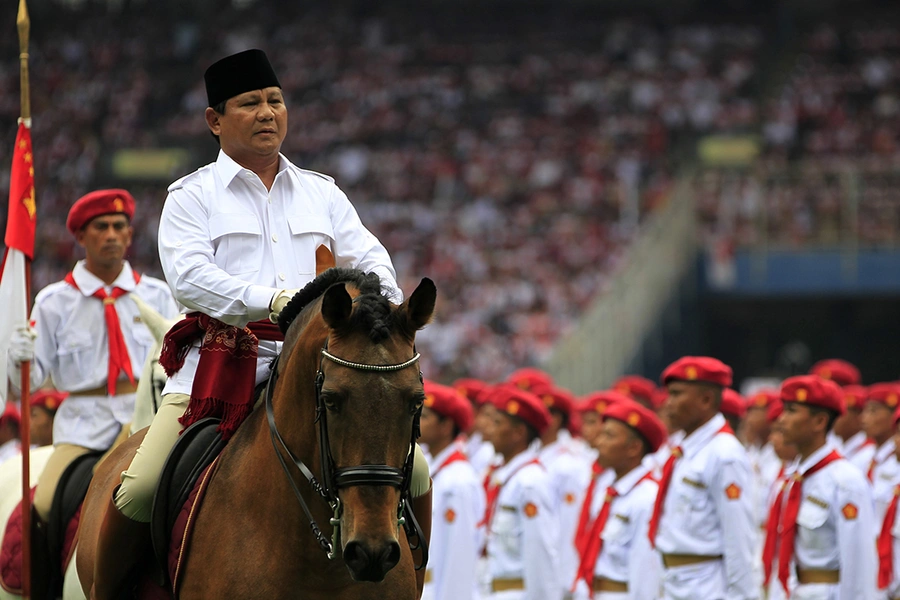 Earlier this month, former Lieutenant General Prabowo Subianto, who ran for president against Joko Widodo, or Jokowi, in 2014, announced that he will be a candidate again in 2019, setting up a possible presidential rematch. Prabowo had seemed to waffle, until recently, on running again, and he still faces obstacles to actually getting into the race. He heads up the Gerindra party, but Gerindra only holds 13 percent of the seats in the national legislature. Under Indonesian law, any party that wants to nominate a candidate for president must show that the party, or the coalition of parties backing the nominee, currently hold at least 20 percent of legislative seats, or got at least a quarter of the popular vote in the last election. Still, Prabowo and Gerindra probably will find coalition partners to push them over the threshold and get Prabowo into the race.

In a head to head matchup against Prabowo, the incumbent, Jokowi, starts with a lead in polls. In fact, a number of recent polls taken about a Jokowi-Prabowo matchup have given the incumbent a sizable lead. Jokowi's reputation for being personally clean, his down-to-earth speaking style, and his (relatively modest) achievements in office probably account for some of the gap in the polls, while Prabowo's often-bombastic, even demagogic style may also turn off some voters. Indeed, in the previous presidential race Prabowo repeatedly seemed to suggest that he wanted to roll back elements of Indonesian democracy, and to recentralize power, presumably in his own hands.

Yet the race could still be tightly contested. Some studies show Jokowi's electability rating below 50 percent. And Jokowi has not, to be sure, brought about as thorough a transformation of Indonesian political culture and institutions as some of his supporters had hoped when he was elected in 2014, becoming the first person to attain the Indonesian presidency in the democratic era who did not hail from Indonesia's political elite. Jokowi has presided over decent growth and some initial upgrades of Indonesia's decaying infrastructure, and he has boosted funding for health care and education. Yet he has made minimal headway in battling corruption, in politics or business, which remains a major drain on the economy and a hurdle for investors. Though Jokowi appears personally committed to Indonesian democracy, he has often been hesitant to push for improving the human rights climate, and in the past year he has increasingly relied on a group of former army generals as top advisors, worrying rights activists concerned about the military's ongoing power in Indonesian politics. Some of his highly touted infrastructure projects are still just in the planning phases, and a string of accidents in the past year during construction on several new projects also has harmed Jokowi's infrastructure vision.

Still, Jokowi remains personally popular, and he also has proven a skillful builder of political alliances, despite the fact that he had not held a national level position before being elected president. When he was elected president, his party controlled a minority of seats in the legislature. Now, through effective coalition-building and consolidation of parties, Jokowi and his allies have a majority of seats in the national legislature. In the next presidential election, notes Tempo magazine, parties are scrambling to back Jokowi: "At least five parties have once again adopted him as their presidential candidate."

Prabowo, however, knows how to run a skillful campaign. In 2014, he and his team produced an effective communications strategy, one that paired positive, almost hagiographic portrayals of Prabowo with some of the dark arts of negative—and often false—attacks on Jokowi. In addition, as I noted in a recent CFR Expert Brief, Prabowo appears to be increasingly allying with one of the most powerful, rising forces in Indonesian politics—Islamist groups that have increasingly galvanized public opinion, at least in local races, and begun to develop strong get-out-the-vote operations.

These Islamist groups could be major factors in the presidential election, but they will probably have more trouble rallying opinion against Jokowi than they did in the Jakarta governor's race last year, when they held massive public rallies against—and demonized—the then-Christian and Chinese governor, Basuki Tjahaja Purnama. In addition, Jokowi could potentially pick a vice president who could neutralize some of the Islamist groups, boosting Jokowi's chances of another five-year term.