Controversy Over Sexual Violence in Conflict at the UN Security Council
Controversy tainted the UN Security Council's annual debate on conflict-related sexual violence, hosted on April 23 by German Foreign Minister Heiko Maas. The United States and other Security Council members can and should do more to respond effectively to the security threat posed by conflict-related sexual violence.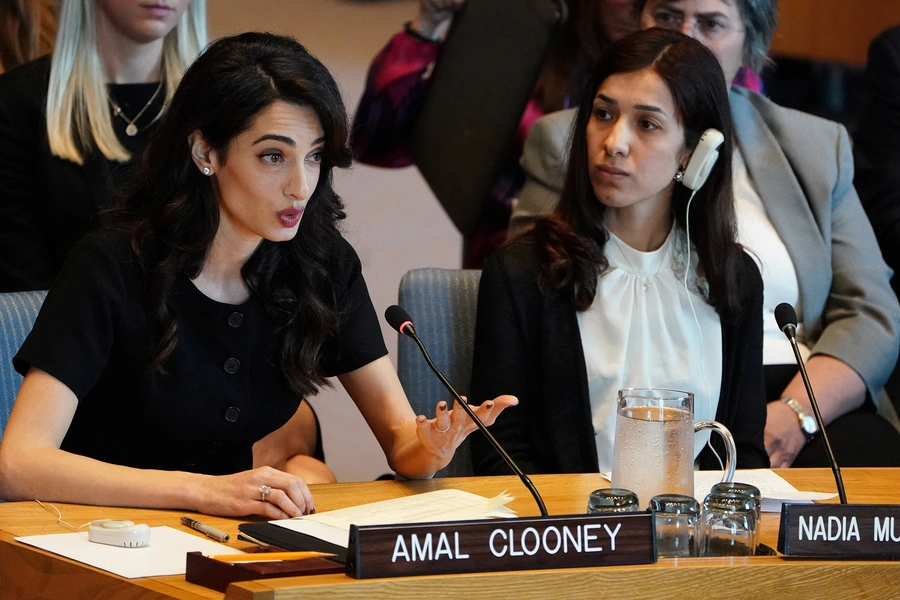 Controversy tainted the UN Security Council's annual debate on conflict-related sexual violence, hosted on April 23 by German Foreign Minister Heiko Maas.
It was just over a decade ago that the Security Council—in a session chaired by then U.S. Secretary of State Condoleezza Rice—first agreed that sexual violence in conflict is not simply a gross violation of human rights, but also a security challenge that destabilizes communities and undermines postconflict reconciliation and stability.
Despite international recognition of sexual violence as a crime against humanity, this devastating abuse continues to plague conflicts around the world, from the Democratic Republic of Congo (DRC) to Iraq to Myanmar. Survivors still too often lack access to the comprehensive services they need to recover. The human rights activists fighting to prevent sexual violence are themselves under growing attack. And justice remains elusive.
Human rights lawyer Amal Clooney demanded that if the Security Council cannot prevent sexual violence in conflicts around the world, "then it must at least punish it." She went on to tell countries that when it comes to the Islamic State group, "this is your Nuremberg moment"—urging them to do more to ensure that Islamic State leaders are held accountable for the genocide of the Yazidis, both through murder and through rape. Recognizing that the Security Council is unlikely to refer the situation to the International Criminal Court, she laid out other routes to international justice, from a court by treaty among likeminded states, such as members of the Global Coalition to Defeat ISIS, to a European Union special court, to a hybrid court established by treaty between Iraq and the United Nations.
The call for justice was echoed by Nobel Peace Prize laureates Nadia Murad, a Yazidi survivor of sexual slavery by the Islamic State, and Dr. Denis Mukwege, a gynecological surgeon who treats victims of sexual violence in the DRC. They encouraged, among other measures, more effective collection of evidence of sexual violence crimes and called for greater investment in support for survivors, including reparations to allow them to start a new life.
Beyond justice and survivor support, Libyan activist Inas Miloud tied ongoing sexual violence—affecting Libyans and international migrants alike—to such policy failures as the unchecked availability of weapons in Libya to the 2015 Libyan Political Agreement's omission of sexual violence as an issue of concern, after women were largely excluded from the UN-led peace process. The United Nations has observed that in Libya, vulnerabilities in the course of the significant migration occurring in the country have given rise to trafficking, rape, and sexual exploitation and abuse. Furthermore, recognizing that sexual violence is used to intimidate and silence female political leaders and activists, Miloud urged the Security Council to do more to encourage public condemnation of attacks and threats against human rights defenders.
After hearing activists bear witness to the continued security threat posed by sexual violence, the Security Council adopted a resolution that made some limited advances, but was also marked by charged negotiations and compromise on many of the highest priority issues activists raised.
Notably, the resolution acknowledges structural gender inequality and discrimination as the root causes of sexual violence; addresses sexual violence against men and boys; encourages countries to consider sexual violence a form of gender persecution when assessing asylum or refugee eligibility; and identifies a broad range of judicial reforms to enable stronger accountability. It calls for a report from the UN Secretary-General on the experiences of mothers of children born of rape and that of their children, as well as recommendations on how the Security Council can better monitor and enforce compliance of conflict parties to prevent sexual violence. (This request results from efforts by a broad alliance of permanent and elected council members, including the United States, and reflecting the view of many civil society and UN actors, that steered the council away from a controversial compliance mechanism they feared would politicize and undercut the effectiveness of the UN's special representative on sexual violence in conflict.)
But language supporting rape survivors' access to sexual and reproductive healthcare was cut to avoid a veto by the United States—a move that numerous council members, providers, and activists bemoan, fearing it weakens survivors' claims to appropriate medical services. (The resolution includes general references to medical care as well as to the needs of women and girls who become pregnant as a result of sexual violence in armed conflict, and does not supersede the explicit language on sexual and reproductive health in Security Council resolution 2106). Other compromises include removal of a reference to the International Criminal Court's role promoting justice for survivors of sexual violence in the situations over which it has jurisdiction. And in a failed bid to win approval from China and Russia, who in the end abstained from the vote, Germany cut language on protecting women human rights defenders, supporting journalists, and providing an enabling environment for civil society, which many council members—including the United States—supported. 
Officials report process failures—from overlapping and hasty negotiations to limited consultation with UN entities or experts—as increasing the charged nature of the negotiations and triggering some of the compromises. 
Anticipating fraught negotiations, many civil society activists in Germany and New York had urged Germany to skip a resolution at the outset, and focus instead on better implementing the commitments the Security Council has already made, particularly on broader women, peace, and security issues. Such efforts include ensuring the rest of the Security Council's agenda—from country debates to peacekeeping mandates to sanctions renewals—consistently address women, peace, and security priorities, as well as pushing back against budget cuts weakening the United Nations' work on this issue.
Security Council members—including the United States—have daily opportunities to deliver on their promises to use the United Nations' most powerful body to combat sexual violence in wartime, and to reinforce such efforts with their own bilateral investments. To be sure, the United States and other Security Council members can and should do more to respond effectively to the security threat posed by conflict-related sexual violence, and not just because it's the right thing to do. It is also a security imperative that advances U.S. and global interests in peace and stability.
This blog post was updated on May 7, 2019.