A Conversation With Mark Jones and Kellie Meiman Hock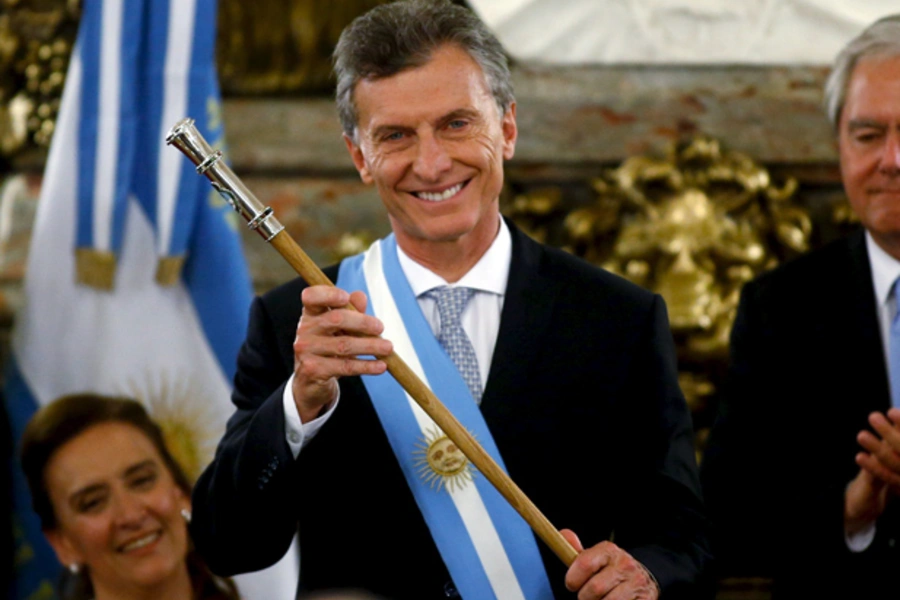 This post features Mark P. Jones, the James A. Baker III Institute for Public Policy's political science fellow and Joseph D. Jamail Chair in Latin America Studies at Rice University, and Kellie Meiman Hock, managing partner and director of the Brazil and Southern Cone and trade practices at McLarty Associates. Latin America's Moment recently sat down with Jones and Meiman Hock to discuss Argentina's outlook.
What economic challenges does Argentine President Mauricio Macri inherit from the Fernández de Kirchner government and how will he tackle them?
Meiman Hock: Critically low foreign currency reserves represent Argentina's biggest economic challenge. It is estimated accessible reserves stand somewhere between $2 billion and $6 billion at this time. Macri will work toward reaching a settlement with the holdouts in order to access international credit markets, but this will take time. In the near term, he will need to cut deals with the World Bank and the International Monetary Fund (IMF), which will necessitate resolving pending arbitration claims, as well as normalizing Argentine statistics. With reserves at a sufficient level, he will be better equipped to address other challenges: unifying the exchange rate, addressing inflation, loosening price, capital, and import controls, and eliminating most export taxes.
Jones: In addition to anemic foreign reserves, Macri must also deal with a fiscal deficit at 7 percent of GDP this year and growing, and an overvalued peso. Macri will try to rein in rising public employee salaries and reduce expensive energy subsidies to consumers in the city and province of Buenos Aires.
Are there any economic positives for the new president?
Jones: Argentina is blessed with tremendous human capital and bountiful natural resources. If Macri can establish a credible rule of law and economic stability, U.S. and Argentine investors will pour funds into the development of Vaca Muerta and other shale gas deposits in addition to traditional investments in agriculture.
Meiman Hock: The current situation in Brazil is both a positive and negative for Argentina. On the one hand, the economic downturn in Argentina's largest trading partner will diminish demand for Argentine exports. On the other, if Macri can lay out a clear plan forward and build confidence, Argentina stands to attract investors currently disenchanted with Brazil and with pent-up demand for Argentina.
Who will make up Macri's government and what is his strategy for working with Congress?
Jones: Macri's eschewed a European-style coalition or even a president-dominated multi-party one à la Brazil. The government will be mostly made up of members of Macri's PRO party. His electoral allies, the Radicals (UCR), received only a few second- and third-tier ministry positions.
In Congress, Macri will try to garner some Peronist support to move legislation forward, given the PRO has only a small share of seats. But to Macri's advantage, former President Fernández de Kirchner's Frente Para la Victoria party is splintering and he can leverage the financial resources at his disposal to work out agreements with governors and other territorial leaders who possess considerable sway with deputies and senators from their respective provinces. Still, as the midterm elections approach in the second half of 2017, Macri will be watchful of both Peronists (including Sergio Massa), as well as the Radicals (UCR)—who realizing further PRO growth will likely come at their expense—may turn against him.
Meiman Hock: Macri has chosen—at least nominally—to disperse power within his cabinet. Rather than having a traditional super minister of economy, his goal is to have several centers of power, with his trusted advisors in the presidency ensuring that, rather than a solo act, the Macri administration performs more like an orchestra.
How will Macri reshape Argentina's place in the region?
Meiman Hock: Argentina under Macri will attempt to assert a new role in the region. It is telling that Macri's first foreign trips, even before his inauguration, were to Brazil and Chile, seeking to build closer ties with the two countries. We can expect that Macri will be tougher on Venezuela, and will also leverage Argentine participation in the G20 to make a splash on the world stage.
Jones: With the United States, Macri will work to reestablish a stronger relationship. Under former President Fernández de Kirchner, things could not have been much worse. But Macri's team will have to be strategic in the rapprochement as their hands are tied somewhat by public opinion. Over half of Argentines don't have a positive view of the United States, and even more don't trust it. Still, the United States will have a stronger ally in Argentina on issues relating to Venezuela, drug trafficking, Iran, and the growing role of China in the region.