Coup-Proofing: Russia's Military Blueprint to Securing Resources in Africa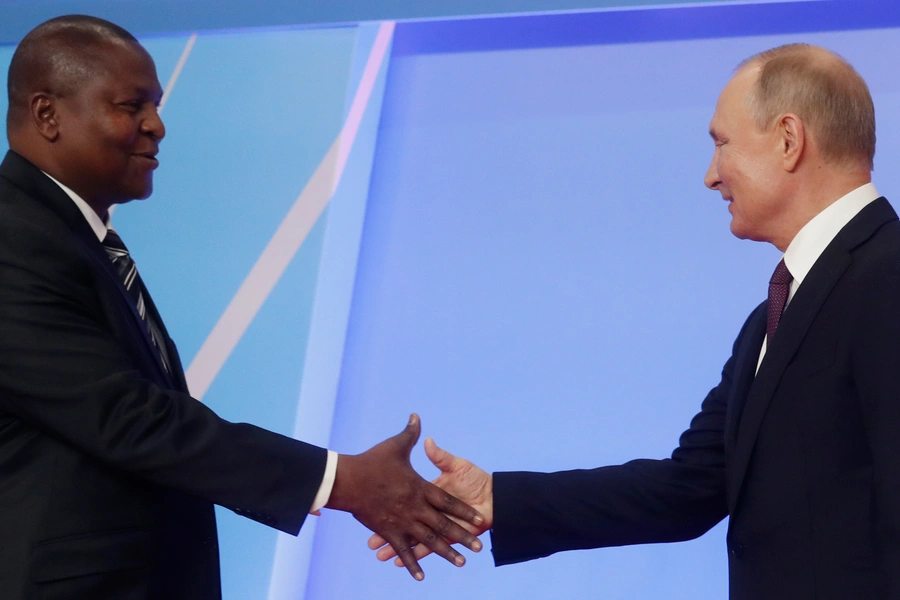 Neil Edwards is an Open Source African Media Analyst at Novetta. Media analysis for this piece was enabled by Novetta's Tracker for Foreign Investment in Africa (TFIA).
In the Central African Republic (CAR), outside the capital Bangui, President Faustin-Archange Touadéra exerts little to no authority. Armed rebel groups control two-thirds of the country, including access to mining sites. Political instability is deeply rooted: CAR has endured four successful coups and two failed coups since 1979, including the unsuccessful attempt ahead of the presidential election in December last year. MINUSCA, the UN peacekeeping mission deployed in CAR since 2014, has helped bolster security but remains overstretched and under-resourced. Amid insecurity and competition for power, Russia has positioned itself as a partner to the Touadéra regime—at a price to CAR.
The opening for Russia's entry into CAR came in December 2017, when the United Nations granted Russia an exemption to provide light arms to the Touadéra government in order to strengthen the military's campaign to regain rebel-held territory. Ties between CAR and Russia quickly deepened. By March 2018, Valery Zakharov, a former official in GRU, the Russian military's intelligence arm, became the national security advisor to President Touadéra. Months later, President Touadéra appeared in public with a personal protection detail that included "Russian Special Forces troops," widely believed to be part of the Wagner Group, a shadowy band of mercenaries controlled by Russian oligarch Yevgeny Prigozhin, a member of Russian President Vladimir Putin's inner circle.
President Touadéra's decision to employ Wagner to train CAR's army is an effort to "coup-proof" the regime. In exchange for protection, Lobaye Invest, a mining company also owned by Prigozhin, gained exploratory mining rights to seven gold and diamond mines approximately eighty miles from Wagner's military training headquarters outside Bangui. The tradeoff reflects a Russian strategy of finding, securing, and extracting natural resources abroad. Russia's economy relies heavily on natural resources, which have accounted for an increasingly large share of Russian output since 2016. Given the high cost of building infrastructure in the vast, far-flung corners of Siberia, Russia's military expansion into CAR is likely part of a strategy to spur economic growth by securing access to resources beyond its own borders, including in the Middle East, Latin America, and Africa.
Russian adventurism in CAR aims to replicate Wagner's success in Syria. Since 2015, Wagner—just one arm of Russia's military ground presence—has helped prop up the Bashar al-Assad regime by increasing its manpower and training the Syrian regime's military personnel. Assad's survival has benefited Russia's military, providing it with rights to operate Syria's Khmeimim Air Base on the Mediterranean Sea and explore potential offshore oil reserves. The resources-for-protection arrangement is also clearly at play in CAR.
Novetta's Tracker for Foreign Investment in Africa (TFIA), launched in 2020, dissects publicly available traditional media in all fifty-four African countries to identify, track, and trace Russian-linked energy and military investments across the continent. TFIA currently tracks sixty ongoing energy projects in thirty-three African countries and Wagner Group's operations in fourteen African countries. One of TFIA's primary objectives is to determine if Russia's coup-proofing in CAR will be a blueprint for expanding the Kremlin's military presence, by way of the Wagner Group, into providing protection for other African leaders—especially those with close ties to Russia and a history of military coups or insurgencies.
Media analysis from Novetta's TFIA uncovered that Wagner Group and Lobaye Invest have access to a variety of assets in CAR. Wagner Group, which has an estimated 1,500 troops in the country, along with Sewa Security Services, another Russian-linked military contractor, control three airfields near Berengo, N'Délé, and Birao—all strategically located to export natural resources extracted from mining sites and conflict minerals purchased on the black market. In addition to Lobaye's receipt of exploratory rights in six mines following the initial deal with President Touadéra, in September 2018 the New York Times reported that "Russian contractors" were digging in diamond sites near Birao.
Russian protection proved its worth—at least to Touadéra—in responding to the apparent attempted coup by former President François Bozizé in December 2020. After CAR's constitutional court rejected Bozizé's bid for the presidency due to his failure to fulfill the "good morality" candidacy requirement, Bozizé organized an alliance of six rebel groups—usually at arms with each other—to form the Coalition of Patriots for Change (CPC). The coalition quickly began a violent reign of terror across the country, with the aim of disrupting the presidential election.
Russia was the first among an assortment of international actors to mount a military response; within days of President Touadéra's call for international assistance, Russia sent an additional three hundred Wagner-linked "military instructors," along with helicopters. These forces, joined by Rwandan troops, MINUSCA, and the country's Russian-trained military, retook three towns and major roads near the capital, successfully repelling the coup and allowing the election to move forward.
Touadéra won the election with just over 53 percent of the vote, despite CPC's violent campaign, in which it burned ballot boxes, ransacked polling stations, and prevented the vote in fifteen percent of polling stations across the country. The violence displaced nearly 120,000 people, half of whom sought refuge in neighboring countries. The electoral victory granted Touadéra five more years in power and, for Russia, signaled a continuation of business as usual: military training, regime security, weapons shipments, and mining exploration—all through Kremlin-linked private companies.
Wagner Group's success in ensuring Touadéra's safety suggests CAR, like Syria, has the potential to serve as a blueprint for Russia's resource-intensive economic strategy. Russian efforts to expand and reinforce its presence in Africa through private contractors will likely focus on countries wracked by political instability and gifted with abundant natural resources. The TFIA lists five countries as the most likely targets for future Russian involvement: Burundi, the Democratic Republic of the Congo, Libya, Sudan, and Zimbabwe. Sudan's December 2020 deal permitting Russia's establishment of its first naval outpost on the continent—for twenty-five years—is a clear signal of Russian intentions to become a lasting presence on the continent and reinforces the need to understand how foreign investment is influencing Africa.