Coups are Back in West Africa
The recent coup in Guinea is part of a resurgence of "coup culture" in West Africa.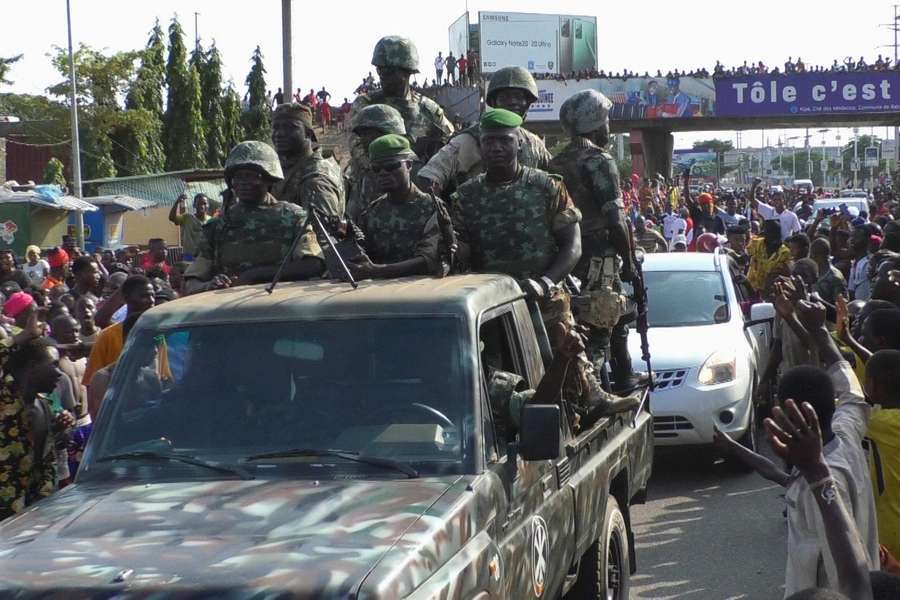 For the third time in only five months, violence has facilitated a transfer of power in West Africa, with Guinea, Mali (twice in the past thirteen months), and Chad seeing new leaders rise from their respective militaries. West Africa's post-colonial history has been punctuated by coups. But, especially after regional powerhouse Nigeria moved from military to civilian rule in 1999, there was a strong sense that the days of military coups were over. Especially during the presidency of Olusegun Obasanjo, Nigeria was active diplomatically against coups; West Africa's regional bloc, the Economic Community of West African States (ECOWAS), strongly condemned coups, imposing sanctions until they were reversed.
That positive trajectory has now been reversed. Why? In Guinea, Mali, and Chad, heads of state removed from office had enjoyed dubious legitimacy. In Guinea, President Alpha Condé had been elected to a third term in less-than-credible elections. In Chad, Idriss Deby had been all but "president for life" until he was killed by rebels, only to be succeeded by his son in an extra-constitutional process. In Mali, the current bout of instability dates from the 2012 coup against longtime political strongman Amadou Touré. Current Malian President Assimi Goïta in June removed the country's interim head of state, less than a year after Goïta initiated a coup against President Ibrahim Boubacar Keita and installed himself as interim vice president. French President Emmanuel Macron aptly characterized the most recent Mali coup as "a coup within a coup."
In Guinea, Mali, and Chad, ruling elites are largely separate or isolated from the people they ostensibly lead. They are widely under siege, with challenges to government authority ranging from radical Islamist reform movements that have widespread popular support to the depredations of COVID-19 to the consequences of climate change. In the most recent wave of coups, transfers of power have tended to be within ruling cliques—a personnel reshuffling largely without social consequences or betterment for ordinary citizens. They are characterized by anti-corruption rhetoric and little change in behavior by those newly in charge. With the exception of Ghana's 1979 coup which brought Jerry Rawlings to power, coups have not been the vehicle for social revolution.
Successive Washington administrations have condemned coups, broadly defined as the military overthrow of a democratically elected government. In principle, the United States ceases assistance [PDF] to countries that have experienced a coup. But there are many exceptions and nuances. For example, humanitarian assistance or assistance through non-governmental organizations does not end, though military assistance does. Additionally, when is a coup a coup? In the cases of Guinea, Mali, or Chad, it could hardly be said that the heads of state deposed held office through credible democratic elections. Hence, a Washington reluctance to characterize a coup as a coup under the U.S. legal definition.
It is questionable whether tying suspension of U.S. assistance to coups advances American interests. Legal definitions perforce are rigid and reduce diplomatic flexibility, thereby reducing U.S. influence over the militaries that so often are the authors of coups.