Cyber Week in Review: August 12, 2022
U.S. sanctions Tornado Cash; Samsung invests $3.3 billion in Vietnam; Biden signs CHIPS and Science Act; Greek Prime Minister rocked by spying scandal; China investigates microchip fund.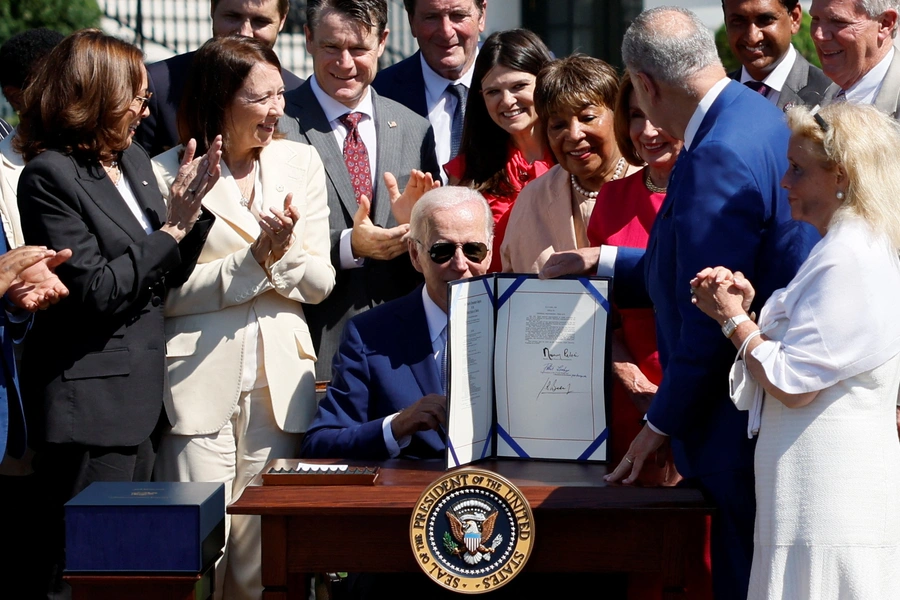 There will be no Cyber Week in Review next week, Friday, August 19. The Week in Review will return Friday, August 26. 
The U.S. Treasury Department Sanctions Tornado Cash 
The U.S. Department of the Treasury's Office of Foreign Assets Control (OFAC) sanctioned Tornado Cash, a virtual currency mixer that has allegedly been used to launder more than $7 billion in cryptocurrency since 2019. A virtual currency mixer facilitates anonymous cryptocurrency transactions by concealing the origin, destination, and parties involved in the transactions. The sanctions imposed by the OFAC prohibit any U.S. persons or entities from interacting with Tornado Cash or any Ethereum wallet addresses tied to it. Tornado Cash was used by the North Korean-backed Lazarus Group which stole nearly $620 million from the video game Axie Infinity in the largest known cryptocurrency heist thus far. Tornado Cash was also used to launder virtual currencies from the heist of $96 million from Harmony Bridge, last month and $7.8 million from Nomad, two services used to transfer cryptocurrencies across different blockchains. The Treasury Department said it views virtual currency mixers as a threat to U.S. national security and is committed to investigating how these platforms hide criminal activity.  
Samsung to Invest $3.3 Billion in Vietnam for Semiconductor Chip Manufacturing  
Samsung Electronics plans to invest an additional $3.3 billion in Vietnam this year with the goal of producing semiconductor parts in the country by July 2023. Samsung will also establish a research and development center in Hanoi by early next year. These initiatives reflect Samsung's effort to diversify its manufacturing supply chain away from  China. Seoul is facing pressure from the United States to join the Chip 4 Alliance, which would include Japan, and Taiwan. Earlier this year, Samsung invested $920 million in production expansion in Vietnam while simultaneously moving some manufacturing out of China. Another South Korean semiconductor company, SK Hynix, is also re-evaluating its investments in China in response to U.S. restrictions on the production of advanced semiconductors. Kim Young-woo, head of research at SK Securities in Seoul, notes that "the guardrails against China will accelerate Korean chipmakers' shift to the United States from China" and that these companies "are now tilting further towards the United States because of geopolitical risks."   
Biden Signs the CHIPS and Science Act into Law 
On Tuesday, President Joe Biden signed the CHIPS and Science Act, a $280 billion bipartisan bill aimed at boosting domestic high-tech manufacturing. The legislation is integral to Biden's plan of reducing U.S. reliance on global supply chains for semiconductors and will incentivize investments in the American computer chips industry. The legislation commits $52 billion to the U.S. computer chip sector as well as nearly $100 billion divided between different federal agencies for new and emerging technologies such as quantum-proof algorithms and artificial intelligence. Some experts have criticized the prominent role of subsidies in the law; others worry that investment in manufacturing is enough and argue that the United States needs to do more to attract and retain STEM talent and invest in K-12 education. 
Greek Prime Minister Vows to Overhaul the Country's Intelligence Agency After Spying Scandal 
Greek prime minister Kyriakos Mitsotakis faces growing pressure from political opposition in the country after it was revealed that the mobile phone of Nikos Androukalis, the leader of Pasok, the third largest party in the Greek parliament, was infected with spyware. Andoroulakis' device was allegedly hacked twice; initially with spyware known as Predator and then by Greek intelligence agents at the request of an allied state. Moreover, the chief of Greece's National Intelligence Service (EYP), Panagiotis Kontoleon, admitted on July 29th that EYP spied on a Greek financial journalist during a closed parliamentary session. Mitsotakis claimed to have not been aware of the surveillance and has floated an overhaul of EYP and implement changes like increasing accountability and parliamentary supervision of the intelligence agency. In response to these allegations, Kontoleon and the government's General Secretary Grigoris Dimitriadis resigned. However, opposition parties perceived the double resignation as an admission of guilt and called for Mitsotaki's to step down. 
China's Corruption Watchdog Investigates Three Executives in Control of the Country's Chip Investment Fund 
China's anti-corruption watchdog, the Commission for Discipline Inspection (CCDI), announced it was widening its investigation into top executives of China's preeminent microchip investment fund, China Integrated Circuit Industry Investment Fund, known colloquially as "the Big Fund.". The investigation into the fund began last week, when the CCDI announced an investigation into Ding Wenwu, the head of the Big Fund. The Big Fund has invested nearly $30 billion in government money into some of China's largest chipmakers, including Semiconductor Manufacturing International Corporation and flash memory manufacturer Yangtze Memory Company. The investigations may reflect frustration over the pace of growth among Chinese chipmakers among the Communist Party of China (CCP) elite, many of whom looked at the large investments made by the Big Fund and others as a way to loosen the dominance of Taiwanese, Japanese, and South Korean chipmakers, who supply most of China's microchips.