Cyber Week in Review: August 6, 2020
U.S. agencies release report on Chinese malware tool used for over a decade; TikTok saga continues with likely sale to Microsoft after intervention from President Trump; EU opens antitrust probe into Google's $2.1 billion acquisition of Fitbit; Facebook, Twitter, and YouTube remove video by President Trump, citing misinformation; and State Department announces expansion of "Clean Network" program targeting Chinese technology.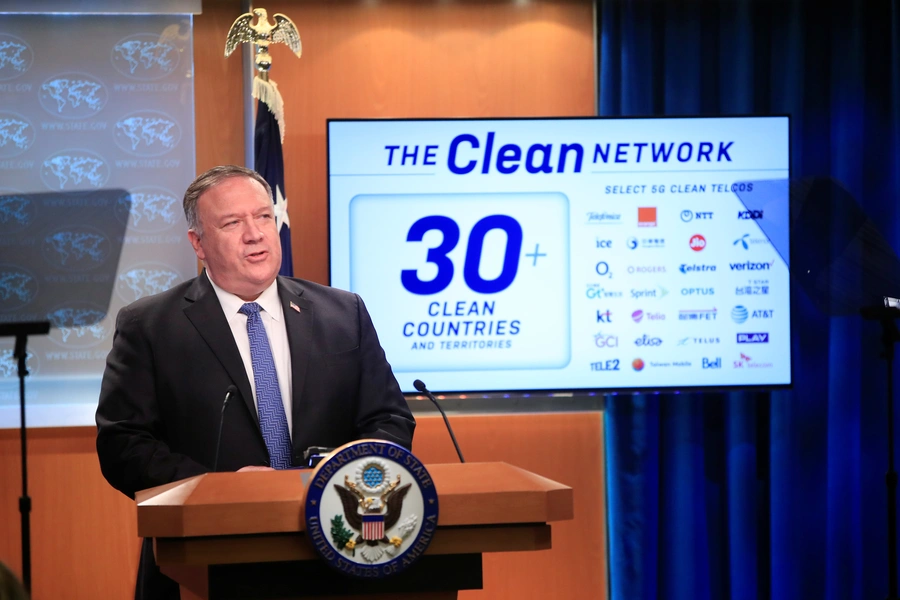 U.S. Agencies Release Report on Chinese Malware Tool Used for Over a Decade
In a joint report released by the Department of Defense, the Cybersecurity and Infrastructure Security Agency, and the FBI on Monday, the United States accused China of using a specific remote access trojan (RAT) to target government agencies, private sector companies, and think tanks. According to the malware analysis report, the RAT, named "Taidoor," has been in use since 2008 and was designed "to maintain a presence on victim networks and to further network exploitation." The malware was sent via spearphishing emails to entities focusing on Taiwan-related issues, indicating the malware was likely used to further Chinese spying efforts. The report is another salvo in the Trump administration's more confrontational approach to combatting Chinese cyber espionage.
TikTok Saga Continues With Likely Sale to Microsoft after Intervention from President Trump
After suggesting last Friday that the United States would ban TikTok, an app owned by Chinese company ByteDance, President Trump reversed course on Sunday after speaking with Microsoft Chief Executive Satya Nadella, saying he would allow the U.S. tech giant to purchase the app. The story took another twist on Monday, however, when President Trump claimed that the United States should get a cut of the sale, stating "a very substantial portion of that price is going to have to come into the Treasury of the United States because we're making it possible for this deal to happen." The comment sparked public outrage in China. The Chinese press described the Trump administration's moves as an attempt to undermine a Chinese tech company that had achieved global success and commit "open robbery" against it in the process. "While China is busy innovating, the U.S. is guarding against an innovative China. This twisted behavior has prevented the U.S. from continuing to innovate and reform," said reporter Wang Wenwen in the Chinese state-owned publication the Global Times. Regardless of what happens next, TikTok's failure to avoid falling prey to the contentious U.S.-China rivalry could deter other firms from attempting to operate in both markets.
EU Opens Antitrust Probe into Google's $2.1 Billion Acquisition of Fitbit
On Tuesday, antitrust regulators from the European Commission announced an investigation into Google's $2.1 billion acquisition of wearable technology company Fitbit. Despite Google's pledge when it acquired the company to not use the popular fitness tracker to harvest user data for the purposes of advertising, the commission said that Google's promise was insufficient to allay antitrust concerns. "The proposed transaction would further entrench Google's market position in the online advertising markets by increasing the already vast amount of data that Google could use for personalization of the ads it serves and displays," the commission stated in their press release. Regulators also indicated that the investigation would focus on whether Google's expansion into the wearables market would make it more difficult for rival firms to compete. The probe is another effort by governments to regulate Google and its parent company Alphabet as it has entered several emerging technology sectors, raising privacy and competition concerns. Recently, the California-based company announced a significant investment in home security firm ADT, saying that it planned to fully integrate its Nest smart home devices with ADT's services.
Facebook, Twitter, and YouTube Remove Video by President Trump, Citing Misinformation
In a rare convergence of content moderation practices, Facebook, Twitter, and YouTube removed a video posted by President Trump's accounts on Wednesday, stating that it violated their policies on coronavirus misinformation. In the now removed video, President Trump reiterates his desire for schools to stay open in the midst of the pandemic and falsely claims that children are "almost immune from this disease." The takedowns by the three tech companies indicated an increased willingness to actively combat online misinformation, even at the risk of drawing the ire of the president. Before this, Twitter had already found itself in the president's crosshairs after labeling two of his tweets as containing misinformation. This motivated the Department of Commerce's subsequent petitioning of the Federal Communications Commission to remove protections under Section 230 of the Communications Decency Act for social media companies that moderate user content without the user's permission. Responding to the video's removal by the three social media platforms, Courtney Parella, a spokeswoman for the Trump campaign, accused the companies of bias against the president, stating, "Social media companies are not the arbiters of truth."
State Department Announces Expansion of "Clean Network" Program Targeting Chinese Technology
On Wednesday, Secretary of State Mike Pompeo announced the United States' Clean Network program, an extension of the 5G Clean Path initiative announced in May. The new, expanded program aims to broadly restrict Chinese technology in order to protect against Chinese cyber espionage. Specifically, the announcement highlights five new lines of effort separating U.S. users and technology from Chinese companies: Clean Carrier, preventing Chinese carriers from using U.S. telecommunications networks; Clean Store, removing Chinese apps from U.S. app stores; Clean Apps, removing U.S. apps from Huawei's app store; Clean Cloud, preventing Chinese cloud service providers from storing U.S. citizens' data and intellectual property; and Clean Cable, protecting undersea cables from Chinese espionage. While no details were provided regarding how the United States would go about carrying out this new program, the announcement marks a serious escalation in the growing tech divide between the United States and China. "Building a Clean fortress around our citizens' data will ensure all of our nations' security," Secretary Pompeo said in the announcement. In response, China's Ministry of Foreign Affairs spokesman Wang Wenbin said in a press conference, "It is purely absurd and ridiculous that the United States itself is stained but is talking about 'clean internet.'"