Cyber Week in Review: January 27, 2023
Meta announces Trump can return to its apps; international ransomware task force launches; Justice Department files lawsuit against Google; FBI and DOJ take down ransomware family; China is supplying Russia with technology.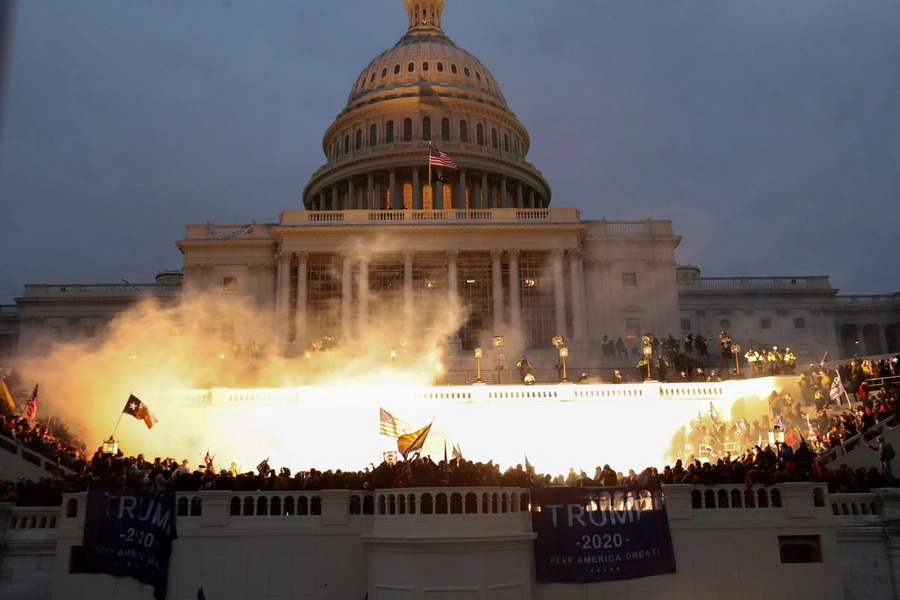 Meta announces it will allow former President Trump to return to Facebook and Instagram
Meta announced that it will be reinstating former President Donald Trump's accounts on Facebook and Instagram within weeks. Trump's accounts had been suspended indefinitely for his actions surrounding the riot at the U.S. Capitol on January 6th, 2021. The suspension was later downgraded to a two year suspension on the recommendation of Meta's Oversight Board, an advisory body meant to advise Meta on its most difficult content moderation decisions. It is unclear if Trump will return to the platforms. Twitter, which had also suspended Trump in the aftermath of the January 6th riot, reinstated his account in November 2022 after Elon Musk took ownership of the company. Trump has yet to return to Twitter, however, and has instead continued posting on his own social network, Truth Social.
International task force to combat ransomware launches
The International Counter Ransomware Task Force (ICRTF), first announced by the White House in November 2022, began operating on Monday. The ICRTF is intended to drive international cooperation to tackle ransomware, through information and intelligence exchanges, developing best practice policy and legal authority frameworks, and collaboration between law enforcement and cyber authorities. Russia and Iran, two major havens for ransomware groups, were notably excluded from the ICTRF, along with China. Australia, the inaugural chair of the ICRTF, has been hit by multiple significant ransomware attacks in recent months, including against health insurance company Medibank, which led to hackers to leak the health data of over 40 percent of the Australian population. Australia subsequently announced that its signals intelligence agency, the Australian Signals Directorate, and its federal police would take more frequent offensive actions against ransomware groups.
U.S. brings antitrust lawsuit against Google
The Justice Department and a group of eight U.S. states sued Google on Tuesday, accusing it of illegally abusing its monopoly over the technology that powers online advertising. The lawsuit describes a campaign by Google to discourage the installation of competing advertising services, incentivize the installation of its own services, and partner with other large technology companies to place its products on their systems and ensure its continued market dominance. The actions are part of a spate of antitrust U.S. government lawsuits against the technology industry, including against Microsoft, and Apple. Regulators like Federal Trade Commission (FTC) chair Lina Khan have said they are departing from previous practice and taking more aggressive legal approaches and arguments to curb the dominance of technology giants.
United States takes down Hive ransomware family
The U.S. Department of Justice and the FBI announced that they had dismantled the Hive ransomware family in partnership with Europol and German and Dutch criminal investigators. The FBI said it infiltrated Hive's networks starting in July 2022 and was able to surreptitiously obtain and distribute decryption keys to over 1,300 organizations impacted by Hive ransomware. The Justice Department and FBI also took down Hive's leak site, which had been used to name victims and publish stolen data if they refused to pay a ransom. Hive has been a prolific source of ransomware infections that often targeted hospitals.  A November 2022 alert from the Cybersecurity and Infrastructure Security Agency (CISA) disclosed that Hive had extorted over $100 million from organizations around the globe in the first two years it was active.
DC think tank says China is supplying Russia with technology despite sanctions
A report released by U.S. think tank Silverado Policy Accelerator says that Russia has been able to re-establish access to critical technology despite sanctions imposed following its invasion of Ukraine. According to the report, China and Hong Kong have stepped in to restore up to 55 percent of median prewar total integrated circuit exports to Russia in November 2022. Sarah Stewart, co-author of the report, told Newsweek that the findings call into question what exactly China is supplying to Russia and whether these activities align with China's position of "laying low when it comes to technologies like chips." In the months following the invasion, several Chinese technology manufacturers retreated from the Russian market, but the report recommends U.S. agencies increases investment in resources, oversight and enforcement to prevent Russia from accessing semiconductors and other dual-use goods.