Cyber Week in Review: March 24, 2023
TikTok CEO testifies before the House; Google releases AI chatbot; U.S. authorities shut down cybercrime forum; U.S. unveils new semiconductor rules; Google suspends Chinese app.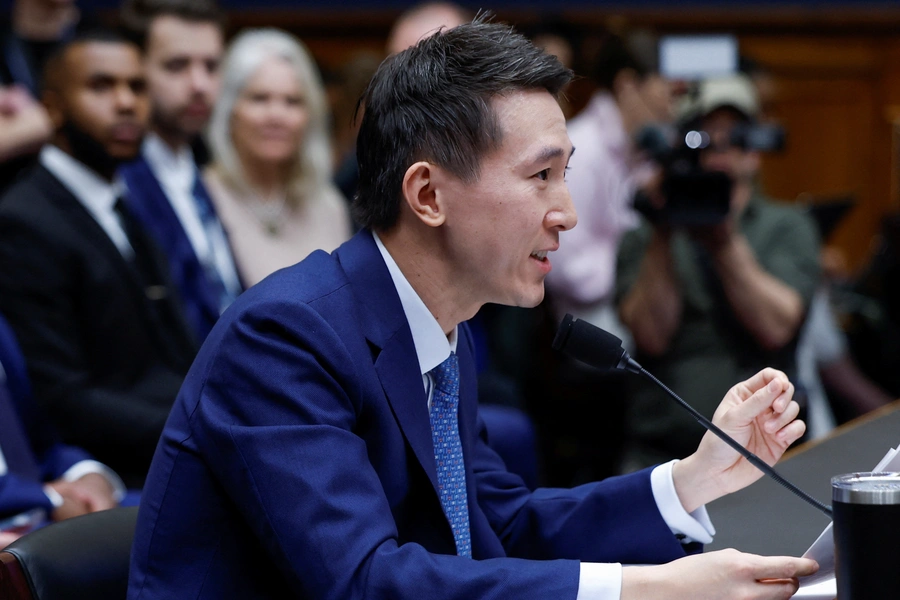 TikTok CEO Testifies Before House Committee 
For close to five hours, TikTok's CEO Shou Zi Chew testified before the House Energy and Commerce Committee on Thursday. Several members of the committee, including Chairwoman Cathy McMorris Rodgers (R-WA), took a strong line against TikTok in their opening statements, calling for the app to be banned in the United States. Representatives questioned Chew on a number of topics, including child safety concerns, TikTok's content moderation efforts, and data access controls to limit the exposure of Americans' data to engineers in China. Chew's testimony seemingly did little to lessen the committee's suspicions. The Biden administration has threatened to ban TikTok unless ByteDance, the app's Chinese parent company, sells off it off to an American buyer. Hours before the hearing, a spokeswoman for the Chinese Ministry of Commerce said the government would "resolutely oppose" the forced sale of TikTok. 
Google begins limited release of Bard AI Chatbot 
On Tuesday, Google announced that it is expanding access to its AI chatbot, Bard. Users over eighteen who live in the United States or United Kingdom will be allowed to sign up for a waitlist to use the bot. The chatbot is still an "early experiment" and Google has said it plans to expand Bard's availability to additional countries and non-English languages in the future. Bard's limited release follows recent launches of competing chatbots, GPT4 by Microsoft-backed OpenAI, and Ernie, Chinese search company Baidu's chatbot. Although Bard has been in development since 2015, Google has remained relatively cautious in the generative AI race, partially due to concern about how new technology could impact its search-advertising business.  
U.S. authorities shut down cybercrime forum, arrest owner 
Last Wednesday, authorities arrested the owner of one of the largest cybercrime forums, BreachForums. Conor Brian Fitzpatrick, known online as "Pompompurin," was charged with conspiracy to commit access device fraud for using an FBI system designed to share information with state and local officials to send out spam emails. Fitzpatrick was also allegedly in charge of the BreachForums online hacking community, which shut down days after his arrest because authorities had access to the site's source code and users' information. BreachForums was created in 2022 after the FBI seized RaidForums, a similar hacking site. In the year since its creation, BreachForums has been used frequently by hackers and ransomware gangs to leak stolen data, including last month when hackers posted healthcare data from members of Congress and their staff for sale. Last Thursday, Fitzpatrick was released on 300,000 dollar bond. He will appear in a Virginia court on March 24. 
Proposed regulation blocks China from semiconductor funding 
The U.S. Commerce Department proposed new regulations that would prevent the $52 billion in funding for semiconductor manufacturing and research allocated under the CHIPS and Science Act from being used by or invested in certain countries–including China, Russia, Iran, and North Korea. The rules prohibit companies that took funds under the CHIPS Act from establishing new factories or expanding existing ones in countries of concern, or engaging in joint research efforts with organizations from those countries for a period of at least ten years after they accept the funds. There are some caveats for older, legacy microchips, allowing companies to continue to operate and expand manufacturing plants if 85 percent of their output is directed toward the domestic market of the country of concern they operate in. Chips used for quantum computing, in radiation intensive environments, and in special military capabilities, are subject to tougher restrictions, and can never be considered legacy microchips. 
Google suspends Chinese shopping app Pinduoduo over malware concerns 
On Tuesday, Google told CNN that versions of the Chinese e-commerce app Pinduoduo were suspended from the Play Store due to malware concerns. Although Google did not share any other details about the security risks, it has temporarily blocked installations of the app and prompted users to delete malicious versions of the app while an investigation is being conducted. The suspension comes at a time when Pinduoduo's parent company, PDD Holdings, is attempting to establish a greater foothold in overseas markets. Following the success of Pinduoduo—which boasts approximately 900 million users and competes with e-commerce giants JD and Alibaba in China—PDD launched its U.S.-listed counterpart Temu last year.