Cyber Week in Review: November 6, 2020
"Just another Tuesday on the internet;" Social media platforms flag numerous posts from President Trump; U.S. Cyber Command reveals global threat hunting operation before election; TikTok wins legal victory, but U.S. Department of Commerce promises to "vigorously defend" ban; and U.S. Air Force Purchases Chinese Drones.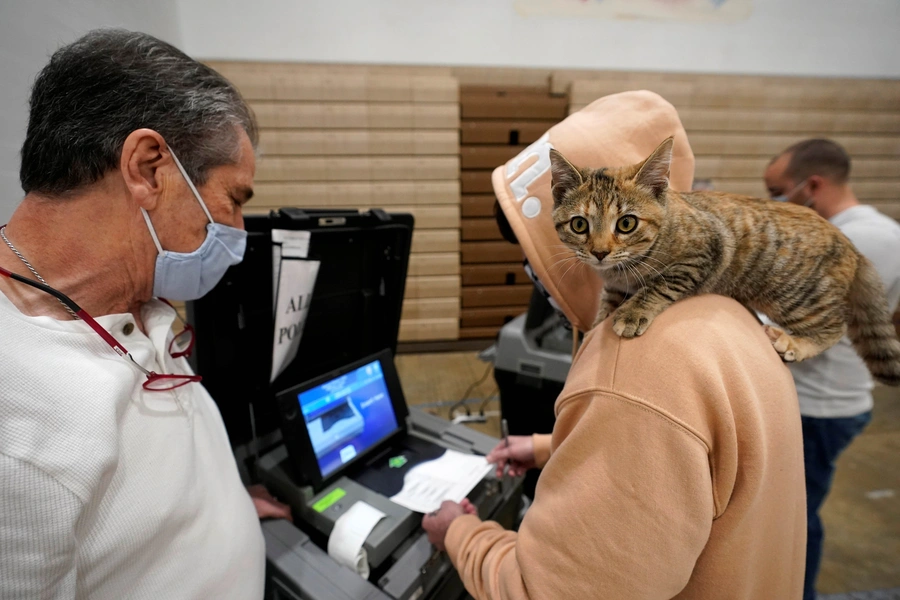 "Just Another Tuesday on the Internet"
Election Day seems to have passed without any major cyber disruptions, leading one official from the Cybersecurity and Infrastructure Security Agency (CISA) to call it "just another Tuesday on the internet." Although government websites were reportedly targeted with greater frequency than normal, the attacks were minor and "unsophisticated." In late October, CISA announced a virtual war room for election officials and intelligence agencies to swiftly identify and remedy potential cybersecurity threats. State and local officials also worked together to ensure smooth voting. "This coordination is the most unheralded intergovernmental success story," said Matthew Weil, who directs the Elections Project at the Bipartisan Policy Center. Despite the apparent success of cybersecurity measures on Election Day, CISA officials warned, "we're not out of the woods yet," noting that disinformation still poses a real threat to the democratic process.
Social Media Platforms Flag Numerous Posts From President Trump
Twitter froze multiple tweets from President Trump that prematurely claimed victory, baselessly accused Democrats of fraud, and alleged that votes arriving after Election Day will be disqualified. Users are currently prevented from commenting, liking, or sharing the tweets. In addition, Twitter attached warnings to several tweets from the official Trump campaign. Facebook did not directly block the spread of posts and instead labeled those containing potentially false information, while automatically tagging both candidates' posts with election updates. Twitter and Facebook's actions follow weeks of bipartisan criticism aimed at tech companies. Republicans claim that social media companies deliberately favor Democratic voices, while Democrats fault Facebook and its peers for not slowing the spread of disinformation. Despite complaints by President Trump and his supporters of unfair treatment by these platforms, David Brody, who leads the Digital Justice Initiative at the Lawyers' Committee for Civil Rights Under Law, argues that it is critical for "platforms to raise up the authoritative sources and algorithmically downlink conspiracy theories and unsubstantiated rumors" to avoid real-world violence.
U.S. Cyber Command Reveals Global Threat Hunting Operation Before Election
On Monday, U.S. Cyber Command officials informed the New York Times that it sent teams across the globe to identify and undermine foreign hacking groups, particularly those from Russia, China, and Iran, ahead of the election. This mirrors efforts used before the 2018 U.S. elections when Cyber Command sent teams to Macedonia, Montenegro, and elsewhere to detect and prevent Russian election interference. Cyber Command officials reported that the expanded "hunt forward operations" found malware used by foreign hackers and helped shore up state and local election system defenses. Their mission is not complete, however. "We are not stopping or thinking about our operations slacking off on Nov. 3," said General Charles Moore, deputy head of Cyber Command. "Defending the election is now a persistent and ongoing campaign."
TikTok Wins Legal Victory, but U.S. Department of Commerce Promises to "Vigorously Defend" Ban
Last Friday, U.S. District Judge Wendy Beetlestone granted a preliminary injunction halting the Department of Commerce's plans to block TikTok from hosting data in the United States unless ByteDance divests from the short-video platform by November 12. Judge Beetlestone noted that TikTok is commonly used to exchange "informational materials"—a category that falls outside the scope of the government's authority under the International Emergency Economic Powers Act. Days later, the U.S. Department of Commerce promised to "vigorously defend" President Trump's executive order and the ensuing implementation efforts, insisting that "the executive order is fully consistent with law and promotes legitimate national security interests." Meanwhile, Oracle and Walmart continue to negotiate a preliminary deal to purchase TikTok's operations in the United States.
U.S. Air Force Purchases Chinese Drones
On Monday, the Wall Street Journal reported that the U.S. Air Force purchased fifty-seven drones from Da-Jiang Innovations (DJI) for training purposes, sparking a wave of criticism from lawmakers who argue that China could exploit the drones to spy on the U.S. military. "It's very concerning that the Air Force would choose to make this purchase, which seems to be in conflict with the spirit of these provisions," said Senator Rick Scott, referencing a year-old defense bill that bans the military from purchasing or using Chinese drones except in highly specific training or intelligence circumstances. Foreign drones have concerned U.S. officials for years, but DJI's drones are easily available and cost-effective. "We can't get into the habit of buying DJI drones, because we need to grow our own industry," said George Howell, a Rain Research analyst.