A Debate on the New Philippine Administration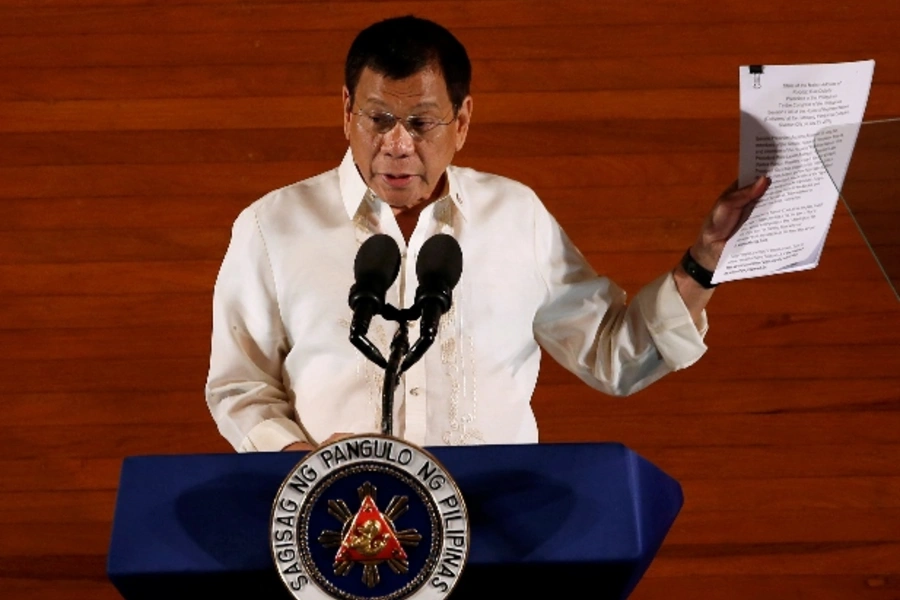 Over email, Professor Richard Javad Heydarian of De La Salle University in Manila and CFR Senior Fellow for Southeast Asia Joshua Kurlantzick discussed some of the potential effects—both positive and negative—of the administration of new Philippine President Rodrigo Duterte.
Richard Javad Heydarian: By many indicators, Rodrigo Duterte is emerging as the Philippines' most powerful president since the fall of the Marcos dictatorship three decades ago. Fresh into office, and after months of aggressive campaign rhetoric, the new president enjoys excellent trust ratings, has amassed super-majority support in the Philippine Congress, and is set to appoint a majority of Supreme Court justices in coming years. The Ombudsman office, which has been waging a relentless campaign against corrupt officials, also enjoys close and cooperative relations with Duterte.
From a maverick candidate, who galvanized nationwide support and gained notoriety internationally, Duterte has seemingly transformed into a more statesmanlike, unifying figure. Or at least, that is how a growing number of Filipinos are coming to see him, despite his unorthodox style and still colorful language, which tends to estrange the polite society. Less than a month into office, Duterte sits confidently atop the Philippine state, relishing an unprecedented amount of political capital, potentially granting him enough space to overhaul the Philippine political system—although this will require a constitutional amendment, which is not easy to pass. Much of this is a reflection of his leadership dynamism, but also profound public yearning for meaningful change. A month into office, Duterte has already instructed his allies in the Congress to form a Constituent Assembly to draft a new constitution, paving the way for a federal form of government with both parliament and a president, if the changes to the constitution pass. Duterte plans to finalize the transition before the end of his term. Many experts, however, doubt whether such move is necessary or even desirable, since federalism could further empower local political dynasties and exacerbate regional divides, not to mention weaken the Philippines' already fragile state institutions.
Joshua Kurlantzick: Richard, I agree with you about the desire for change, since the previous Aquino administration clearly failed to make serious inroads into inequality, and to convince most voters that the political and economic system works for anyone but elites. This despite strong GDP growth, a more stable macroeconomic environment than the Philippines had enjoyed in decades, and an overall high level of political stability.  But is it actually true that Duterte has more political capital than any other leader in recent memory? After all, he was just inaugurated president, and new presidents always have a fairly high degree of political capital in their early months in office. He won a race with multiple candidates and only with a plurality of votes, and it is very early in his relations with Congress. Also, what's the hard evidence to show he's suddenly become a more statesmanlike figure?  I'll quote from this Sydney Morning Herald article on Duterte's State of the Nation speech:
"Mr Duterte shrugged off alarm over the rising body count in his first state of the nation address to parliament, declaring that drugs were drowning his country and human rights were no excuse to shield criminals. 'Double your efforts. Triple them if need be,' the tough-talking former provincial mayor said in a message to police."
Is this statesmanlike? Or worryingly undermining the rule of law?
Heydarian: More than nine out of ten Filipinos, latest polls show, have expressed confidence in the new Filipino leader. This is the highest  figure enjoyed by any Filipino president in modern history, although it is very early in Duterte's term. Six out of ten Filipinos, another poll shows, expressed high confidence in Duterte's ability to fulfill most of his campaign promises. Yet, these numbers could be more a reflection of high public expectations and an ephemeral "benefit of the doubt," which can significantly diminish in the medium-run if Duterte fails to fulfill his wide-ranging promise of political transformation.
Nonetheless, Duterte has yet to roll out a coherent and feasible national vision.  During his recent first State of the Nation address, the new president promised a more caring, responsive and, above all, effective government. Though entertaining, and in many ways unorthodox, it ultimately evinced lack of proper organization and policy clarity in the new government.
Kurlantzick: The lack of organization and policy clarity—that is a major concern. In his time as mayor of Davao, Duterte, despite policies that encouraged extrajudicial killings and other potential violations of human rights, also was known for courting advice from a wide range of experts and actually rolling out detailed policies on a wide range of issues. How could he not have a clear, detailed vision in the SONA, when it was his best, first chance to show the country how he actually plans to transform his big rhetoric into policy? How does he plan to really get constitutional change, if it is so hard to do so with a constitutional amendment?
Heydarian: Duterte dedicated the bulk of his speech to defending his relentless war on organized crime, which has provoked growing opposition from the liberal media, human rights groups, and the Catholic Church for his seeming toleration for abuses by security forces. "Human rights must work to uplift human dignity," Duterte exclaimed. "But human rights cannot be used as a shield or an excuse to destroy the country—your country and my country." He explained his peace and security agenda to the conflict in Mindanao, calling upon Moro Islamic rebels in the south to unify under the banner of a multi-ethnic, inclusive society. Duterte has also promised more political autonomy for the Muslim-majority regions in the south through a modified version of his predecessor's proposed Bangsamoro Basic Law (BBL), which faced stiff opposition in the Philippine Congress and did not pass by the time Aquino left office.
Kurlantzick: My understanding is that even a modified BBL is still going to face strong opposition in Congress. What is the evidence otherwise—especially if there are new rounds of violence in the south? Also, aren't some of Duterte's own appointees known for being highly skeptical of a southern peace deal, or have poor relations with the Moro Islamic Liberation Front (MILF)? I am noting Zachary Abuza's piece here, in which he writes that:
"Duterte immediately selected Jesus Dureza as his advisor on the peace process. Duereza held the same position in the cabinet of Gloria Macapagal Arroyo from 2001 to 2003. Duereza had a terrible reputation as a back-channel wheeler dealer."
Abuza further notes:
"Secretary of Agriculture Emmanuel Piñol had cut his teeth as an elected official in North Cotabato, where some of the most fierce fighting between the government and the MILF, and later the Bangsamoro Islamic Freedom Fighters, has taken place. North Cotabato has always been contested space between Christian dominated eastern Mindanao and lands claimed by the Bangsamoro. Piñol has been a leading critic of the BBL and a hardline Christian advocate within Congress, opposing the peace process."
How do you reconcile these cabinet officials' backgrounds with movement toward peace in the south and some kind of BBL? Are you saying that, because these officials are so close to Duterte, if he wants to push for a revised BBL, they will be more effective interlocutors with the MILF this time, simply because Duterte is a stronger leader?
Heydarian: In Philippine politics, personality, trust, and political will matters. We saw how this helped previous President Aquino's efforts to rekindle peace talks, which were unfortunately undermined by Mamasapano tragedy, and undermined similar efforts by his less trusted predecessors. As far as Duterte is concerned, he is not only the first president from Mindanao, with intimate understanding of the conflict in the region, but he has nurtured his close ties with various rebel leaders. Among Muslims in the Philippines, Duterte is right now highly popular. And there is a growing sense that if there is any president who can end the conflict in Mindanao, it is him. But of course, the challenge is to translate this unique political capital into actual gains in peace negotiations.
So far, there is no indication that any of his cabinet members are going to use their posts to come out now against peace in the south.
He also hopes to revive Mindanao's economic fortunes by containing terrorism, ending insurgencies and brining in massive infrastructure projects, likely with the help of China and Japan. Meanwhile, Duterte dedicated only few lines to external security concerns, particularly the South China Sea disputes.
Eager to re-open communication channels with the Chinese leadership, Duterte has adopted a "keep it quiet" pragmatic policy in the aftermath of a landmark legal victory against China in the South China Sea. No less than former President Fidel Ramos is expected to serve as Duterte's special envoy to China. For Duterte, who is more focused on domestic security challenges, sometimes the best form of communication is calibrated silence. There is, however, a huge risk that China will take advantage of the Philippines' recalibration under a new leadership to expand its presence across disputed waters and renege on any provisional deal with the Duterte administration.
Kurlantzick: I think to say that Duterte's so far low-key approach to the South China Sea runs a risk of allowing China to further entrench its gains in the South China Sea is kind of a major understatement. The Philippines got a significant victory from the tribunal in The Hague in July. Sure, Duterte can leverage this victory to help make gains in negotiations with China. There's nothing wrong, I think, with bilateral negotiations, as long as other Southeast Asian nations are informed, and both the Philippines and China know they can't negotiate away areas that are claimed by Malaysia, Indonesia, Brunei, and Vietnam. But there's little evidence from the past—in the South China Sea, the East China Sea, or elsewhere—that China responds to calibrated silence by being willing to make deals.