Dickey and Tobias: What to Expect From Xi Jinping's Latin America Trip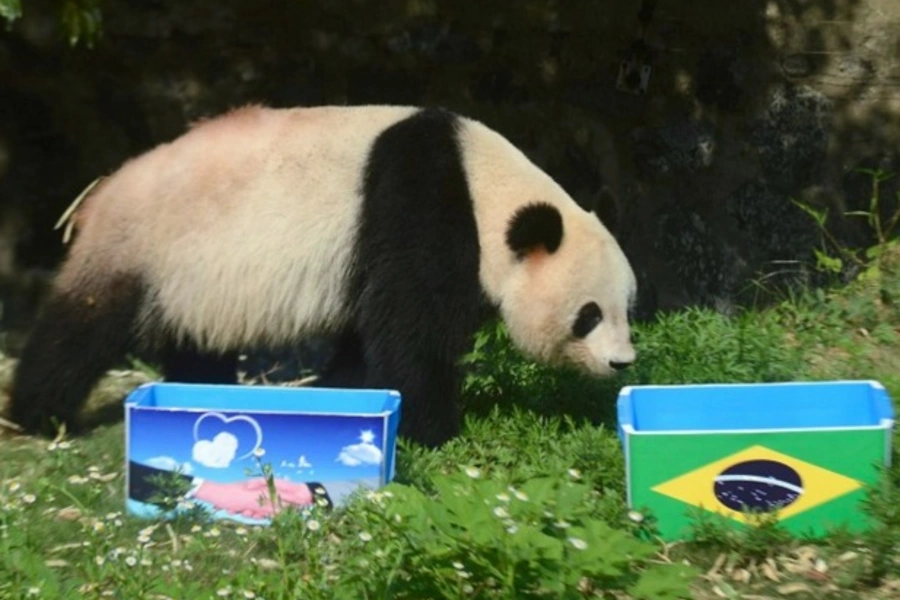 Lauren Dickey is a research associate for U.S. foreign policy and Sharone Tobias is a research associate for Asia Studies at the Council on Foreign Relations.
Chinese president Xi Jinping began his week-long visit to Latin America today on the heels of a number of major events. Brazil is central in the minds of many as the World Cup wraps up and Rio de Janeiro prepares to host the Olympics, initially darkened by protests. Argentina is facing a new unhappy chapter in its battle against debt. China's ideological allies, Cuba and Venezuela, remain prone to domestic instability amid economic reform. These four countries are planning to roll out the red carpet for President Xi as his visit coincides with the sixth BRICS (Brazil, Russia, India, China, and South Africa) summit and the Community of Latin American and Caribbean States (CELAC) summit. While it will still be a long time before China can challenge Washington's role in the region, recent events, particularly in Argentina and Brazil, may have cracked open a door for closer relationships between China and several nations.
Xi's trip will begin with the BRICS summit in Brazil on July 15-16. The BRICS member nations have agreed to accelerate the creation of a new development bank that will focus on lending to developing countries at lower rates and with less preconditions than the International Monetary Fund (IMF). The BRICS Development Bank, likely to be based in Shanghai, is expected to have a maximum value of $100 billion, with China contributing $41 billion; Brazil, Russia, and India contributing $18 billion each; and South Africa giving $5 billion. Some experts posit that the New Development Bank, as it will be called, could bypass the IMF and the World Bank, fostering South-South lending and much-needed investment in the developing world.
Beyond the BRICS summit, China is also planning to invest in Brazil's infrastructure and domestic industries. With a sluggish GDP and a desperate need for investment in infrastructure, Brazilian officials have high hopes for China's visit. Chinese officials are expected to announce investments in the country's food, transportation, and energy sectors during Xi's stay. China is already Brazil's biggest trading partner, buying mostly iron ore and soybeans, but Brazil hopes to expand the relationship to processed goods and other more advanced exports, not just raw commodities. They have already achieved a small success in one area: Brazil's Embraer aerospace and defense company is planning to announce a contract to sell twenty-five airplanes to Chinese airlines during Xi's visit.
Xi has another potential talking point with Brazilian president Dilma Rousseff: Internet governance and sovereignty. Brazil has been infuriated with the United States since Edward Snowden's revelations about U.S. National Security Agency (NSA) activities showed extensive surveillance in Brazil---including of Brazilian energy company Petrobras while it was negotiating deals for contracts. China shares a strong concern for U.S. surveillance abilities, as well as a desire for greater autonomy and control over the Internet within its borders. Xi and Rousseff are likely to discuss their opinions on cybersecurity and Internet governance during his stay.
After Brazil, Xi will continue on to Venezuela. The Sino-Venezuelan economic relationship centers around two things: oil (exported from Venezuela, an OPEC country with the world's largest proven oil reserves) and arms (sold to Venezuela by China, with at least two Chinese-made systems used by Venezuela's National Guard to crack down on protesters earlier this year). Under President Hugo Chavez, Venezuela worked to diversify its oil exports away from the United States, and increased cooperation with China. PetroChina signed a deal with Petróleos de Venezuela, S.A. (PDVSA) in 2011 to build an oil refinery, and last year the two countries announced $28 billion in energy-related deals.
Xi and his entourage will travel to Argentina next, where China is well-positioned to increase its influence with the financially unsteady country. It would hardly be surprising if China strikes a deal with Argentine president Cristina Fernández de Kirchner to fight off the country's debt problems. After a decade-long battle in U.S. courts, the U.S. Supreme Court ruled last month that Argentina owes U.S. bondholders $1.3 billion in debt repayments. The government has little capacity with which to pay creditors; in fact, many experts argue that the ruling threatens to impact the entire trans-Atlantic financial system. Beijing may well come to the rescue of Buenos Aires, using the thirty-day grace period for late bond payments to help Argentina swap its main class of bonds into securities issued beyond the reach of Washington.
Beijing may also be interested in the potential to exploit Argentina's Vaca Muerta shale formation in Patagonia. President Xi's visit provides an opportunity for Beijing to reassert its commitment to developing shale in Argentina and provide the foreign investment necessary to develop the world's second-largest shale gas reserves, likely by building upon the existing China National Offshore Oil Corporation (CNOOC) and Argentinian Bridas Corporation partnership. Chinese companies are also slated to firm up investments in Patagonian hydroelectric projects as well as regional railway links.
President Xi will conclude with an obligatory visit to Cuba, which should offer few surprises. Beyond a symbolic communist bond, as China's largest Caribbean trading partner, cooperation in renewable energy and agriculture is likely to continue. Indeed, China's pragmatic involvement in Cuba is designed to support the island's development and market reforms. To this end, additional loans, oil exploration projects, or infrastructure deals inked during Xi's brief visit are all par for the course.
While China is still far from approaching U.S. influence in the region, recent events---Brazilian anger at the Snowden revelations about NSA spying, the Supreme Court's ruling on Argentinian debt, and the BRICS' planned development bank---have the potential to open doors for increased Chinese presence in the region in ways that may run counter to U.S. interests. Xi's visit this week will provide valuable insight into China's intentions for America's backyard.