Dozens Reportedly Killed as Nigerian Military Fires on Shia Protesters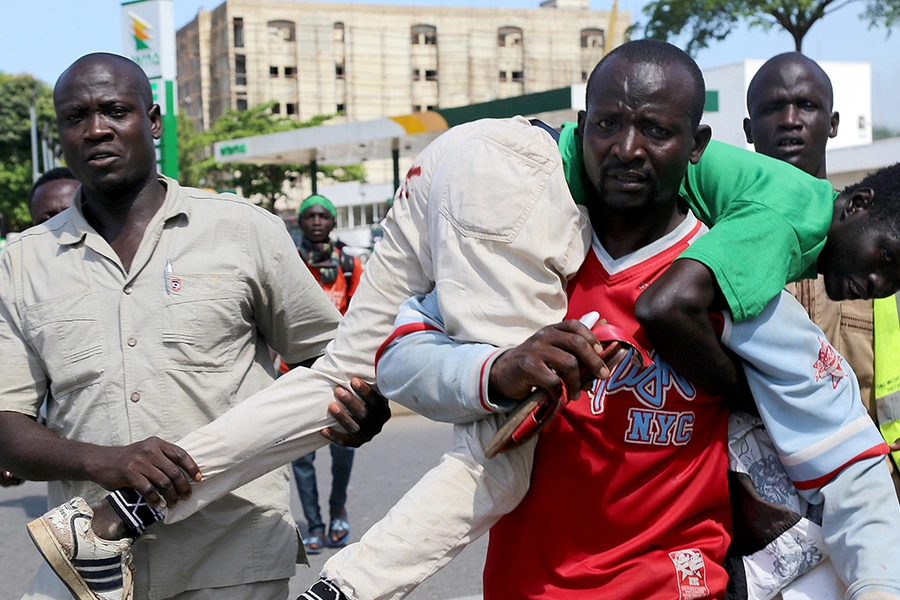 Jack McCaslin is a research associate for Africa policy studies at the Council on Foreign Relations in Washington, DC.
Between October 27 and 30, protesters from the Islamic Movement of Nigeria (IMN), a Shiite religious organization led by the pro-Iranian Sheikh Ibrahim el-Zakzaky, clashed with security services in and around Abuja, Nigeria's capital. The IMN reported that Nigerian security services had killed at least forty of its members during the marches. The military claimed that only six people were killed and that protesters were carrying petrol bombs and other dangerous weapons. It later arrested around four hundred members of the IMN. Today, as justification for its use of force against IMN protesters, the Nigerian army tweeted a clip of President Donald J. Trump explaining what he told the U.S. military in reference to the migrant caravan travelling north through Mexico to the U.S. border. "They want to throw rocks at our military, our military fights back," he said. "I told them, consider it a rifle." The tweet appears to have since been deleted.
Group members were participating in the Arbaeen Symbolic Trek, an annual commemoration practiced by Shias to mark the fortieth day of the murder of Imam Hussein, the grandson of the Prophet Muhammad. The march featured prominently calls for the release of el-Zakzaky, who has been in government custody for almost three years.
In December 2015, IMN members blocked the path of Army Chief of Staff Tukur Buratai's convoy in Zaria, Kaduna state. The government accused el-Zakzaky of ordering the assassination of Buratai (though he was not formally charged until April 2018). Security services subsequently raided el-Zakzaky's compound and injured and arrested him and his wife. During that December crackdown, security services reportedly killed over three hundred Shias across at least three locations in and around Zaria and quickly buried them in a mass grave.
In December 2016, the Federal High Court in Abuja ordered the State Security Service to release el-Zakzaky, but it was apparently ignored. More recently in August 2018, the Kaduna State High Court cleared and released eighty IMN members also arrested in 2015 during the crackdown, but dozens of others still remain in custody.
El-Zakzaky has vehemently opposed Nigeria's federal government, the state of Israel, the United States, and secular government more broadly, and his rhetoric has been explicitly anti-Semitic and dehumanizing. In this way, some of his messages are similar to that of Boko Haram. But, el-Zakzaky does not promote violence, and in 2015 the IMN even supported Muhammadu Buhari's presidential candidacy. The IMN, through el-Zakzaky, is also undeniably linked to Iran; he visited there in 1980 and was said to be inspired by the Islamic Revolution, and he has made frequent reference to it and its leaders. It is unclear how significant those links are for IMN operations. 
That religious and political movements in Nigeria criticize or purport to offer an alternative to the massively corrupt federal and state governments should not be surprising. But, the government's frequent and indiscriminant use of force reduces or eliminates the possible peaceful paths that these groups might take in their criticism. The Zaria episode is reminiscent of the 2009 confrontation in Maiduguri between security services and Boko Haram, during which the Mohammed Yusuf-led group staged an anti-government insurrection. The security services killed Yusuf, who was in their custody at the time, and several hundred of his followers. The movement then went underground, only to emerge two years later as one of the world's deadliest terrorist organizations. 
Afenifere, the influential Yoruba group, issued a stark warning following the violence in Abuja this week: "We must not forget how [the] extra-judicial killing of the founder of Boko Haram turned the group into a massive terror machine [that] we have been unable to contain and we are opening yet another front." Afenifere's warning is well-received. Should security service behavior radicalize the IMN, Abuja would face yet another insurgency for which it is ill-prepared. Despite their similarities, Boko Haram is in the Salafist tradition that generally loathes the Shia, and it is therefore highly unlikely that the two groups would join forces.