Duterte and the Incoming U.S. Administration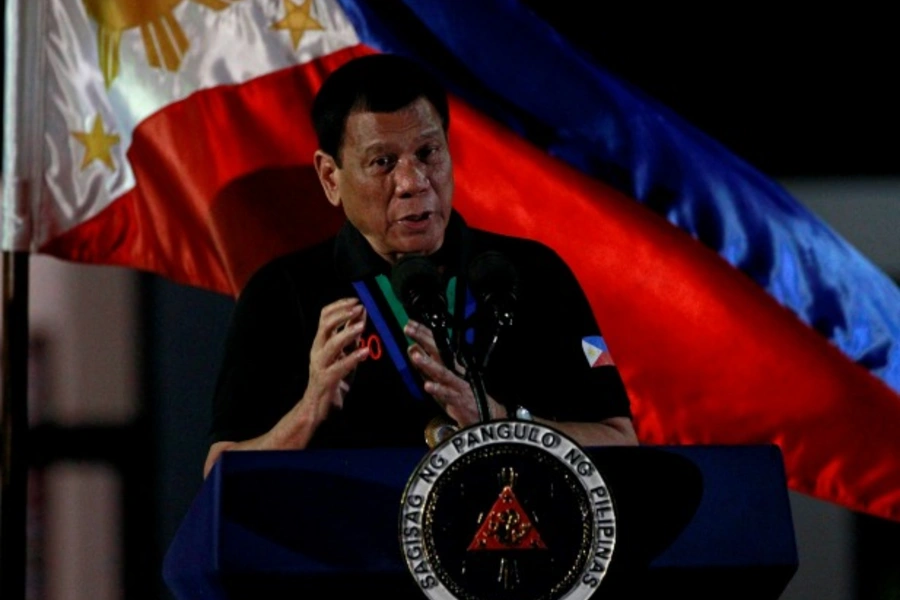 Richard Javad Heydarian is an assistant professor in political science at De La Salle University in Manila, and, most recently, the author of Asia's New Battlefield: The U.S., China, and the Struggle for Western Pacific.
In the past few months, the Philippine-U.S. alliance has suffered an unprecedented setback. Diplomatic exchanges have been rife with tensions, while military cooperation has been downgraded, although it is unclear whether it has been formally downgraded. This deterioration in relations is mainly due to bilateral disagreements over human rights issues and policy responses to Chinese maritime assertiveness in the South China Sea. But the surprising election of Donald J. Trump, a populist and businessman, could reset bilateral ties towards a more positive direction---though it risks further undermining the rule of law in the Philippines.
Under the presidency of Rodrigo Duterte, the Philippines has witnessed a significant reconfiguration in both its domestic political landscape and its foreign policy outlook. Domestically, the tough-talking leader, true to his campaign promise, has launched a scorched-earth campaign against the proliferation of illegal drugs. While a majority of the population has remained supportive of the president, the Duterte administration has nonetheless grappled with heavy criticism from the international community and some Philippine opposition lawmakers and rights groups, because of the violent nature of the drug war.
The outgoing U.S. President Barack Obama has been firm in his criticism of Duterte's drug war and its impact on the rule of law. The Obama administration has called upon the Duterte government to uphold "the rule of law and a commitment to upholding basic, universal human rights," warning that a violent crackdown on drug users and sellers is "not going to solve the problem." The European Parliament, the United Nations, and Australia have also expressed similar concerns, as have many international and Philippine rights organizations.
In response, Duterte has lashed out at leaders of Western nations, accusing them of preventing him from fulfilling his law-and-order campaign promise. Meanwhile, he has maintained broadly cordial relations with key U.S. allies such as Japan and South Korea, which have mostly refrained from directly criticizing the Duterte administration. As Duterte inches closer to the end of his first six months in office, he is under increasing domestic and international pressure to show success in suppressing the drug menace in the country as well as shift to a more rehabilitation-centered and public health-focused approach.
Duterte's foreign policy has been equally earthshaking. He has threatened to end Manila's military alliance with Washington, opted for a bilateral (rather than multilateral) strategy in the South China Sea, and engaged in unprecedented strategic flirtations with Beijing. In the past month, the Duterte administration has warned that he might end some of existing joint military exercises with U.S. forces as well as restricting their access to Philippine bases, although he did not take formal moves to follow through on these threats.
Since Trump's election, however, Duterte has been singing a somewhat different tune. Just months earlier, Duterte dismissed Trump as a 'bigot' and buffoon.  Upon Trump's election victory, however, which seemingly took even Duterte by surprise, the tough-talking Philippine leader immediately switched to a more cordial tone, offering congratulations and best wishes to Trump, declaring: "I don't want to fight [with Washington anymore] because Trump is there." Duterte, previously dubbed as the "Trump of the East," proved more than eager to also emphasize his temperamental similarity with the newly-elected American leader.
There are legitimate reasons for Manila to be more optimistic about the direction of relations with the United States. First of all, there is growing expectation that Trump won't be tough on the Philippines vis-à-vis human rights and democracy issues. In fact, Duterte controversially claimed, after his phone call with Trump, that the incoming U.S. leader supports his war on drugs, though the Trump transition team is yet to confirm that anyone actually said this.
Duterte also has welcomed Trump's seemingly tough approach to China, even though Duterte himself has pursued accommodation with Beijing. It is possible that Duterte could embrace a tougher U.S. policy toward China since this might mean Washington will more directly take on China rather than pushing regional allies like the Philippines to do so. For Dutetre, the best outcome is for the Philippines to maintain good relationship with both superpowers, and let Washington shoulder the costs of constraining Chinese assertiveness in the South China Sea. Moreover, Duterte also allegedly hopes to leverage business linkages with Trump to bolster U.S.-Philippine relations. Duterte's personal envoy to Washington owns the Trump Tower in Manila.
If the Philippines and China fail to arrive at a mutually-satisfactory agreement in the disputed waters, then Duterte has even more reasons to repair frayed ties with Washington. It goes without saying that it is perhaps too early, if not foolhardy, to speculate about the likely rapport of two of the most mercurial leaders in recent history, Duterte and Trump. For now, however, the government in Manila seems more eager to build ties with Obama's successor than it was with the Obama administration.