Ebola and Marburg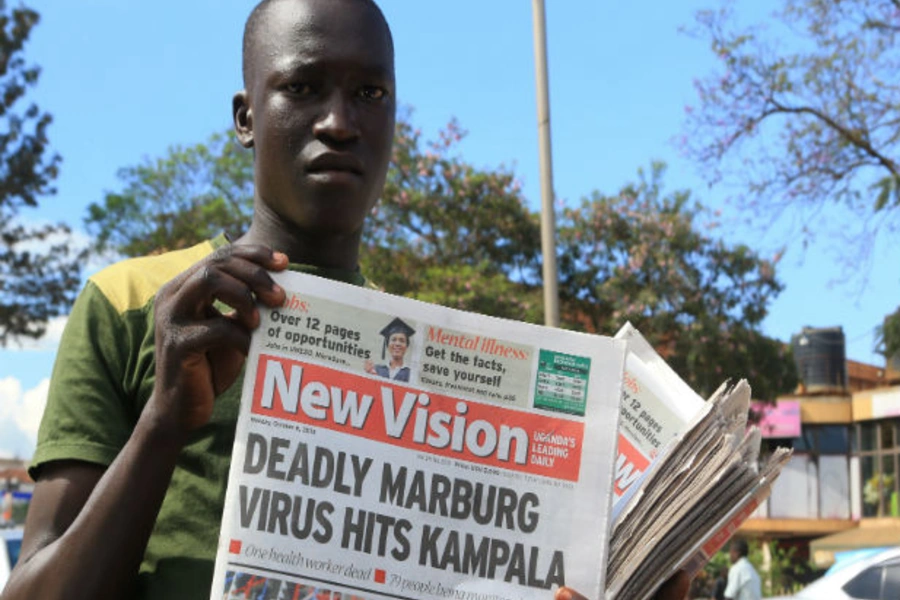 Ebola and Marburg are both hemorrhagic fevers and belong to the same family of viruses. The hosts for both are identified as animals, especially fruit bats—both diseases cross over from animals to humans. Incubation periods are around twenty-one days. The two diseases have similar symptoms and similarly high mortality rates. Both diseases spread through contact with bodily fluids, making family members and health care workers especially vulnerable. There is no pharmaceutical that cures either disease, and patients are treated in much the same way. The ill are isolated and medically supported until they recover or die. Efforts must be made to trace all those who came into contact with the ill.
Ebola at present is centered in west Africa, but it was first publicized in what is now the Democratic Republic of the Congo. Marburg is also found in the Congo, where between 1998 and 2000 it is reported that there were 154 cases and 128 deaths attributed to the disease. In Angola in 2005, there were 374 cases of Marburg, and 329 deaths. In 2007, 2008, 2012 and 2014, in Uganda there were cases of Marburg in the single digits with very high mortality rates, ranging from 50 to 100 percent. When Ebola first appeared in west Africa, it was an unfamiliar disease, one reason among many why the response to it was slow. In east Africa, however, there is greater familiarity with Marburg, and officials move quickly to respond to the threat of an outbreak.
Accordingly, officials in Rwanda and Uganda are closely monitoring their common border for a possible outbreak of Marburg after a confirmed case in Kampala, Uganda. As a safety precaution the Ugandan government has isolated ninety-nine people, none of whom have tested positive.
The World Health Organization is saying that Ebola is now "entrenched" in Conakry, Monrovia, and Freetown – it has become an "urban" disease. Marburg, however, appears to remain primarily in rural areas. West Africa's high rate of urbanization has helped facilitate the rapid spread of Ebola, especially in urban slums. Urbanization in east Africa could have a similar impact.