Elizabeth Warren Answers Twelve Foreign Policy Questions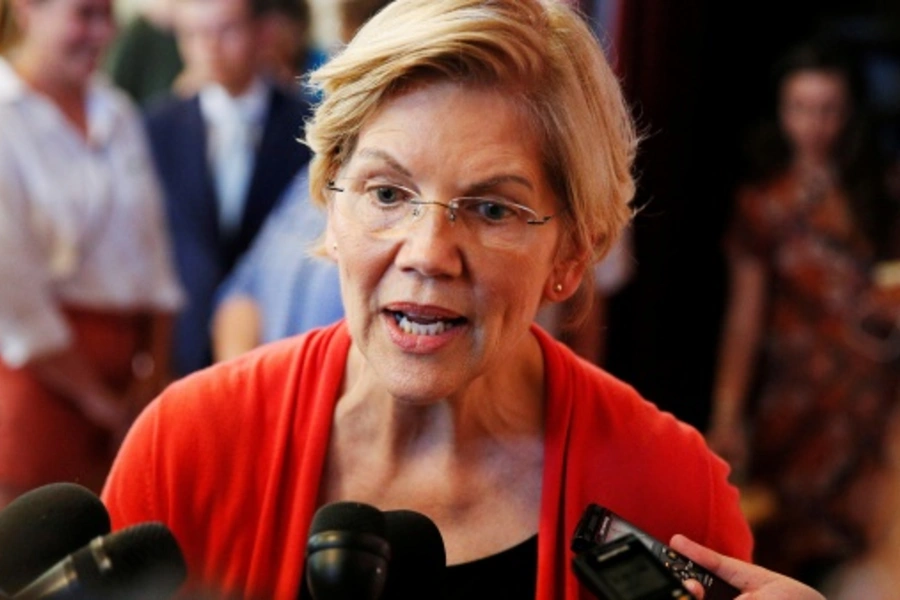 Last week's third round of Democratic presidential debates gave foreign policy some attention. The candidates spent a shade under forty minutes discussing events beyond America's borders. That is more time than the first two rounds of debate did combined. Even so, the candidates discussed just four topics: trade, Afghanistan, Latin America, and climate change.
None of this is surprising. Foreign policy usually gets short shrift in presidential debates even though it often dominates what a president does once in office. To help provide a fuller picture of what the presidential challengers think about the threats and opportunities the United States faces overseas, the Council on Foreign Relations invited all them—Republicans as well as Democrats—to answer twelve questions on foreign policy. (President Donald Trump did not receive the survey because the questions ask what candidates would do if they become president. Trump is the incumbent, so we know what his foreign policies are.)
By last week, fourteen candidates had submitted their answers. CFR has posted these responses on its website, CFR.org, just as they were written. Today, the answers that Elizabeth Warren supplied became the fifteenth entry. I won't attempt to recap all of the senator's answers. They are worth reading in full, especially because she got just a shade more than four minutes of airtime during the foreign policy portion of last Thursday's debate. I don't know anyone who can explain the world in five minutes or less.
I do want to flag two of Warren's answers because they raise additional questions worth considering. The first was whether she would pledge to withdraw all U.S. troops from Afghanistan by the end of her first term. She said she would "do so immediately" because "it's long past time to bring our troops home." She added that:
ending U.S. military operations doesn't mean we are abandoning Afghanistan. Redirecting just a small fraction of what we currently spend on military operations toward economic development, education, and infrastructure projects would be a better, more sustainable investment in Afghanistan's future than our current state of endless war. We should enlist our international partners to encourage a political settlement between the Afghan government and the Taliban that is sustainable and that protects U.S. interests.
What if such a deal isn't achievable? As military officers like to say, the enemy also gets a vote in how wars end. If a U.S. troop withdrawal makes a Taliban victory in Afghanistan inevitable, is it still the right policy?
The second answer was what Warren considered the greatest U.S. foreign policy accomplishment since the end of World War II. She answered, the fact that "no nuclear weapon has been used in battle since World War II." That wasn't an accident. Instead, as Warren rightly notes, that achievement rested on:
creative, visionary, pragmatic diplomacy, on facts and expertise in arms control and non-proliferation, and on the alliances and structure of collective security developed after the war and refreshed after the Cold War. In a world where nuclear proliferation remains a serious threat, we must redouble our efforts in this area to ensure that the world remains safe from nuclear conflict.
However, as former Energy Secretary Ernest Moniz and former Senator Sam Nunn point out in an article in the current edition of Foreign Affairs titled "The Return of Doomsday," that achievement is unravelling. For a variety of reasons, much of the arms control architecture constructed in the 1970s and 1980s has come undone, and the result has undermined strategic stability. How to reverse that erosion is a big question that deserves serious discussion. Perhaps at the next Democratic presidential debate, one of the moderators might ask Warren and her fellow challengers what they propose to do to make sure that nuclear weapons continue to go unused.
Margaret Gach assisted in the preparation of this post.