John Delaney on U.S. Foreign Policy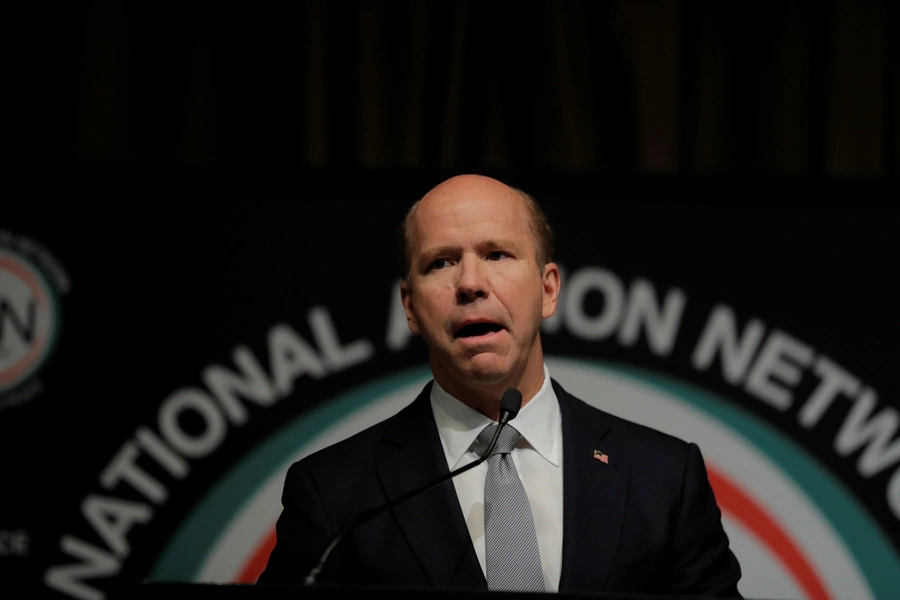 The ten leading Democratic presidential candidates square off at 8 p.m. (EST) tonight in Houston for a third round of debate. ABC News and Univision will be televising the exchange. We'll see if tonight's moderators give national security and foreign policy much of a run. That wasn't the case during the first two rounds of debate. NBC and CNN televised more than eight hours of conversation in all, but less than thirty minutes was spent on foreign policy.
One Democratic presidential candidate who won't be on tonight's debate stage is former Congressman John Delaney. He did stop by the Council's New York office last week, though, and he had a lot to say about foreign policy in a conversation moderated by New York Times columnist Nick Kristoff. Here are three quick takeaways from their extended discussion, which focused heavily on U.S.-China relations.
1. The United States should take a "hard line" in dealing with China's economic practices. Delaney doesn't think the Chinese have "played by the rules" when it comes to trade. They have instead acted like "pirates" by stealing intellectual property and manipulating the renminbi. Does that mean Delaney favors Trump's use of tariffs? Not quite. Delaney thinks "the president was actually right in raising this issue" of predatory Chinese behavior, but he says Trump's "diagnosis of the problem is entirely wrong, and the way he's approaching it is wrong." Delaney thinks a better approach would have been to stick with the Trans-Pacific Partnership (TPP) and to make common cause with trading partners that share U.S. concerns about Beijing's failure to live up to its promises.
2. The United States should "think globally and invest locally." Delaney wants to combine trade deals like TPP with more investment at home, particularly in communities hurt by trade. As he put it, "I think you got to pair trade policy with domestic policy that is much more than retraining workers because that's just—A, it's not enough, and it doesn't sell. It's got to be real tangible investments in their communities." He worries that China has been doing something that the United States used to do well: investing in basic research and infrastructure. If the United States doesn't get back to basics, Delaney thinks it risks losing its great advantage, the "innovation economy."
3. The United States should stand up for human rights around the world. Delaney wants Washington to be more vocal in support of Hong Kong protestors. In terms of the current situation, "we just have to make it clear that certain rights were assured to the people of Hong Kong" and that "we support their right to get that benefit of the bargain." And if Beijing cracks down on the protestors? Then, "there are affirmative things that the United States of America can do economically, and we should lead a coalition of our allies to do that."
Delaney's trade views are at odds with most of his Democratic rivals, though not necessarily with Democratic voters. So a pro-trade voice will be missing from tonight's debate, assuming that the issue comes up. Then again, even if the moderators do ask about trade, it's not clear how edifying the conversation will be. The debate rules give speakers seventy-five seconds to respond to moderator questions and just forty-five seconds for rebuttals. It's hard to explain the world in two minutes or less.
Margaret Gach assisted in the preparation of this post.