Everyone's Getting Mad at China—A Shift, or Nothing New?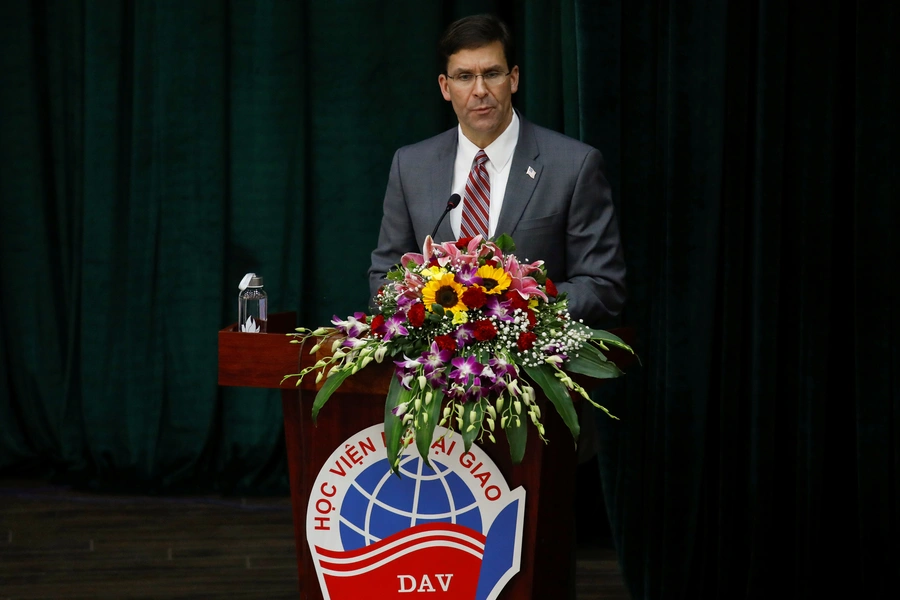 In the wake of Secretary of Defense Mark Esper's trip to Southeast Asia, where he tried to reassure U.S. allies and partners of ongoing U.S. commitment to the region, and to highlight Southeast Asian states' concerns about an ascendant China, there have been many stories of growing anger toward a more assertive Beijing in Southeast Asia and other parts of the world. In a column for the Washington Post, Josh Rogin succinctly captured the mood. He argued that "from Halifax to Hanoi, everyone is worried about China"—about China's more aggressive military actions, influence strategies, and attempts to promote authoritarianism.
But while much of the coverage frames the rising discontent with China as relatively new, it dates back several years in Southeast Asia and other parts of the Asia-Pacific. And at the same time, considerable survey data from Asia suggests that, while countries may worry about Beijing's growing regional dominance, they also are already convinced that China is the region's most influential state, and that China only will become more powerful.
In research for my forthcoming book on China's influence strategies in Southeast Asia, I have found that the hardening of regional views toward Beijing dates back at least to the mid-2010s. In part, hardening views stem from citizens of some Asian states realizing that Xi Jinping's consolidation of power in China could make the country more unstable, and more dangerous regionally, in the long term. Under Xi, Beijing has boosted the government's promotion of the China model, with this promotion particularly focused on authoritarian or semi-authoritarian states. But Asians from the region's freest countries, perhaps reflecting on the freedoms gained since the fall of their own dictatorships, increasingly see China's type of government as unstable and unappealing and dangerous. In an analysis released in 2018 and based on a region-wide survey of young men and women, Yida Zhai of Shanghai Jiao Tong University found that, while only 44 percent of young Chinese though China was politically unstable, more than 70 percent of young South Koreans believed China's political instability was rising. Zhai further found that not only South Koreans but also high percentages of young people in free states like Japan and Taiwan saw Xi's China as increasingly unstable.
China's 1990s and 2000s-era charm offensive of soft power stumbled as well in the 2010s, with the stumbles exposed in countries as economically, ethnically, and politically diverse as Cambodia, Myanmar, and South Korea. As China's outbound investment and foreign aid continued to expand, it was no longer a new source of cash in many developing states. The positive public relations boost Beijing had gotten simply from becoming a large investor and donor began to fade. (China had been a donor to some developing countries during the Cold War, but not anywhere near as large a donor as it would become in the 2000s and 2010s.) Some of the real problems related to Chinese investment and aid began to be exposed in other states as well. At first, in the late 1990s and 2000s many developing states had been thrilled to welcome a large new investor and donor, and there were real economic benefits to Chinese aid. (A study by researchers from AidData at William and Mary University showed that, between 2000 and 2014, Chinese development assistance increased economic growth in recipient states.) But by the mid-2010s, media outlets in freer states were scrutinizing the downsides of China's investments. Even in less-free states, like Cambodia or Vietnam, it was still possible for citizens to share information on social media. Cambodians and Vietnamese regularly shared stories on social media outlets about problems with Chinese-funded projects.
But by the mid-2010s, many Asians also already had become deeply pessimistic about how China will wield its growing power, as Beijing undercut its own longstanding (if hardly true) narrative that its rise would be peaceful. In his analysis released in 2018, Yida Zhai found that, while South Koreans—and most of the young people surveyed from other Asian states—believed that China was now a powerful actor in Asia, a majority of the young South Koreans agreed with the proposition that "the rise of China has been threatening the global order."
Other studies, like surveys of Southeast Asians by the Institute for Southeast Asian Studies (ISEAS)-Yusof Ishak Institute, have confirmed these fears. Roughly half of Southeast Asian respondents in the most recent ISEAS-Yusof Ishak Institute survey of Southeast Asian attitudes said that "China will become a revisionist power with an intent to turn Southeast Asia into its sphere of influence." The same survey found that a majority of respondents had either little or no confidence that "China will 'do the right thing' in contributing to global peace, security, prosperity, and governance."
And yet Southeast Asians, while taking measures to hedge against Chinese power, also seem convinced that their options are extremely limited. In the same ISEAS-Yusof Ishak study, most respondents said that China is now both the dominant economic and strategic power in Southeast Asia. Asia Barometer studies find the same. Its data, in waves of surveys, has revealed that people in even U.S. allies and staunch partners like Japan and Singapore already believe China is the most influential state in Asia, with the United States a distant second.