Forty-Five Minutes With Joshua Wong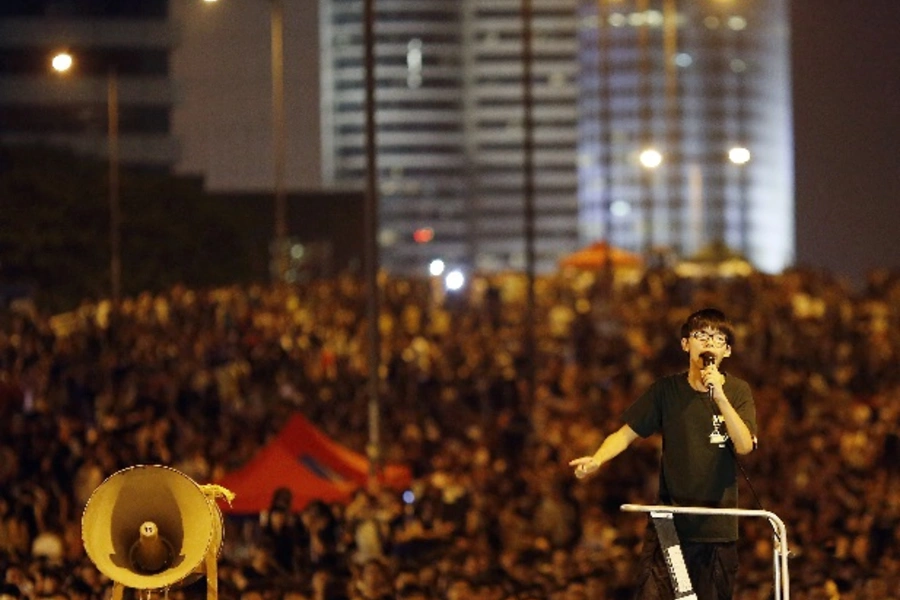 Four years ago, when he was just fifteen years old, Joshua Wong launched a campaign to prevent Beijing from enforcing its own version of history in Hong Kong schools. Along with other student activists involved in his "Scholarism" group, he managed to rally one hundred and twenty thousand people in protest and eventually beat back the government's initiative. During that effort, Scholarism raised one million Hong Kong dollars in just one day—with 25-40 year olds as the most supportive demographic. For Wong, it was a signal that young people really could achieve change. (Less well known, perhaps, is that Wong cut his activist teeth protesting against a high-speed rail link between Hong Kong and the mainland when he was only thirteen years old.) Since then, of course, Wong has become world-renowned for his effort in helping lead the Occupy Central movement, which called for universal suffrage in Hong Kong. For his actions, he has been vilified by the Chinese government, assaulted, and arrested—all by the age of eighteen.
When I met with him in late April, he was in the midst of a ten-day tour of American universities with a brief stop planned in Canada. My first thought was that the pictures of Wong do not do him justice. Yes, he is slight with big black-framed glasses, but in person, he is less the fierce intensity captured in the many protest photos taken of him than preternaturally calm. In fact, the word that first came to my mind when being introduced was luminous. Wong also has an impish sense of humor that appeared when we talked about the decision of the British newspaper the Independent to publish a front page photo of him during Chinese president Xi Jinping's visit to the United Kingdom last October. (The two were in the United Kingdom at the same time.)
Wong will undoubtedly need that humor to see him through his next endeavor. He is in the process of transforming his activism from the immediacy of issue-based campaigns to a longer-term process of political change. He has co-founded a new political party, Demosisto, which is committed to self-determination for Hong Kong.  The party has thirty core members and plans to run candidates in two districts in the next legislative council election in September. (Wong, himself, is too young to run for a seat, but that has not stopped him. He is trying to change the eligibility requirement from twenty-one to eighteen years of age.)
Wong's time horizon for political change in Hong Kong's relationship with the mainland is three decades—just sometime before 2047, when the Basic Law expires and when, he notes, he will be fifty-one years old. He is developing a sophisticated arsenal of arguments rooted in Hong Kong's history and seeking ideas for how Hong Kong can expand its international space. He feels confident, too, about the growing popular discourse within Hong Kong over independence and self-determination.
Part of Wong's strategy is to learn from other civil society activists. He has already engaged with a wide range of civil society leaders throughout Southeast Asia, and a trip to Taiwan was particularly affirming. Not everyone, of course, is as welcoming. A year earlier in May 2015, upon arriving in Malaysia, he was forced by officials to board the same flight back home. (Purely by chance, a few hours after meeting with Wong, I had a discussion with an official from Malaysia's Ministry of Home Affairs. When I asked him about Wong's experience, he shrugged and said that he wasn't responsible for the decision, but he understood it, implicitly acknowledging that Malaysia didn't want to antagonize China.)
In the absence of political change on the mainland, it is easy to believe that betting on Joshua Wong and his quest would be foolhardy. (After all, almost three decades after Tiananmen, political change has not materialized.) However, in my forty-five minutes with him, I came to appreciate that foolhardy would best be applied to those who bet against him.