Friday Asia Update: Five Stories From the Week of January 15, 2016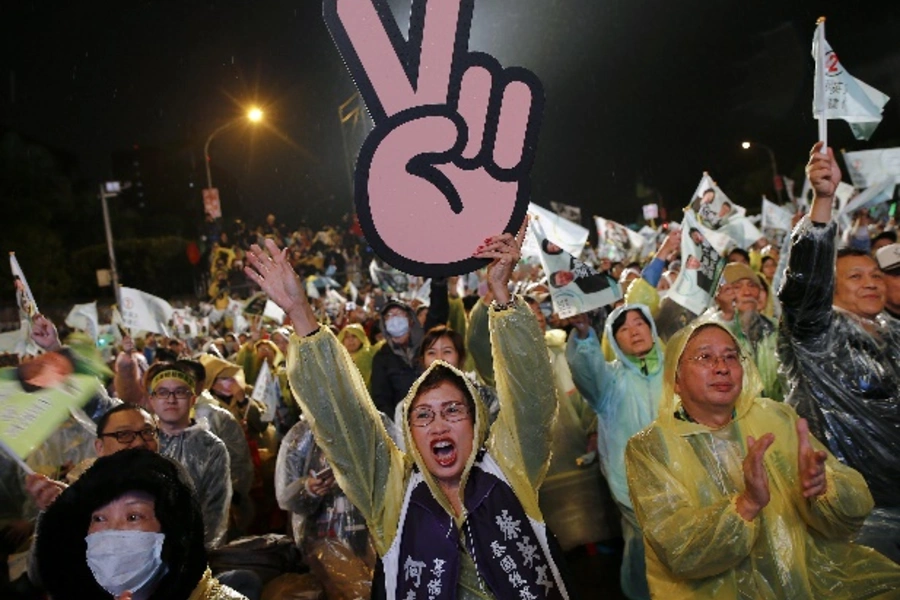 Rachel Brown, Lincoln Davidson, Ariella Rotenberg, Gabriel Walker, and James West look at five stories from Asia this week.
1. Taiwan takes to the polls. Tomorrow, the island's citizens will choose between the Democratic Progressive Party's (DPP) Tsai Ing-wen, the Kuomintang's (KMT) Eric Chu, and the People First Party's (PFP) James Soong when they turn out to vote for a new president. Tsai, who lost the 2012 presidential race to incumbent KMT president Ma Ying-jeou, is expected to win with a significant margin this year. That would make Tsai, a noted cat-lover, the first woman to hold the office and the second non-KMT president. Legislative elections are less certain, however. All 113 seats in the Legislative Yuan are up for grabs, but it is not clear that either major party (the KMT and DPP) will secure a majority. KMT candidates have been hurt by the deep unpopularity of President Ma and the party's loss of its monopoly on the public narrative of Taiwan's relationship to China. But the DPP may also be prevented from securing a majority by small, issue-focused third-party candidates who have sprung up in the wake of the 2014 Sunflower Movement. However, the DPP may come close enough to a majority that they can form a coalition with these "third force" parties. For commentary as the polls open, see this list of Twitter's top voices on Taiwan.
2. Diplomats meet to restart Taliban peace talks. Officials from Afghanistan, Pakistan, China, and the United States met in Islamabad on Monday to discuss a "road map" for reviving stalled peace talks with the Afghan Taliban. Direct talks between the Afghan government and Taliban representatives, facilitated by Pakistan and observed by Chinese and U.S. officials, collapsed after only one meeting in July 2015. Afghan officials said beforehand they expected a list from Pakistan of Taliban willing to negotiate with Kabul, and are "seeking unprecedented cooperation" from the Pakistani military in convincing Taliban factions to come to the table, and more importantly, to crack down on those factions that do not. The day-long meeting ended with a statement that officials would reconvene in Kabul next week. This week's meeting comes after a serious deterioration of security across Afghanistan in the past year, with the Taliban now controlling dozens of districts across the country and threatening major population centers—including the brief takeover of Kunduz last fall and ongoing battles around key districts in Helmand province. Separately, the Islamic State claimed responsibility for an attack near the Pakistani consulate in Jalalabad on Wednesday that killed at least seven Afghan security forces. Support for the Islamic State's Afghanistan branch has grown as Taliban factions, disaffected by the new Taliban leadership, have splintered and defected to the group.
3. Park presses China for heavier hand with North Korea. Following North Korea's test of an alleged hydrogen bomb last week, South Korean President Park Geun-hye addressed China's relationship with North Korea during an annual press conference, stating, "I think China is fully aware that if such strong will is not matched by necessary measures, we cannot prevent fifth and sixth nuclear tests by the North or guarantee real peace and stability on the Korean Peninsula." She also noted that "the best partners are those who will hold your hand in difficult times." China is South Korea's largest trading partner and Park has made improving ties with China a key part of her foreign policy. It was hoped that the warming of relations might increase China's willingness to pressure its ally North Korea, but the success of this approach remains in question. Although the Chinese foreign ministry has also repeatedly stated its opposition to North Korea's nuclear program, the Chinese official response thus far has been to emphasize the need to resume disarmament talks and address the issue through continued dialogue rather than impose new sanctions. Furthermore, when the South Korean defense minister attempted to use a recently established hotline with China after last week's test, his call did not receive a response. On Thursday, China and South Korea announced that the nuclear test would be discussed during annual working-level military talks between the two nations to be held Friday.
4. Islamic State claims deadly Jakarta attack. On Thursday morning, suicide bombers and armed militants attacked a busy street in Jakarta, killing at least two and injuring more than twenty. Five assailants also lay dead in the aftermath. The Islamic State claimed responsibility for the attack, raising fears that the group was expanding its reach through Southeast Asia, including Indonesia, Malaysia, the Philippines, and Thailand. The alleged organizer, Bahrun Naim, is a leader of a Southeast Asia–based military group under the Islamic State and purportedly runs a blog with terrorist "teachings" written in Indonesian. Although this is the first major terrorist attack in Indonesia, the country with the world's largest Muslim population, since a hotel bombing in 2009, arrests of suspects have spiked recently with at least sixteen over the past month. On Friday, Indonesia police killed one suspected militant, arrested two more, and were investigating the networks involved in planning this week's attacks.
5. Japan submits bid for Australian submarine contract. Japanese, German, and French companies are vying to win an Australian defense contract to build as many as twelve submarines, which could be worth up to $36 billion. Japan's Mitsubishi Heavy Industries, Ltd., and Kawasaki Heavy Industries, Ltd., have proposed the world's first lithium ion battery–powered submarines. Japan has indicated that they see their chances as very good for winning the contract over France and Germany. Furthermore, the Japanese government has argued that their success in this contest would also serve to bring the two countries closer together and help ensure maritime security in the Asia-Pacific. On the other hand, Australia may be concerned that a closer relationship with Japan may risk angering China, its largest trading partner. Although the United States has not taken an official position, U.S. government officials have said privately that a strengthened relationship between Australia and Japan would be good for U.S. strategic interests in the region.
Bonus: Grindr hooks up with Chinese comrade. This week, the Chinese gaming company Beijing Kunlun Tech, the developer of popular mobile titles like "Space Hunter" and "Sword of Soul," paid nearly $100 million for a 60 percent stake in Grindr, a geosocial gay social networking app. CEO Joel Simkhai wrote that the investment would allow for "business as usual" with "a renewed sense of purpose and additional resources." Besides serving as an additional source of revenue for Kunlun Tech, Grindr may also be used to direct users to the company's games. Although Grindr does have a Chinese-language version of its app, it has faced competition in China from Blued, a Chinese-made dating app for gay men that had fifteen million users, mainly in China, in 2014—possibly more than twice the number of Grindr's users worldwide. Kunlun Tech's investment and the popularity of Blued are signs of changing attitudes towards homosexuality in China; it was illegal in the country until 1997, and the Chinese Psychiatric Association officially classified it as a psychiatric disorder until 2001.