Friday Asia Update: Top Five Stories for the Week of May 23, 2014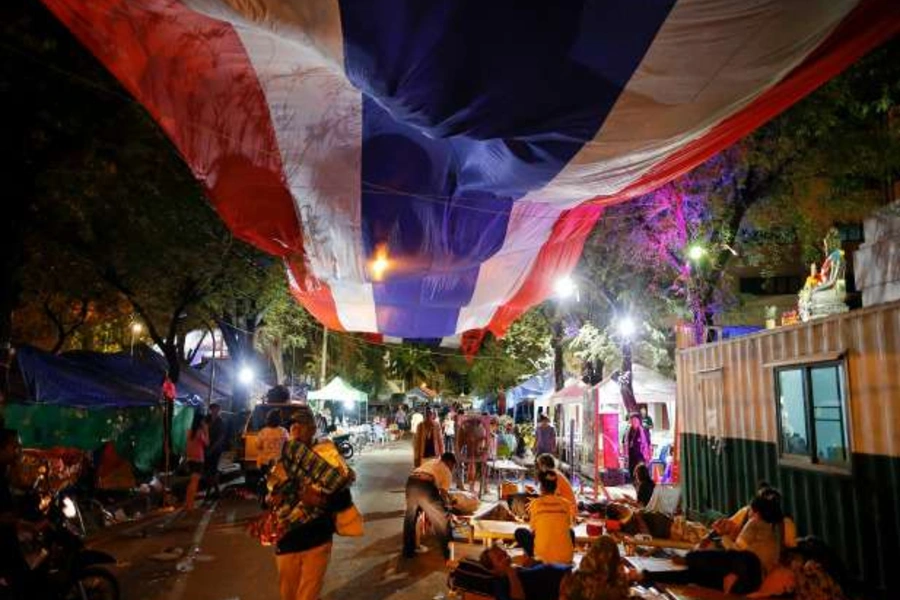 Ashlyn Anderson, Lauren Dickey, Darcie Draudt, Charles McClean, Will Piekos, and Sharone Tobias look at the top stories in Asia today.
1. Tumultuous times for Thailand. On Thursday, Thailand's army chief general Prayuth Chan-ocha declared a military coup, just two days after martial law was instated. The coup d'etat is the latest development in six months of political instability and protests, and follows the May 7 dismissal of Prime Minister Yingluck Shinawatra. General Chan-ocha has assumed the role until new elections are held. Although Yingluck was elected by popular vote, the Thai establishment (defenders of the monarchy) has historically found ways to invalidate the ballot box when a rival comes into power. Violence between the pro-government "Red Shirts" and anti-government "Yellow Shirts," with the military now in the mix, is a looming possibility.
2. Terrorist attack kills thirty-one in Urumqi. Attackers in two SUV's plowed through a crowded market in the capital city of Xinjiang province and set off a series of explosions, killing dozens of people and wounding more than ninety. The assault was the deadliest in a series of recent attacks that have been linked to violent Islamic extremists in Xinjiang, and highlighted the growing challenge for the Chinese government as it attempts to better relations with the region. Xinjiang is home to China's ethnic Uighurs, a predominantly Muslim minority whose members are increasingly unhappy with the policies of the central government. Speaking after the attack, Chinese president Xi Jinping "pledged to severely punish terrorists and spare no efforts in maintaining stability."
3. U.S. Department of Justice indicts five Chinese military officers on charges of cyber espionage. On Monday, U.S. attorney general Eric Holder announced that members of the Chinese military have engaged in cyber economic espionage against six major U.S. steel businesses and organizations. A grand jury in Pennsylvania, where all of the victims are located, returned a thirty-one-count indictment against the five Chinese officers. However, the recent indictment has many—especially in China—crying foul, given Edward Snowden's leaks about the extent of the U.S. National Security Agency (NSA)'s hacking abilities, including the revelation that it has hacked into Chinese technology company Huawei and Brazilian energy company Petrobras. The United States argues that there is a distinction between hacking for national security purposes and hacking for economic gain, an assertion that Beijing disagrees with. The indictment has escalated tensions between the U.S. and China on cybersecurity, and Chinese leaders suspended high-level U.S.-China summits to discuss cyber espionage as a result.
4. Russia's President Vladimir Putin pivots east. China and Russia signed a $400 billion gas deal this week, an "epochal event" after almost a decade of negotiations. During Mr. Putin's visit to Shanghai, both sides agreed that Russia's state oil giant Gazprom will send thirty-eight billion cubic meters of natural gas to China National Petroleum Corporation (CNPC) each year between 2018 and 2048. Some energy experts suggest that there may not be enough transportable gas ready to pipe out of eastern Russia until 2020; others are concerned that pipeline networks will not be built in time. These challenges aside, the deal grants Chinese access to crucial energy supply and enables Beijing to move away from its dependence on coal. In addition to bilateral agreements aimed at Russian and Chinese financial sectors, the Gazprom-CNPC deal could pave the way for even more natural gas export deals.
5. Continued fallout from Sewol sinking in South Korea. The aftermath of the Sewol ferry incident in South Korea continues, as this week President Park Geun-hye announced plans to disband the national coast guard for failing to do enough to save the ferry's passengers. The plans, which would distribute the coast guard's duties to the national police or to a new agency, must be approved by the National Assembly. Meanwhile, the Incheon District court issued an arrest warrant for Yoo Byung-eon, the owner of the vessel, on charges of alleged business malpractices. The court believes Yoo has fled and has issued warrants for his two sons as well.
Bonus: China continues panda diplomacy initiatives. In the newest round of panda diplomacy, the Chinese government has sent two giant pandas on a diplomatic mission to Malaysia. After a delay of nearly a month because of tensions surrounding the missing MH370 flight, pandas Feng Yi and Fu Wa arrived in Kuala Lumpur on Wednesday. The pandas are on a ten-year loan from the Chinese government and will be housed at Zoo Negara.