Friday Asia Update: Top Five Stories for the Week of May 9, 2014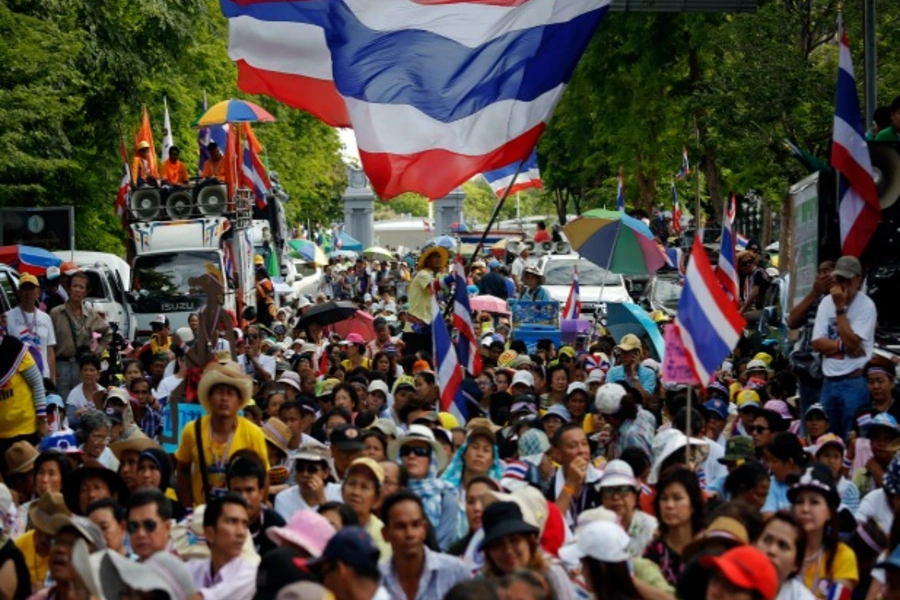 Ashlyn Anderson, Lauren Dickey, Darcie Draudt, Charles McClean, Will Piekos, and Sharone Tobias look at the top stories in Asia today.
1. Thai prime minister removed from office, faces impeachment. Thailand's constitutional court voted to remove Yingluck Shinawatra from office for abuse of power for illegally transferring a civil servant to another post. The court also removed the nine ministers that were in her cabinet at the time. Yingluck now faces impeachment by the Thai senate, in conjunction with alleged connection to a farm subsidy program. Deputy Prime Minister Niwattumrong Boonsongpaisan was named interim prime minister of the caretaker government, a choice that satisfied neither supporters nor the opponents of Yingluck and the ruling Puea Thai Party. Protestors, both anti-government and pro-government, continue to be active following Yingluck's removal, and there appears to be no clear way forward. Thailand's democracy has faced a rocky path the past few months, and some fear that elections planned for late July will be postponed.
2. Vietnam, Philippines confront China in South China Sea. State-owned oil giant China National Offshore Oil Corporation (CNOOC) set up an oil rig 120 nautical miles off the coast of Vietnam in the South China Sea. In response, Vietnam has reportedly deployed thirty-five ships to the surrounding seas, while China now has as many as eighty. The vessels' close proximity has resulted in a number of incidents, including the use of water cannons and ship-to-ship collisions. Both Beijing and Hanoi declared their sovereignty of the contested area, and neither side has shown any sign of backing down. Meanwhile, the Philippines seized a Chinese boat laden with hundreds of endangered turtles and detained its crew in contested waters. A Chinese foreign ministry spokeswoman urged the Philippine government to "stop taking further provocative actions."
3. Communal violence breaks out amid India's national election. In the western area of the state of Assam, the National Democratic Front of Bodoland, an ethnic Bodo militant group, opened fire on Muslim residents of two remote villages in the Bodoland Territorial Autonomous District, killing around forty people and burning hundreds of homes. Though India's national elections have fanned the flames, tension between Bodos (who comprise 30 percent of the region's population) and non-Bodos (including other tribes, Bengali-speaking Hindus and Muslims, and other ethnic groups) is not a new phenomenon. Many observers have pointed to the polarization of voters along ethnic and religious lines as the trigger for the violence.
4. Alibaba files IPO in the United States. Alibaba, a Chinese e-commerce company similar to eBay, filed what could become the biggest-ever initial public offering (IPO) in the United States. Experts say that the valuation of the firm could exceed $150 billion. The company, founded by Hangzhou native Jack Ma, began as a website that connected small manufacturers with commercial buyers overseas, but quickly expanded to include options to allow consumers to sell to one another and a business-to-consumer website. Last year, the company's sales exceeded $5.7 billion; measured by the value of goods sold, Alibaba is bigger than eBay and Amazon combined. Some China watchers warn that investing in Alibaba means taking on political risks: strict Chinese controls limit foreign investment, require online censorship, and also make it difficult for both foreign and domestic companies to gain too much power.
5. Norway turns away Dalai Lama after pressure from China. Tibet's spiritual leader in exile, the Dalai Lama, was in Norway this week to commemorate the Nobel peace prize he received twenty-five years ago. Amidst warnings from Beijing, the Norwegian government decided against meetings between the Dalai Lama and top politicians, a decision aimed at appeasing Beijing after trade and political links were suspended in 2010 when Chinese dissident Liu Xiaobo won the Nobel prize. The Chinese Foreign Ministry approved of the decision, and the Dalai Lama was not disappointed and was content to meet with the Norwegian public instead. A trend of avoiding the Tibetan spiritual leader may continue in countries with deep trade ties to Beijing, as studies suggest meeting with the Dalai Lama can carry heavy economic costs.
Bonus: Japanese fans think American Godzilla is "too fat." As American audiences look forward to the May 16 premiere of the new Godzilla reboot, which stars Bryan Cranston of Breaking Bad fame, fans in Japan have expressed annoyance at how "massive" the monster appears in trailers. Japanese fans criticized the new Godzilla as much heftier than his 1954 onscreen debut, joking online that Americans had "super-sized" Godzilla and calling it names such as "calorie monster," "marshmallow Godzilla," and "Godzilla deluxe." Not all responses were negative, however. In an interview with the Wall Street Journal, Kouhei Nomura, author of an encyclopedia on the Godzilla films, said the size gave Godzilla "a more dignified presence." As Nomura eloquently summed up, "being bigger is a non-issue when it comes to Godzilla."