Friday File: Arms Sales to Taiwan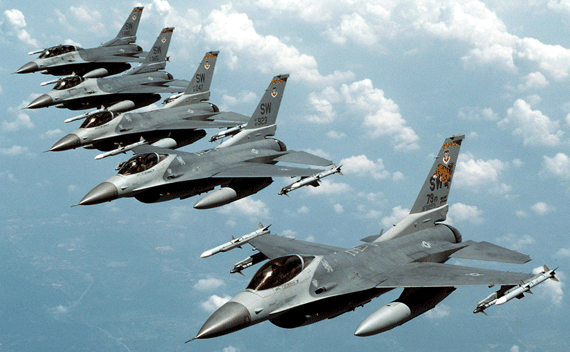 Above the Fold. The Palestinian statehood bid is not the only issue the Obama administration has been struggling with this week. On Wednesday, the White House announced that it had approved a $5 billion arms deal to upgrade Taiwan's fleet of 145 F-16 fighter planes. That might sound like a hum-drum decision, but it's one fraught with domestic and diplomatic peril. Taiwanese officials had wanted the administration to sell them sixty-six new F-16 C/D's—they are faster and have better long-range radar capabilities— rather than retrofit the older F-16 A/B's. (The Taiwanese also want diesel-electric submarines.) Many members of Congress lobbied the administration on Taiwan's behalf. At the same time, China reiterated its view that arms sales to Taiwan, which it considers to be a renegade province, violate Chinese sovereignty. When the United States announced a smaller weapons deal with Taiwan last year, Beijing halted military-to-military cooperation. So far reactions to the White House decision have been muted. GOP presidential candidate Mitt Romney did assail the decision as "yet another example of his [Obama's] weak leadership in foreign policy," and he accused the president of having "caved into the unreasonable demands of China." But Taipei helped the White House out by formally thanking the administration for the decision. Under the terms of the 1979 Taiwan Relations Act, which mandates that the United States provide Taiwan with sufficient weaponry to defend itself, Congress has thirty days to object. The press of other legislative business may help keep Congress on the sidelines. And no fireworks have erupted in Beijing. But stay tuned. This could just be the calm before the storm.
CFR Event of the Week. On Monday CFR released an independent task force report on U.S. Trade and Investment Policy. The task force's co-chairs, former White House chief of staff Andrew Card and former Senate majority leader Tom Daschle, joined with the task force's project directors, Ted Alden and Matthew Slaughter, to discuss the report's findings in a conversation with Wall Street Journal economics editor David Wessel. You can read the transcript of the event, download the audio to go, or watch the video below.
Click here to view this video on YouTube.
Read of the Week. You want different viewpoints on the Palestinian bid for statehood at the United Nations? Then you must check out Foreign Affairs Report: Palestine at the UN. Gideon Rose, the editor of Foreign Affairs, looks to have decided that no one was going to have better, more thorough coverage of the issue. He succeeded. Read the pieces by Alvaro de Soto, Robert Blecher, Ali Abunimah, and Isaac Herzog and you'll be ready to appear on Meet the Press this weekend.
Blog Post of the Week. Elizabeth Economy tells the fascinating story of Gary Locke, the new U.S. ambassador to China. He has done what ambassadors usually aren't supposed to do—he has provoked something of a political firestorm in China. How? By being too popular. No, that is not a typo. He is too popular. How did he do that? By being polite, refusing VIP perks, and otherwise showing respect to the Chinese people. They like his behavior and think their own leaders should emulate it. That appears to have annoyed some Chinese political elites.
Poll Question of the Week. Gallup periodically asks Americans, "Of every tax dollar that goes to the federal government in Washington, D.C., how many cents of each dollar would you say are wasted?" The average answer when Gallup asked the question earlier this month was an all-time high, 51 cents. It was the first time that Americans said that more than half of every dollar the federal government spends is wasted. The lowest average that Gallup has recorded in response to the question was 38 cents in 1986. Americans think that state (42 cents) and local (38 cents) governments are far less likely to waste tax dollars. Now you know why proposals to solve the federal government's $1.5 trillion budget deficit by cutting "waste, fraud, and abuse" are so popular. The public believes it can be done. They are most assuredly wrong.
Chart of the Week. I noted last week and earlier this week that the United Nations has taken an interest in noncommunicable diseases (NCDs), holding its first High-Level Meeting on Noncommunicable Diseases this past Monday and Tuesday. NCDs are estimated to kill more than 35 million people around the world every year. The chart below shows how the death toll is distributed among various categories of disease. Cardiovascular disease leads the way by far, accounting for nearly half of all global deaths. The chart also hints at why it is hard to drive down the number of deaths from NCDs—cardiovascular disease owes a lot to aging and to individual choices about what to eat and drink and whether to smoke or exercise. Aging can't be reversed, and even when people know which behavioral choices make for a healthy lifestyle, they often don't have the willpower to make them.
Chart source: Washington Post.
Too Good Not to Note. Elizabeth Economy sees some hope for political reform in Chinese premier Wen Jiabao's comments at a recent World Economic Forum meeting. Scott Snyder examines the political obstacles to passage of the Korea-U.S. Free Trade Agreement. Steve Coll laments that the U.S. and Israeli response to the Palestinian bid for statehood has left both countries dangerously isolated during a period of deep transformation in the Middle East. Gareth Evans thinks that Israel and the United States are on the wrong side of history. William Saletan argues that Rick Perry's pledge to stand with Israel "as a Christian" is a gift to Islamic extremists. Brad Plumer notes that while innovation is down, patent trolls are thriving. Bryan Curtis asks whether Perry can ride the cowboy myth to the White House. Marc Thiessen wants Perry and Romney to square off in a debate devoted to national security policy. Simon Johnson argues that if the United States loses its global preeminence anytime soon it will be because of the loss of its social cohesion and its dysfunctional politics rather than the rise of China.
Perils of Prediction. "Ruth made a great mistake when he gave up pitching. Working once a week, he might have lasted a long time and become a great star." Baseball Hall of Famer Tris Speaker in the spring of 1921 doubting the wisdom of the decision by his former teammate Babe Ruth to give up pitching to become an everyday outfielder. The switch ended up working out well for Ruth. The Bambino, or Sultan of Swat if you prefer, redefined the offensive side of the game of baseball and retired as the greatest power hitter of all time.
Quote to Ponder. "In the execution of such a plan, nothing is more essential than that permanent, inveterate antipathies against particular nations, and passionate attachments for others, should be excluded; and that, in place of them, just and amicable feelings towards all should be cultivated. The nation which indulges towards another a habitual hatred or a habitual fondness is in some degree a slave. It is a slave to its animosity or to its affection, either of which is sufficient to lead it astray from its duty and its interest." George Washington, "The Address of General Washington To The People of The United States on his declining of the Presidency of the United States," September 19, 1796.
A Reason to Smile. Cool, Crisp Autumn Afternoons.