Friday File: The Debt Debate Won't End on Tuesday
July 29, 2011, 1:54 pm (EST)
Blog Post

Blog posts represent the views of CFR fellows and staff and not those of CFR, which takes no institutional positions.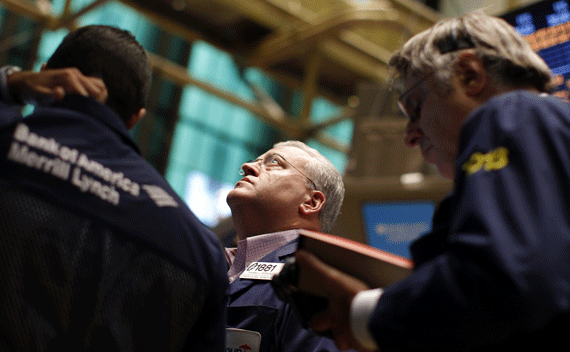 Above the Fold. The battle over the debt ceiling has come down to the wire. The situation is fluid, and anyone who claims to know what the next seventy-two hours will bring is fibbing. But here's something to keep in mind as the unprecedented drama in Washington unfolds: unless the so-called Obama-Boehner Grand Bargain experiences a Lazarus-like resurrection, come midnight Tuesday we will not have solved America's fiscal problems. The Boehner and Reid plans would reduce the deficit by $2 billion or so over the next decade. Or at least, these plans will produce those savings if the bipartisan committees they create can agree on specific deficit reduction measures and Congress then enacts those measures into law. That is a mighty big if. But let's be optimists on that score. The bigger problem is that the Boehner and Reid plans don't go nearly far enough in putting Uncle Sam on a sound financial footing. As the chairman of Standard & Poor's pointed out this week, it will take $4 trillion in projected deficit savings over ten years to make a "a good down payment" on resolving the U.S. government's fiscal problems. So expect the deficit debate to persist long after August 2. That can't be good for the American economy— or for America's power in the world.
CFR Event of the Week. This week at CFR, Christine Lagarde, Managing Director of the International Monetary Fund, spoke with Thomas H. Glocer, CEO of Thomson Reuters, about the IMF's role in addressing three key issues: sovereign debt, economic growth, and social instability. Lagarde called for a quick resolution of the U.S. debt ceiling negotiations and stressed the global consequences of a potential U.S. default. She also addressed concerns about the IMF's credibility and diversity, saying she will strive to make the organization as representative as possible of all its members. You can watch the video, listen to the audio, or read the transcript of the meeting.
Read of the Week. Nancy Pelosi probably got it right when she said a few days ago that we are entering an "age of austerity." But a report out this week by the American Society of Civil Engineers (ASCE) provides a stark reminder that the federal and state governments do need to spend money if the economy is going to grow and Americans are going to prosper. The ASCE's report argues that the "nation's deteriorating surface transportation infrastructure will cost the American economy more than 870,000 jobs, and suppress the growth of the country's Gross Domestic Product by $3.1 trillion by 2020." Such precise predictions should always be taken with a grain of salt. Projections are hard to get right, especially when they are about the future. Nonetheless, the ASCE's general point remains: much of America's basic infrastructure needs repair. Making those repairs will be expensive, and the temptation in an age of austerity will be to put them off as long as possible. But as all homeowners know, delaying repairs usually just means much bigger bills down the road. This will be a tough issue for policymakers to grapple with.
Blog Post of the Week. Anne-Marie Slaughter, former dean of the Woodrow Wilson School of Public and International Affairs at Princeton, former director of the Policy Planning Staff at the State Department, and member of Foreign Policy.com's elite Twitterati 100 (@SlaughterAM), has launched a new blog over at TheAtlantic.com: "Notes from the Foreign Policy Frontier." Her first post is appropriately entitled, "The New Foreign Policy Frontier." It calls for developing a framework for understanding global affairs "that moves beyond states and addresses both governments and societies." Keep an eye on what Anne-Marie writes—she has the capacity to move the foreign policy debate.
Poll Question of the Week. It's time for a break from the steady stream of poll questions about the national debt, the merits of U.S. involvement in Afghanistan, and the prospects of GOP presidential candidates. Gallup just asked a representative sample of Americans, "Do you most often drink liquor, wine, or beer?" For only the second time in two decades, nearly as many Americans listed wine (35 percent) as their preferred alcoholic drink as listed beer (36 percent). Back in 2005, wine out-polled beer among Americans 39 percent to 36 percent. The gender split on beer versus wine is substantial: 48 percent of men say they most often drink beer, while 51 percent of women opt for wine. These numbers almost certainly reveal something profound about the state of American culture. What that is, I don't know. I'll ponder the question this weekend over a pint of Guinness or perhaps a glass of Malbec.
Chart of the Week. Wondering how the United States accumulated $14.3 trillion in debt? The New York Times kindly provided a chart yesterday that provides some insight on the question. There seems to be a lot of blame to go around.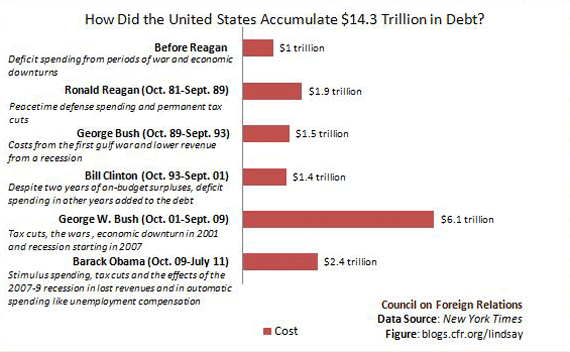 Too Good Not to Note. Stewart Patrick assesses the White House's new Strategy to Combat Transnational Organized Crime. Christopher Hill explores why America's fiscal problems are bad for its diplomacy. Jaswant Singh argues that China and India need to embrace significant structural reforms if they want to sustain their economic growth. Steven Roach says that China has lost confidence in the U.S. government because of its dysfunctional handling of its fiscal problems. Nate Silver explains why John Boehner is having trouble rounding up Republican votes for his plan to cut spending and raise the debt ceiling. Walter Russell Mead thinks that the nails are being hammered into the coffin of the "The Golden Arches Theory of Conflict Prevention"; Dan Drezner says not so fast.
Perils of Prediction. "After a messy primary between Kay Bailey Hutchison and Rick Perry, Democrat (and Houston Mayor) Bill White will win the Texas governor's mansion." Newsweek, "Our Political Predictions for 2010." Perry not only defeated White to retain his governorship, he is sitting near the top of the polls rating possible 2012 GOP presidential contenders and may soon officially join the race.
Quote to Ponder. "We are sent here to consult not to contend, with each other; and declarations of a fixed opinion, and of determined resolution, never to change it, neither enlighten us nor convince us." Benjamin Franklin, in May 1787 rebuking delegates to the Constitutional Convention who insisted that they would not vote for a constitution unless it enshrined their principles.
A Reason to Smile. NFL training camp opens.