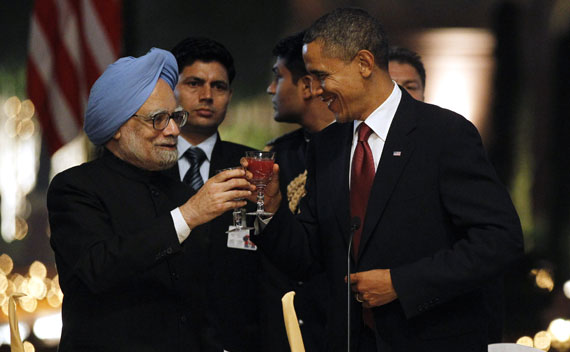 Above the Fold: The big news of the week has been President Obama's Asia trip.  The coverage at home has generally been positive.  Walter Russell Mead reviews the India leg of the trip and applauds President Obama for being "in the right place with the right message at the right time." Obama's endorsement of India's bid for a permanent seat on the UN Security Council drew praise, with Stewart Patrick, David Rothkopf, and Stephen Walt among those giving it two thumbs up. Indian commentators were glad to see a sign of Obama's commitment to a strategic partnership with India, even as they recognized that the endorsement was more symbolism than substance.  Much will have to happen before the Security Council enlarges, but other aspirants for permanent seats are already asking "What about us?" Brazil picked up explicit support for its candidacy from Britain.
CFR Event of the Week: It was a busy week at CFR, so you get two events for the price of one. General Pervez Musharraf came by on Tuesday. In wide ranging remarks, he discussed his plans to run for office, accused India of trying to "create an anti-Pakistan Afghanistan," and doubted the wisdom of President Obama's endorsement of India to be a permanent member of the UN Security Council.  You can watch the full video or read a complete transcript. In the clip below, Musharraf argues that the United States should turn over drone technology to Pakistan.
http://www.youtube.com/watch?v=jhpZbXN9jb0
On Wednesday night we hosted Yukiya Amano, Director General of the International Atomic Energy Agency (IAEA). Among other things, Amano said that the information he has seen thus far suggests that the Stuxnet virus has not substantially hampered Iran's nuclear progress.  This fits with what Tehran has been saying.  Amano also said that the IAEA was not yet ready to invoke its authority to order "special inspections" of Syria.  The IAEA has ordered these intrusive inspections only twice in its history.  You can watch the full video or read a complete transcript. In the clip below, Amano explains why the IAEA's hands are tied on North Korea.
http://www.youtube.com/watch?v=_yH5BwLEtVg
Backgrounder of the Week: Never took that international finance course in college?  A bit mystified by all the talk of "competitive currency devaluations" and the future of the yuan/renimbi?  Want to make more sense of the decisions coming out of the G-20 and APEC summit meetings?  Check out this backgrounder on the U.S.-China economic imbalance.
Read of the Week:  Erskine Bowles and Alan Simpson, co-chairs of President Obama's Bipartisan Deficit Commission, made front page news this week with their ambitious proposal to slash the federal deficit.  Unless you are a homeowner, are retired or plan to retire, drive a car, or work for a defense contractor, there's a lot to like in their proposal. Which is precisely the point. Putting the federal government on a sound financial footing will require a lot of powerful political interests to sacrifice something they cherish. (Bonus pick:  Richard Haass and Roger Altman discuss how the deficit threatens American power in the latest issue of Foreign Affairs.)
Blog Post of the Week:  Josh Rogin of The Cable has been turning out great copy on the foreign policy fallout of the elections.  He blogged about Sen. Bob Corker's desire to go slow on the New Start Treaty, what Corker's new Tea Party colleagues think about arms control, Ileana Ros-Lehtinen's call for more sanctions on North Korea, and Sen. John Kerry's assessment of the chances for the New Start Treaty.  But the winner is his post on "Obama's Top Ten Foreign-Policy Headaches."
Poll Question of the Week: The responses to the standard "What is the most important problem facing the nation" question that Gallup asked in its September 13-16 poll explains why candidates said so little about foreign policy during the campaign this fall:
| | |
| --- | --- |
| Economy in general | 33 |
| Unemployment | 28 |
| Federal budget deficit/Federal debt | 7 |
| Poor health care/high cost health care | 6 |
| Immigration/illegal aliens | 5 |
| Wars/War (nonspecific)/Fear of War | 3 |
| Lack of money | 3 |
| Foreign Aid/Focus overseas | 2 |
| Taxes | 1 |
| National Security | 1 |
| Terrorism | 1 |
| Situation/War in Iraq | 1 |
Chart of the Week: When Willie Sutton was asked why he robbed banks, he replied, "That's where the money is." So with the Bipartisan Deficit Commission proposing to slash the deficit, here's a pie chart on how Washington spends its money...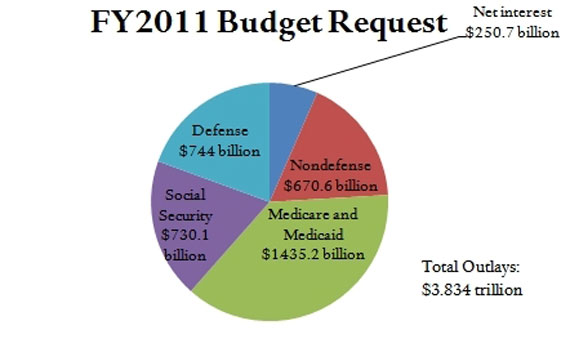 Source: The Wall Street Journal.
To further plumb the numbers on our federal budget, check out Congressional Budget Office, Office of Management and Budget and the Center on Budget and Policy Priorities.
Too Good Not to Note: CFR's Independent Task Force Report, "U.S. Strategy for Pakistan and Afghanistan" proposes changes to U.S. policy toward both countries. Max Fisher surveys what pundits are saying about how the Tea Party will change foreign policy.  Laura Rozen and Tom Ricks speculate on who will succeed Bob Gates as secretary of defense. Peter Baker discusses President Obama's relationship with presumed Speaker-of-the-House-to-be John Boehner and provides the startling news that as far as anyone knows the two men have not had "a single one-on-one meeting or substantive phone call."
Perils of Prediction: "Mr. Lincoln is already beaten.  He cannot be reelected."  Horace Greeley, Editor of the New York Tribune, August 14, 1864.
Quote to Ponder: "The nation blessed above all nations is she in whom the civic genius of the people does the saving day by day, by acts without external picturesqueness; by speaking, writing, voting reasonably; by smiting corruption swiftly; by good temper between parties; by the people knowing true men when they see them, and preferring them as leaders to rabid partisans or empty quacks."  William James, "Dedication Speech Upon the Unveiling of the Robert Gould Shaw Monument."
A Reason to Smile: Pitchers and catchers report in just 93 days.
(Photo:Jason Reed/courtesy Reuters)