G20, Global Health, and China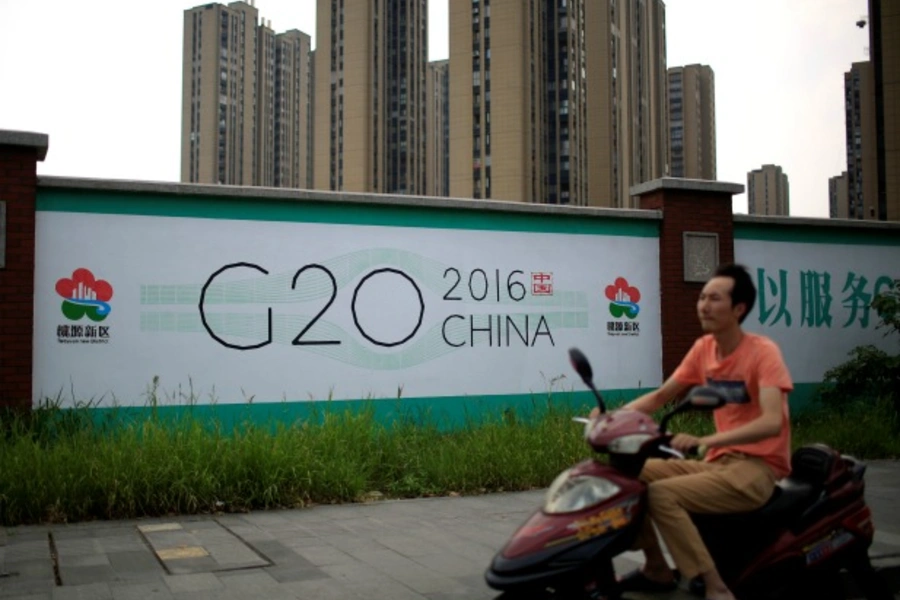 New Yorkers who have been used to the annual UNGA sessions (which typically last two weeks and attract over one hundred heads of state and government) in September will probably have difficulty understanding why the two-day G20 summit—to be held in Hangzhou early next month—is such a big deal in China, as tight security measures appear to be causing a great deal of inconvenience to local residents. These measures can be rationalized when we take into account the fact that this will be the first ever G20 summit hosted in China and the second international summit since President Xi Jinping took the reins of the Chinese Communist Party and the military in 2012.
An equally important, but less well-known factor to reckon with is the changing landscape of global governance—since the 1990s, summit-centered plurilateral institutions have become a significant forum to address major global challenges. These institutions are part of the rise of worldwide governmental and social networks characterized by less formal links among public, private, and nonprofit entities cum formal relationship among states. Unlike formal, inclusive international organizations such as the United Nations, summit-level clubs such as the G7 and G20 feature limited membership, more flexibility, and less cheap talk. The smaller number of key stakeholders in an informal, more authoritative setting not only allows for more substantive discussions over global challenges that member states have to confront, but also makes it easier for them to overcome collective action in reaching consensus and implementing decisions.
As a club of the twenty largest economies in the world, the G20 accounts for 85 percent of global GDP, 75 percent of world trade, and two-thirds of the world's population. The sheer size of its member countries' populations and economies give the G20 more legitimacy than the G7 in global governance issues. Legitimacy of the G20 is further beefed up with the shift of its agenda toward sustainable development over the past years.
Because of its role as a contributor to and a beneficiary of development, global health is integrally linked to the G20's mandate of economic growth. The vulnerability of G20 economies to major disease outbreaks notwithstanding, an argument can be made that in the context of globalization, even development-related health issues that are noncommunicable are increasingly cross-border in nature, requiring international cooperation and collective action. In that sense, global health could be a topic that galvanizes the interest of G20 leaders. As early as 2004, when Canadian Prime Minister Paul Martin trumpeted the need for a "Leaders' 20" or "L20" as an alternative to the G8, global health was one of the common themes under discussion. In July 2016, civil society leaders of the twenty major economies (C20) issued a communique calling for G20 leaders to achieve quality and affordable healthcare and closer international cooperation over major disease prevention and control.
Yet for almost a decade, the summit has focused overwhelmingly on traditional financial and economic issues, and global health issues have been only indirectly addressed on the G20 agenda. Until 2013, the G20 had not tackled global health challenges in a substantial way other than promises to meet the Millennium Development Goals (which expired in December 2015) and to strengthen healthcare and social safety nets. Global health issues became prominent for the first time in the 2014 Brisbane summit, when G20 leaders issued a separate statement on the Ebola outbreak in West Africa. It is also encouraging that the 2015 Antalya summit began to target global health risks, including antimicrobial resistance and weak health systems as key concerns. This year, however, Beijing has made it clear that the focus of the summit will be on global economic growth. Indeed, "health" is not even mentioned once in the eighteen-page document on themes and key agenda items of the summit issued by the Chinese government.
Why is that the case? The G20 was elevated to the leaders' level as an international response toward the 2008 global financial crisis. From the very beginning, it has been viewed as a forum to discuss pressing global economic and financial issues. If we believe history matters, it makes sense to consider G20 agenda setting to be a path dependent process in which global health becomes a victim of the "lock-in" effect. Also, including global health in the G20 agenda entails member states committing extra financial resources to improving global health. As my colleague Laurie Garrett notes, since G20 is not a club of rich nations only, attending the summit is no longer viewed as "the Great Global Guilt Trip" (which gives the G7/8 nations moral incentive to contribute financially to global health), and rich nations driven by their own interests would be happy to delink global health from the summit agenda.
Although global health will not feature prominently on the Hangzhou summit agenda, it is in China's interest to play a constructive role in pushing global health as one of the key deliverables at the 2017 Hamburg summit. An area of particular interest to China and other G20 leaders is the financing of the implementation of the Paris Agreement on Climate Change and the health targets of the Sustainable Development Goals (SDGs).  China could work closely with other G20 countries to find innovative solutions to conjure the money necessary to fulfill the targets while maintaining commitments to existing programs such as the Global Fund to Fight AIDS, Tuberculosis and Malaria and the WHO Contingency Fund for Emergencies. Against the backdrop of dwindling financial resources for global health, China's push to expand the G20 agenda to include global health would boost its image as a global leader in tackling issues of common concern, thereby beefing up its soft power abroad. Indeed, compared to the lavish spending on the Confucius Institutes and other existing soft power projects, a global health initiative led by China would be a more cost-effective and powerful testimony to China's benevolent intentions internationally.