G5 Sahel: An African (and French) Solution to an African Problem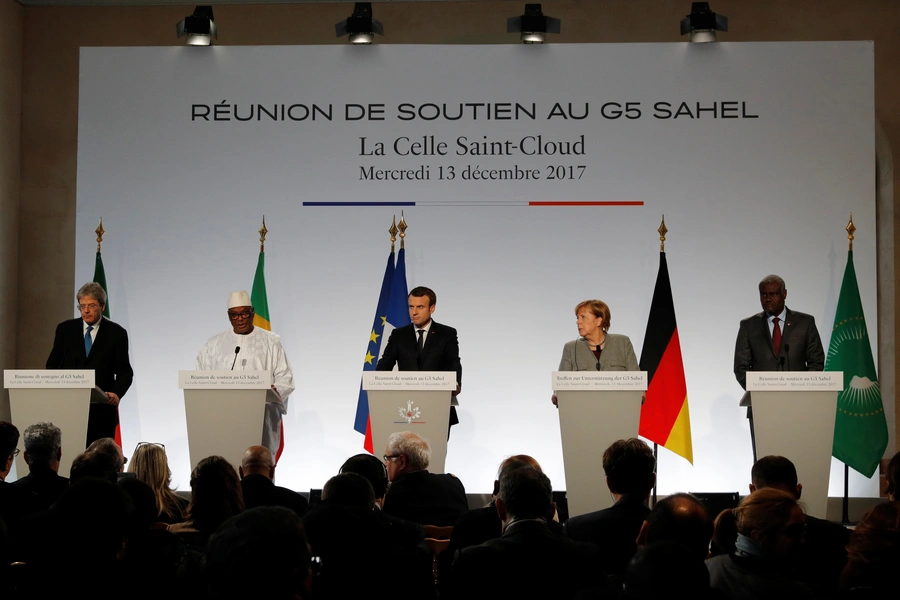 The G5 Sahel is made up of the defense forces of Mali, Mauritania, Niger, Burkina Faso and Chad. Its goal is to defeat jihadist militants—including affiliates of the Islamic State and al-Qaeda—that take advantage of the porous borders that characterize the region. It launched its first, "symbolic" operation in early November involving troops from Bukina Faso, Mali, and Niger.
The coalition may be an example of that elusive goal: an African solution to an African problem. It was created by five different governments that appear committed to meeting the challenges of military cooperation and coordination. However, the godfather of G5 Sahel is President Emmanuel Macron of France and, at least for the time being, the chief financial angels are Saudi Arabia and the United Arab Emirates.
President Macron is personally committed to G5 Sahel. On December 13, he hosted a summit of the five African heads of state, the prime ministers of Italy and Belgium, and the German chancellor, all of whom were supportive. He successively appealed for funding to the Saudi Arabian crown prince, who has agreed to contribute 100 million euros, and the United Arab Emirates, which has agreed to contribute 30 million euros. The G5 Sahel receives no UN funding because of the Trump administration's reluctance to channel money through the UN, but the administration has nevertheless pledged $60 million. A donor conference is scheduled for February.
France has a counterterrorism force of about four thousand in the region, while the UN has twelve thousand peacekeepers in Mali. Despite these troop numbers, the jihadist threat to the region is growing. The G5 Sahel governments have pledged to add five thousand of their own troops over the next few months to the fight.
Is this an African or a French initiative, or a bit of both? It appears to be a genuine initiative of the five African governments but with the strong political encouragement and support of the French presidency and strong financial support from the Gulf. France is deeply involved in the Sahel; all five countries were once part of France's African empire and later of the French Union. For successive French governments, West Africa and the Sahel has been the "near abroad" of France, a region close to Europe with deep political, cultural, and economic ties. For Saudi Arabia and the Emirates, the G5 provides a means of countering jihadi movements that pose a direct threat to their ruling families. 
The United States has military ties with the G5 states, but has declined to take a leadership role with respect to standing up the G5 force. It would be in the U.S. national interest to be supportive of the G5 initiative; if the jihadists pose no security threat to the United States, they do threaten U.S. interests in the region. In the absence of U.S. leadership, we should be grateful to the French.