Guinea-Bissau Prepares for a Presidential Runoff Election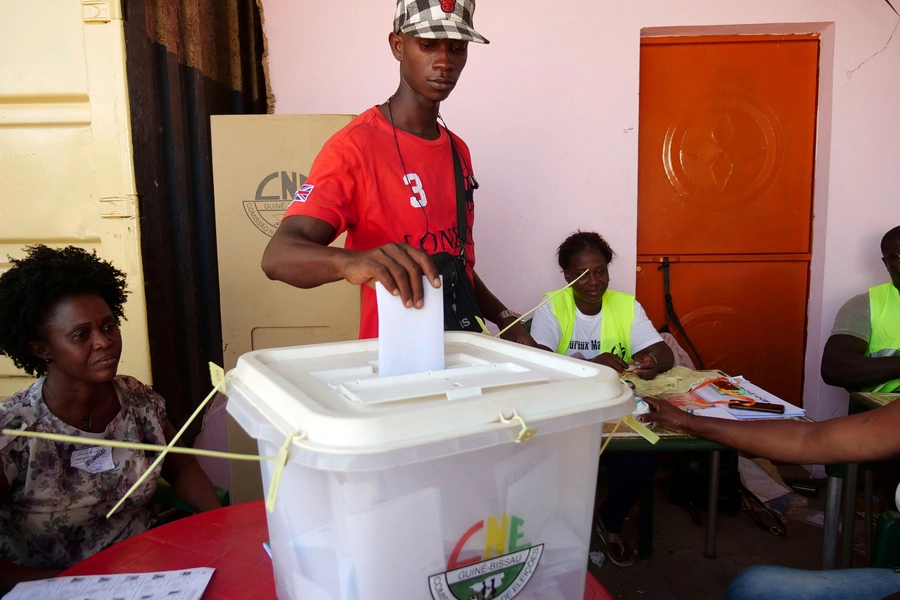 Adam Valavanis is a former intern with the Africa Program at the Council on Foreign Relations. He received a master's degree in conflict studies from the London School of Economics and Political Science.
On November 24, voters in Guinea-Bissau cast their ballots in the first round of the country's presidential election. The top contenders, former prime ministers Domingos Simoes Pereira and Umaro Sissoco Embalo, won 40 percent and 28 percent of the vote, respectively. The incumbent, President Jose Mario Vaz, conceded after finishing third with 12 percent of the vote. Since neither Pereira nor Embalo received an outright majority, there will be a second round of voting. Campaigning for the second round begins tomorrow, and the election will be on December 29. 
For several years, the country has endured political chaos fueled by President Vaz's ongoing feud with the ruling African Party for the Independence of Guinea and Cape Verde (PAIGC). Vaz originally came into office on the PAIGC ticket but was expelled from the party prior to last month's election. The party ultimately backed Pereira, who has headed the party since 2014. Relations between Vaz and the PAIGC have steadily deteriorated after repeated clashes over prime minister appointments. Vaz dismissed as prime minister Pereira in 2015 and Aristide Gomes in October of this year, but faced significant blowback in both instances. Pereira and Gomes are just two of the six different prime ministers that have served in the past five years under Vaz. 
Though the prime minister is formally selected by the president, the selection is meant to follow consultations with parliament on the nominees they put forth. Vaz has largely ignored parliament's recommendations and attempted to install his preferred choices. However, he has time and again run into trouble with the courts and the regional Economic Community of West African States (ECOWAS), both of which have argued that Vaz's selections violate the country's constitution. ECOWAS has worked to resolve the ongoing impasse and mediate relations between Vaz and the PAIGC since 2015. Earlier this year, pressure from ECOWAS resulted in Vaz reinstating Gomes as prime minister. 
ECOWAS has kept close watch of Guinea-Bissau's parliamentary and presidential elections this year, sending observers to both. It issued a statement after November's vote warning that it would step in to prevent a coup, which has been a regular feature of Guinea-Bissau's political history since its independence in 1974. Most recently, soldiers arrested former Prime Minister Carlos Gomes Jr. in the run-up to the second round of voting for the 2012 presidential election. Gomes was expected to win the election before being arrested. The subsequent military junta ruled for six weeks until finally relinquishing power to civilians. After two years under a transitional government, the country elected Vaz as president in 2014. His time in office has been characterized by constant political turmoil. 
But with Vaz out of the picture, Guinea-Bissau has a chance to reshape the political landscape, moving beyond the factional rivalries and gridlock that have defined the country since 2015. While the election took place under a highly tense political atmosphere, it is important to note that Vaz, whose term technically ended in June, is the first head of state in Guinea-Bissau in twenty-five years to carry out his term without being either deposed or assassinated. Despite claims of vote-buying and ballot-stuffing from Vaz's campaign team, observers found no evidence of ballot tampering on election day. These are huge steps in the right direction for a country that has long struggled with democratic rule.