HBO History Makers: Condoleezza Rice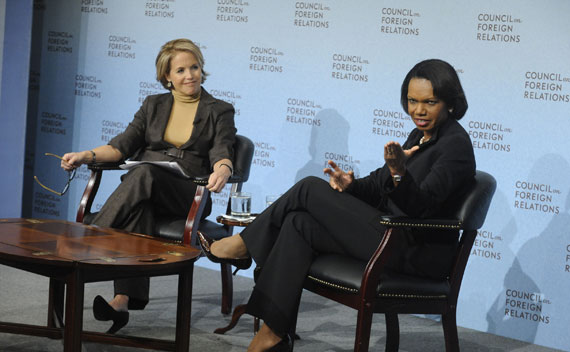 Condoleezza Rice, the former secretary of state and author of the new book, Condoleezza Rice:  A Memoir of My Extraordinary, Ordinary Family and Me, stopped by CFR's New York headquarters today to participate in our HBO History Makers Series.  In a conversation moderated by Katie Couric of the CBS Evening News, she reflected on her time in the George W. Bush Administration and on the issues she grappled with after 9/11, including the wars in Iraq and Afghanistan.  She also discussed the damaging effects of WikiLeaks and the geopolitical challenges of Iran and North Korea.
You can watch the full video of Secretary Rice's talk here.
You can watch video of her thoughts on dealing with North Korea and Iran here.
http://www.youtube.com/watch?v=HO2mKshKtdE
You can watch her discussion of the U.S. Decision to go to War in Iraq  here.
http://www.youtube.com/watch?v=YqE1MdpKwTM
You can watch her assessment of the consequences of WikiLeaks for U.S. Diplomacy here.
http://www.youtube.com/watch?v=YMdkCbDh-Qs
(Photo: Don Pollard)