Hello, Park Geun-hye: President of South Korea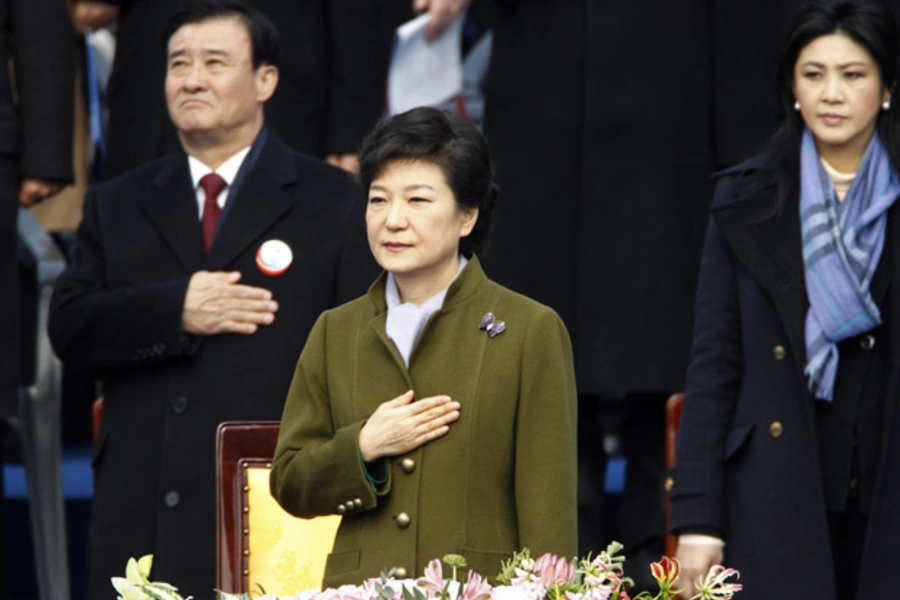 Glass ceilings are made to be broken. And today Park Geun-hye smashed one when she became the first woman to be sworn in as president of South Korea. Park defeated her left-of-center opponent, Moon Jae-in of the Democratic United Party (DUP), back in December with nearly 52 percent of the vote. To put that accomplishment in perspective, less than 16 percent of the seats in South Korea's National Assembly are held by women, which places it 105th among legislatures worldwide, while 97 percent of senior government positions are held by men. Park's ride into the Blue House was helped by the fact that she is the daughter of Park Chung-hee, the economic modernizer and military dictator who dominated South Korean politics from the time he took power in a coup in 1961 until his assassination in 1979. Many older South Koreans remember him fondly for lifting the country out of poverty, but liberal politicians and many younger South Koreans despise him for cruelly repressing his political opponents. Unlike her father, Park Guen-hye will have just a single five-year term to put her mark on South Korea.
The Basics:
Name: Park Geun-hye
Date of Birth: February 2, 1952
Place of Birth: Daegu, South Korea
Religion: Atheist, though she is influenced by Buddhism and Catholicism
Political Party: Saenuri (New Frontier) Party (conservative)
Marital Status: Unmarried
Children: No children
Alma Mater: Sogang University
Political Offices Held: five-term National Assembly member for Dalseong district, Daegu (1998-2012), National Assembly member in a proportional-representation seat (2012), chairwoman of the Grand National Party (GNP) (2004-2006), presidential primary candidate for the Grand National Party (2007), chairwoman of the Saenuri Party Emergency Management Committee (2011-2012)
What Supporters Say. Park holds a special place in the hearts of many South Koreans given her family history. Her mother, Yuk Young-Soo, was assassinated in 1974 by a North Korean agent who opened fire on Park's father during a celebration of South Korea's Independence Day. Park, then twenty-two, took over her mother's duties as first lady. By all accounts, she handled the role admirably. Then in 1979, her father was assassinated by his chief intelligence advisor. According to Meredith Jung-En Woo, a Korea scholar and the dean of the College of Arts and Sciences at the University of Virginia, the fact that both of Park's parents were murdered means that
She is seen as someone who has endured personal tragedy, someone who shares the wills and woes of the people.
Park's supporters applaud her for opposing what has been called South Korea's "climate of negligence" toward cronyism and officials' misdeeds. Her predecessor at the Blue House, Lee Myung-bak, liked to boast about his "morally perfect" administration. Then his brother became embroiled in a bribery scandal. Park has a reputation for punishing corrupt party members. Eom Ho Keon, a South National University law professor and Park supporter, told NPR:
In the past, there have been a lot of family corruption scandals, with leaders trying to amass fortunes to pass on to their descendants. Ms. Park has no financial ambitions, and no offspring to give her money to. She only wants to work for the people.
Yoon Yeo-joon, a former environment minister and a prominent member of Moon Jae-in's camp, said something similar:
It is Park's merit that she puts public obligations ahead of private affairs.
Park is so inclined to think of the national interest that her first response when told that her father had been assassinated supposedly was to ask, "Is everything all right along the border with North Korea?"
The image of a dedicated public servant who puts the country above personal interests resonates with many Koreans. Choi Jin, head of the Institute of Presidential Leadership, told the New York Times:
Her image among her supporters is a stable leader, calm during crises, strong and dependable.
Park also gains support from Koreans who respect her father despite the fact that he was a dictator. To some extent this split view of the senior Park is generational. Jin Soo-chul, sixty-one years old, told the Associated Press:
Young people don't understand the many shivering nights of blackouts, cold and hunger. Had they lived through those times, they would feel differently about Park Chung-hee.
What Critics Say. Many South Koreans hold Park's father against her. In a televised presidential debate, ultraliberal candidate Lee Jung-hee called Park the "first lady of the dictatorial era." Other Koreans have echoed that sentiment. Kim Min-jin, a thirty-one-year-old office worker in Seoul, cracked:
I wonder what the rest of the world will think of Korea; we now have a dictator's child as leader, both in North and South Korea.
Park has apologized for the abuses that father's regime committed. She has stopped short, however, of blaming him specifically. She says that she doubts that "the people of Korea really want me, a daughter, to spit on her father's grave." That didn't stop Moon Jae-in from saying during the campaign that Park:
and I were both born in the year of the dragon, but we have led totally different lives. When I was living in poverty, she was living the life of a princess in the Blue House. When I was fighting against dictatorship, she was at the heart of it.
"Princess" is a word that critics like to use to describe Park. She has been called a "Notebook Princess" for supposedly blindly repeating whatever her advisers tell her to say. Likewise, some critics dismiss her as "Princess Geun-hye" because of her privileged background and what they see as her imperious air. Park has given her critics material to use on that score. She has cited England's Elizabeth I as one of her inspirations. She also took "Seondeok" as her Buddhist name; it happens to be the name of the first Korean queen to rule in her own name. A former spokeswoman for Park griped about having to pull the hood of Park's raincoat over her head for her. She added, no doubt gratuitously, that Park ate hamburgers with a knife and fork, never her hands.
Complaints about Park's regal bearing extend to her leadership style. Yoon Yeo-joon said of her, "We have known Park Geun-hye as an imperial candidate, and no one can argue with her decisions." Lee Hae-chan, former head of the Democratic United Party, accused Park of "steer[ing] her party in an authoritarian, undemocratic way." Press reports claim that her aides and party subordinates privately criticize her irrational fear of betrayal, her inaccessibility, and her inability to tolerate criticism. She certainly hasn't established a record for soliciting the views of the rank-and-file members of her party. Nam Kyung-pil, a Saenuri member of the National Assembly, said:
If we keep seeing the same situation where Park Geun-hye gives a press conference before a general meeting of lawmakers is held, and what she says then gets decided on as the party's position, then the public is going to think democracy has disappeared from the party.
The Hankyoreh, a Korean daily, observes that the term "Park Geun-hye-style answer" is used to refer to empty talk of dialogue and bipartisanship when confronted with controversial issues.
Stories You Will Hear More About. Park's nickname, "queen of elections," is well-deserved. Going into 2012, her party, the Grand National Party, looked to be headed toward a drubbing on Election Day with voters looking to punish the incumbent president, Lee Myung-bak. The drubbing never took place, though. Park overhauled the GNP, renaming it the Saenuri (New Frontier) Party and building a candidate roster full of fresh, young faces championing a more moderate agenda. The dash to the political center was so pronounced that at times Park and her opponent Moon Jae-in were arguing for similar policies in similar language.
Park's opponents weren't happy to lose an election they assumed that they were going to win. She entered office promising to pursue "national harmony." Despite the bid for bipartisanship, rival parties are already complaining about some of her decisions. Her cabinet appointments have been a particular bone of contention. DUP officials note that while Park has pledged to pursue "impartiality" and "reconciliation," her cabinet appointments have favored individuals from the Seoul area and graduates of Seoul National and Sungkyunkwan Universities in particular. These choices are seen as especially significant in a country in which one's regional origin and alma mater have an outsized impact on an individual's career.
Some specific cabinet choices have caused Park political problems. Her initial nominee for prime minister withdrew his nomination amidst charges that he had engaged in dubious real estate transactions and that his sons had dodged the draft. Her choice for defense minister, Kim Byung-gwan, had the right background for the job—he is a former deputy commander of the South Korea-U.S. Combined Forces Command. Unfortunately for Park, he has another credential that is coming back to haunt him: he was paid almost $200,000 over two years to advise the Korean representative of a German arms exporter. Critics charge that he used his military ties to push the Defense Ministry to buy tank parts from the company in question.
Park also caused a stir with her intention to nominate Jeong H. Kim to run the Ministry of Science and Technology. Kim has a sterling resume: Navy veteran, successful scientist, wealthy businessman, and an adviser to the intelligence community. The thing is, he did all of these things as a U.S. citizen and in the service of the U.S. government. Park's critics grant that he was born in South Korea and lived there until he was fourteen, and they don't dispute that he could regain his South Korean citizenship. They do, however, ask whether any other country would appoint an adviser to a foreign intelligence agency, even a friendly one, to a senior government position.
Park's critics aren't all in the DUP. She also has enemies within the Saenuri Party. Her remake of the GNP angered party members on the losing side of the battle, and even some of her allies chafe that she gets so much of the credit for turning the party's fortunes around. The bad blood within the party bubbled up during the latter stages of the campaign after Park made several controversial statements defending her father's rule. Some senior party members demanded that Park's loyalists step down from their positions on the campaign team. Park ignored the calls.
Park also has to worry about the public mood. One problem is that departing President Lee left her with a public relations mess on his way out of the Blue House. Over Park's objections, Lee pardoned dozens of friends and colleagues who had been found guilty of corruption. The issue could test Park's carefully crafted image as an incorruptible leader.
The bigger political problem for Park, however, is one familiar to Americans: the economy. South Koreans ranked it as the most important issue of the election. It is easy to see why. Household debt now stands at 154 percent of household disposable income. Jobs aren't growing but income inequality is. Many Koreans also worry that the chaebol, large conglomerates such as Samsung and Hyundai, will continue to get favored treatment at the expense of small and medium-sized businesses. The chaebol benefited enormously under the rule of the elder Park.
Park (and Moon as well) vowed during the campaign to promote "economic democratization" and to curb the dominance of the chaebol. She also promised to expand the middle class to 70 percent of the country's population. Park no doubt would love to match her father's reputation as the architect of the "miracle on the Han River" for helping turn South Korea into a modern industrial economy. She faces tough sledding, however, because of political divisions at home and a much more competitive global marketplace.
Park in Her Own Words. Park has portrayed herself to South Korean voters as a motherly authority figure and a dutiful daughter of the nation. She spoke about losing sleep over drought victims and choosing to study engineering to help boost South Korea's electronics exports. She says that her concern for the nation reflects the fact that:
I have no family to take care of. I have no child to inherit my properties. You, the people, are my only family, and to make you happy is the reason I do politics.
In a speech to supporters, she called her victory "a victory for the people's wish to overcome crises and revive the economy."
Some of Park's supporters see her as a sort of conservative messiah, an image she had a hand in shaping. In her diary entries in the 1980s and 1990s, some of which she quoted in her subsequent public writings, she wrote about how she identified with Buddha and Jesus.
Betrayal is a theme in Park's writings. She has bristled at how people who worked for her father distanced themselves from his rule after he was assassinated. Seven years after his death she wrote in her diary:
There may be nothing sadder and more awful than one person betraying another. Once you've betrayed another's trust and loyalty, the next betrayal becomes that much easier, until finally you're living your whole life as someone who is not honorable to themselves.
Park plays tennis and uses breathing exercises to relieve her stress. She reads Chinese philosophy for fun, and she wanted to be a teacher when she was little. Her modern-day role models include former British prime minister Margaret Thatcher and current German chancellor Angela Merkel.
Foreign Policy Views. Park moves into the Blue House at a difficult time in Korean foreign policy. China's rise offers South Korea great economic opportunities but potentially at the price of making it once again a Chinese vassal. North Korea just successfully launched a long-range missile and conducted its third nuclear weapons test. Old animosities with Japan, which occupied South Korea from 1905 to 1945, have flared up again.
Park's biggest fan overseas might turn out to be Barack Obama. He made the traditional call to Park last December to congratulate her on her victory; the two affirmed their mutual commitment to the U.S.-South Korea military alliance and pledged to cooperate against the North Korean threat. The conventional wisdom is that the Obama administration heaved a sigh of relief at Park's victory. The GNP has historically favored close ties with the United States, and Park wants to continue the relationship.  Her opponent, Moon, had promised to restore former president (and Nobel Peace Prize winner) Kim Dae-jung's "Sunshine Policy" toward North Korea. That would have created diplomatic problems abroad and political problems at home for the White House, which is bent on keeping up the pressure on Pyongyang.
When it comes to North Korea, Parks looks poised to continue outgoing president Lee's firm line toward Pyongyang. Park has said that she will not give significant aid to North Korea until its nuclear program stops, but she will aim to meet with Kim Jong-un "if it helps in moving forward North-South relations." South Korea was elected to a two-year term on the UN Security Council in October, and this month it served as the Security Council's president. That ironically led to South Korea chairing the Security Council meeting that condemned the North Korean nuclear test.
South Korea's alliance with the United States creates frictions in its relations with China. Beijing sees the U.S.-South Korean alliance as obstacle to its dominance in the region and a possible threat to Chinese security. South Korea's ties with China are primarily economic—trade between the two countries reached $220 billion. Yet disagreement about how to deal with North Korea has gotten in the way of a smooth relationship between China and South Korea.  Park says she will pursue good relations with both China and the United States, but striking a balance will be difficult.
Seoul's other problematic relationship is with Tokyo. Japan's four-decade long occupation of South Korea has not been forgotten, so signs that the new Japanese prime minister Shinzo Abe might water down if not retract Japan's apology for the World War II practice of "comfort women"—a euphemism for sex slaves—inflamed passions in South Korea. The two countries also dispute who should exercise sovereignty over two small islands and thirty nearby rocks in the Sea of Japan called Takeshima by the Japanese and Dokdo by the Koreans. It is another reason why South Korea and Japan each have mutual defense treaties with the United States but not with each other. The potential for friction between Seoul and Tokyo presents and additional complicating factor for U.S. efforts aimed at "rebalancing" in East Asia.
For more on South Korea, check out what my colleague, Scott Snyder, has to say on the CFR blog, Asia Unbound.