How Should Democracies Confront China's Digital Rise? Weighing the Merits of a T-10 Alliance
Democracies should ask themselves whether forming yet another elite club of wealthy states represents the best means to counter China's and fellow authoritarians' digital rise.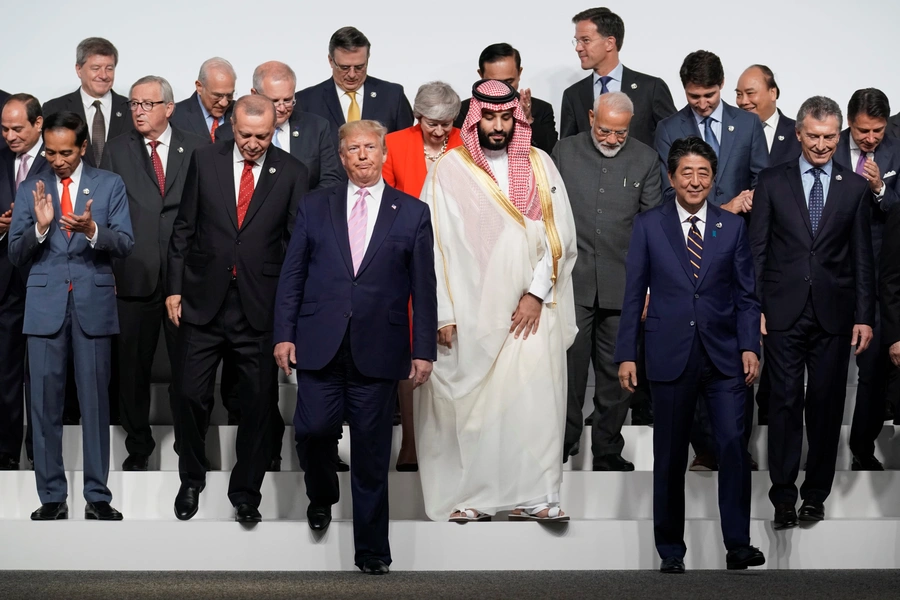 Steven Feldstein is a senior fellow in the Carnegie Endowment for International Peace's democracy, conflict, and governance program. From 2014 to 2017, he served as the U.S. deputy assistant secretary of state for democracy, human rights, and labor.
With President-Elect Joe Biden's election victory, foreign policy experts are debating what a pivot from four years of America First isolationism should entail. One idea that is gaining traction is for the United States to initiate an alliance of democracies to combat China's technological expansion and check the spread of digital autocratic norms. Specifically, many experts are proposing the creation of "Technology 10" or "T-12" groupings to counter China's digital ambitions, safeguard the West's technological leadership, and allow liberal democracies to shape emerging technologies. While such alliances are instinctively appealing, especially in light of the Trump administration's abdication of international leadership, policymakers should ask tough questions about what a T-10 or T-12 alliance would accomplish and whether putting together such a group is even feasible.
To start, what would be the purpose of a democratic tech alliance?
Commentators cite a variety of challenges that a T-10 or T-12 group could tackle. The potential scope is wide, such as ensuring China doesn't stake an insurmountable lead in emerging technologies such as artificial intelligence (AI) and quantum computing, developing a more coherent framework for deterring cyberattacks, and providing a counterweight to China's digital authoritarian ambitions. The breadth of its agenda underlies its potential weakness—unless policymakers confine the group's mandate to a core set of issues, its value is doubtful.
If geopolitics, for example, is the primary motivation behind a T-10/T-12 alliance, then the group should be structured to facilitate intelligence and security partnerships and deny China's advances in critical sectors. Areas of collaboration could include safeguarding proprietary technology (like semiconductor manufacturing), creating common export control frameworks, and constraining the spread of Chinese 5G technology. On the other hand, if advancing democratic norms is the chief goal, then the alliance should emphasize diplomatic and normative considerations. Issues under this frame could include countering authoritarian technology peddled by Chinese firms and pushing back against China's "cyber sovereignty" internet governance agenda.
But it will be difficult for the group to successfully tackle both aims—not only are these issues different in scope, but policymakers have limited time and resources to dedicate to these problems. The risk of adopting too broad of an agenda is that a T-10/T-12 alliance will fail to satisfactorily deliver on any of its priorities.
A second challenge is whether a small club of democracies represents the best way to counter China's digital rise. By design, such a narrow group of ten or twelve countries will exclude many digital "swing states," such as Indonesia, Kenya, or Brazil, which will either facilitate or thwart China's rise in their neighborhoods. The paradoxical result is that battlegrounds of digital competition—regions like Southeast Asia, Africa, and Latin America—would remain underrepresented under a T-10/T-12 configuration. Therefore, it seems counter-intuitive to use an elite club of largely Western techno-democracies as a means to counter China's global tech influence rather than pursuing a more inclusive model.
Additionally, the proposed member states of a T-10/T-12 alliance bring contrasting tech outlooks that will be challenging to reconcile. The European Union, for instance, has made significant progress developing a unified approach on tech policy that will culminate in the release of the Digital Services Act [PDF] (regulating how tech platforms with a gatekeeping role may operate in Europe), the European Democracy Action Plan (featuring a strong emphasis on combatting online disinformation), and laws regulating AI technology in the coming months. Not only will these regulations generate disagreement with the United States, but they could bring serious financial costs to American tech companies. These differences point to fundamental gaps between how Europe and the United States view core issues of privacy, government regulation, and data use. While there are new indications that the EU is interested in joining forces with the United States to counter China's digital objectives, there is no guarantee that both sides will reach consensus.
The EU's vigorous policy process signals another important shift: formal competence for most digital issues no longer lies with individual European states. Instead, many of these powers have been delegated to the EU itself. Selecting two or three European countries for a T-10/T-12 alliance when the bulk of decision-making authority resides with the EU would reflect a poor understanding of the bloc. Moreover, critiques that democracies are "strangely disconnected" on tech policy fail to recognize growing European consensus on these issues. The problem is not that democracies as a whole lack a coordinated tech agenda; rather, it is that a wide gulf has emerged between different blocs of democracies. A simpler first step could be to concentrate on repairing broken ties between old allies rather than creating new structures—such as the EU's reported proposal to revitalize transatlantic cooperation on digital regulation.
Finally, before the United States assumes global leadership on tech policy, it needs to determine what its own orientation will be. Domestic consensus on tech policy appears to be breaking down. In recent months, Republicans and Democrats have clashed about whether to revise intermediate liability protections for internet platforms, whether social media sites are demonstrating bias against conservative commentators, and whether platforms like Google have formed illegal monopolies. In the meantime, President Trump has borrowed a page from China's playbook by attempting to unilaterally ban TikTok and WeChat from the U.S. marketplace and pressing for TikTok's sale to a politically favored American company. The United States cannot credibly lead a democratic tech agenda without first resolving its internal contradictions and laying out much more clearly its own policy direction on a host of contentious issues.
There are convincing reasons for assembling a more intentioned response to China's and Russia's techno-nationalist agendas. China's efforts to subvert liberal norms in multilateral institutions and dominate next generation technologies like 5G networks [PDF] that will enhance its influence and sway are troubling. It is imperative for democracies to carefully consider the significance of these threats and to take appropriate steps to counteract their expansion. But policymakers should also be wary about jumping hastily to ill-fitting solutions that deserve more thought and deliberation. Democracies should ask themselves whether forming yet another elite club of wealthy states represents the best means to counter China's and fellow authoritarians' digital rise, or whether pursuing alternative approaches—such as assembling a less formalized but broader coalition of countries—would be a wiser path.