IMF Managing Director Lagarde's Visit a Boost for President Buhari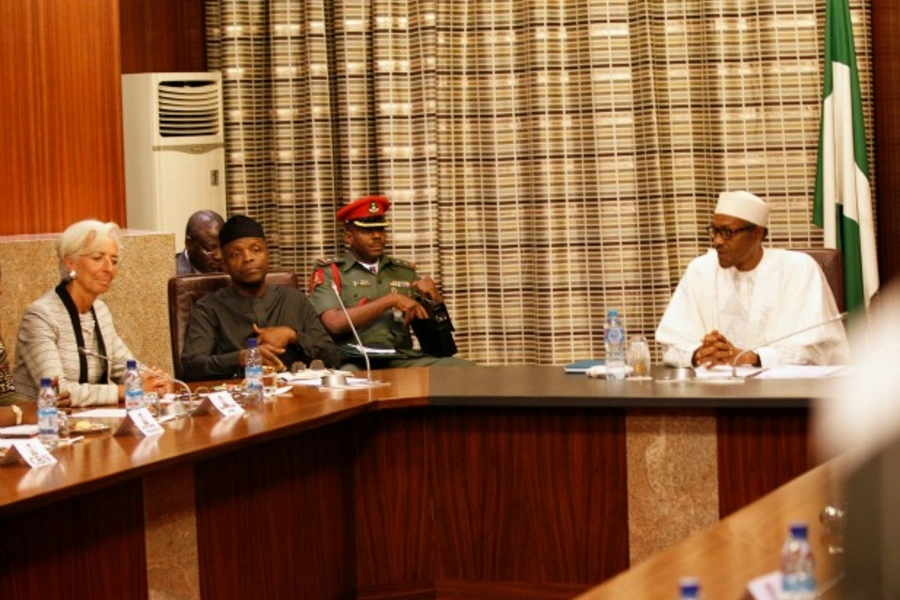 President Muhammadu Buhari faces a serious economic crisis related to the plunge in the world price of oil, slow rates of economic growth, the prospect of rising American interest rates, a falling national currency, and declining government revenues. At the same time, he is working to restructure the economy away from undue dependence on oil by increasing infrastructure investment and vigorously pursuing an anti-corruption agenda demonstrated by the arrests of high-profile public figures.
Boko Haram terrorism persists, placing huge demands on government spending. (About one hundred deaths were associated with Boko Haram and the security services over Christmas week. In addition, Boko Haram kidnappings continue.) To address short-term fiscal needs, there has been speculation that Buhari will further devalue the national currency, the naira, and seek international loans.
During her Nigeria stop, International Monetary Fund (IMF) Managing Director Christine Lagarde strongly endorsed President Buhari's policies, ranging from restructuring the economy away from oil to the fight against corruption to cutting waste to capital expenditure to stimulate growth. She said the IMF will audit Buhari's current budget "to assess whether the financing is in place" and "whether the debt is sustainable, borrowing costs are sensible, and what must be put in place in order to address the challenges going forward." Her highly supportive tone seems to foreshadow a positive audit outcome. Her bottom line was widely quoted in the Nigerian and international media: "Frankly, given the determination and resilience displayed by the presidency and his team, I don't see why an IMF programme is going to be needed."
Lagarde's endorsement strengthens Buhari's hand politically against his rivals at home, many of whom must be chafing at his anti-corruption campaign. It also is bound to strengthen Buhari's hand with international credit markets, should he in fact seek to enter international bond markets.