India Hopes Donald Trump Will Solve the Pakistan Problem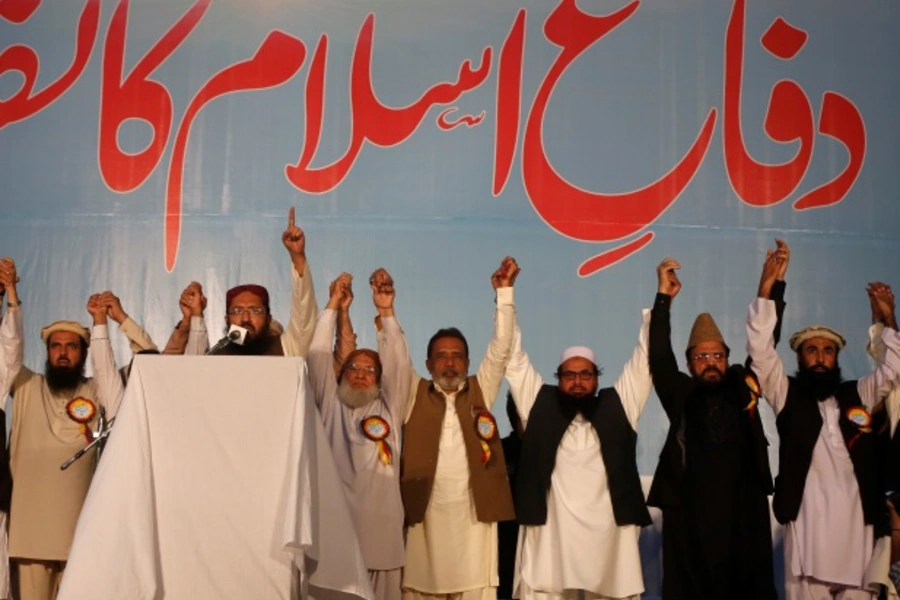 For those of us in Washington, the days since President Donald J. Trump's inauguration have been head-spinning. The executive order banning citizens of seven countries from entry into the United States produced mass protests across the United States. A rejig of the National Security Council has raised questions about its politicization. Angry tweets on Mexico, Australia, Iran, Berkeley, Democrats, Chicago, numerous corporations, and many other targets have ushered in a high-speed news cycle centered on Twitter, and disrupted the more sedate pace of both foreign and domestic policy that many of us had grown used to. (Disclosure: I supported the Hillary Clinton campaign.)
But not everyone is shellshocked. Some in India hope the tough talk and blunt approach from the White House will deliver results it has long sought on the question of Pakistan. India hopes that Trump's willingness to overturn the status quo will pay off with a harder American line on Pakistan that forces it to finally deal with the terrorists who find sanctuary on its territory. U.S. Trump supporter Shalabh Kumar, founder of the Republican Hindu Coalition and a major donor to the campaign, has said that he expects Trump to approve a bill to "declare Pakistan a terrorist state."
Trump's unpredictable approach to foreign policy—just take the surprise telephone lambasting of the Australian prime minister, one of the United States' staunchest allies, for starters—may very well offer a policy opening for India on Pakistan. Trump has declared a high priority for counterterrorism in his administration. Pakistan, as former Secretary of State Madeleine Albright famously declared, has long been an "international migraine," a policy conundrum important as well as insoluble. Successive U.S. administrations have tried limited sanctions as well as inducements in efforts to incentivize Pakistan to tackle terrorism emanating from its soil and curb its nuclear weapons program.
Since September 11, 2001, that balance has been heavily weighted toward civilian and military assistance, in the hope that financial support might persuade Islamabad and Rawalpindi to uphold its international obligations and crack down on terrorism. Unfortunately, Pakistan has been responsive only with respect to the terrorist groups that threaten the Pakistani state, while leaving alone or in some cases actively abetting a cocktail of other groups that set their sights on neighbors India and Afghanistan.
Among the most egregious cases has been that of the Lashkar-e-Taiba (LeT), long designated a terrorist group under UN and U.S. sanctions authorities, and the group responsible for the Mumbai attacks of 2008. (Six Americans were killed in that horrific act of terrorism.) LeT founder Hafiz Saeed—who is an individually designated terrorist—has long enjoyed free rein in Pakistan, leading public prayers and large gatherings of thousands despite his wanted status. On Monday he was placed under house arrest, and on Thursday he and other members of his group were prohibited from traveling outside of Pakistan. How long this might last is anyone's guess. Previous episodes of house arrest have quietly ended, leading critics to accuse Islamabad of window dressing.
The Trump administration has said little about Pakistan thus far. Pakistan was notably not among the countries included in the entry-ban executive order—though White House Chief of Staff Reince Priebus suggested on television that it may join the list—and it has remained off the administration's roster of public targets for now. What remains to be seen is how Team Trump will approach the question of Afghanistan's stabilization, and how it will decide to work with Pakistan in the process.
In the meantime, Indian observers are holding out hope that the new U.S. president's willingness to speak bluntly and dispense with diplomatic niceties might be the right thing at the right time. In New Delhi they believe U.S. carrots haven't worked with Pakistan, and that it's time for more sticks.
Follow me on Twitter: @AyresAlyssa. Or like me on Facebook (fb.me/ayresalyssa) or Instagram (instagr.am/ayresalyssa).