Trump and Chinese Investment, Pakistan's Missiles, Indian Lychee Illness, and More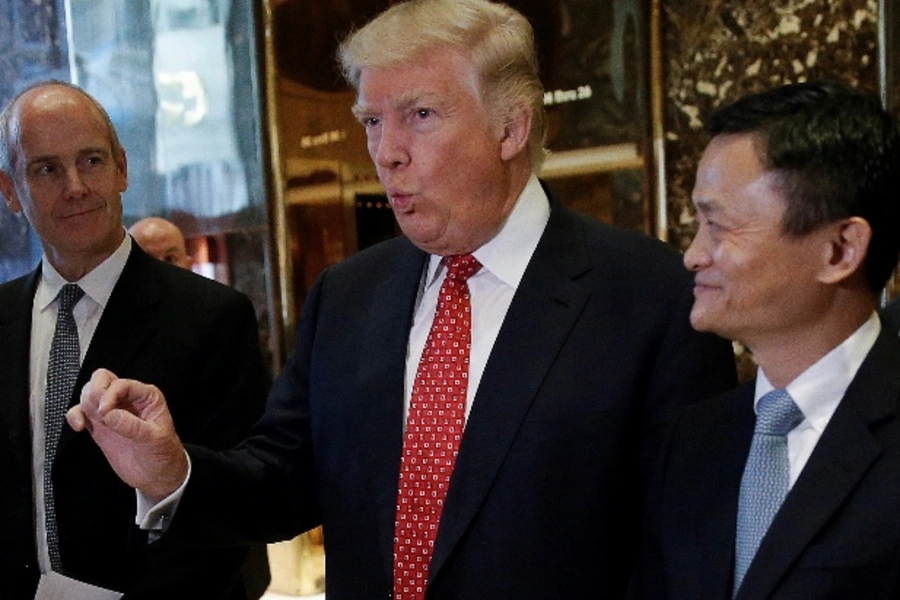 Rachel Brown, Sherry Cho, Lorand Laskai, Gabriella Meltzer, and Gabriel Walker look at five stories from Asia this week.
1. Trump doesn't like China, but does he like Chinese money? President Donald J. Trump will soon face some important decisions on Chinese investment in the United States. Trump will need to decide whether to approve a plan by Alibaba's Paypal-like subsidiary Ant Financial to buy U.S. payment processor MoneyGram, or block the acquisition on national-security grounds. On the campaign trail, President Trump indicated that he would block Chongqing Casin Enterprise Group's planned acquisition of the Chicago Stock Exchange. China bars foreign investment in a number of sectors, such as finance and cultural production, even though Chinese conglomerates in these industries, many of which are partly or wholly state-owned, are aggressively pursuing large acquisitions abroad. A number of policymakers believe the asymmetry is unfair. In its annual report, the bipartisan Congressional-Executive Commission on China wrote that the U.S. government would need to decide whether "market access for Chinese investors in news, online media, and the entertainment sectors [should be] conditioned on a reciprocal basis in order to provide a level playing field for U.S. investors." Still, there are factors that might lead Trump to soften his tough-on-China approach, not least of which is Trump's budding friendship with Alibaba founder Jack Ma. In addition, China foreign direct investment in the United States reached a record $45.6 billion in 2016. If Trump wants to stimulate job growth, he might need all the help he can get.
2. Pakistan ramps up missile tests. Last week, Pakistan conducted the first flight test of its Ababeel missile, a nuclear-capable, multiple-warhead, surface-to-surface ballistic missile with a range of 2,200 km (1,370 mi)—far enough to reach most of India, portions of western China, and a number of countries in the Middle East. The trial flight came soon after another test earlier last month of the Babur-III submarine-launched cruise missile, which the Pakistani military called "a major scientific milestone." Pakistan's attainment of second-strike capability and a strong nuclear deterrent marks a ratcheting-up of tensions in the region, particularly with India. Though Pakistan cannot match India's spending on convention arms, notes one Pakistani commentator, it is taking a different route to bolster its ability to deliver a credible response. The fact that the two countries share a contentious land border makes it more likely that a small-scale altercation may spin into a much larger escalation of force. In January, for example, Pakistani officials threatened to use nuclear weapons should India invade Pakistani territory. It is also possible that U.S. President Donald J. Trump may escalate tensions in the region by declaring Pakistan a "terrorist state," but only time will tell.
3. Researchers solve mysterious illness in Indian children. For over two decades, roughly one hundred seemingly healthy children in the northern Indian state of Bihar each summer suffered seizures and lost consciousness—roughly half of whom died—confounding local doctors. A new study published in Lancet Global Health solves this medical mystery. Researchers from the National Center for Disease Control in New Delhi and the U.S. Centers for Disease Control and Prevention investigated children admitted to the hospital Muzzafpur in 2014, and discovered that their ailments were caused by eating lychee fruit on empty stomachs. Lychees contain hypoglycin, a toxin that inhibits glucose production in the body. The poor children in this lychee-producing region were consuming the fruit without eating dinner, leaving their blood sugar levels low and vulnerable to the effects of the toxin. As a result of these findings, local authorities have encouraged parents to feed their children evening meals and limit the consumption of lychees.
4. Singaporean activist awaits asylum review. After arriving in the United States in mid-December, teenage Singaporean political activist and filmmaker Amos Yee received a brief court hearing this week, but may remain in detention until March when his full hearing occurs. Immigration authorities have detained Yee near Chicago in the McHenry County Jail since he requested political asylum. He traveled to the United States after being imprisoned twice in Singapore in relation to multiple YouTube videos with inflammatory political and religious content that he produced. In one video entitled "Lee Kuan Yew Is Finally Dead!", he described the deceased prime minister as "a horrible person" and compared him to the "power hungry and malicious" Jesus Christ. More recently, he produced videos bashing Islam and Christianity. Last year, when he was just seventeen, Yee was convicted for "wounding religious feelings." His confrontational rhetoric ran antithetical to the Singaporean government's emphasis on multicultural inclusion. Ironically, when Yee first arrived in the United States, the New York Times suggested his opposition to political correctness would mesh well with the attitudes of Donald J. Trump; now, President Trump's immigration ban could derail ongoing bids for asylum.
5. Myanmar's military-commercial complex draws concern. The 2016 lifting of U.S. economic sanctions against Myanmar was hailed as a momentous step in the country's liberalization. However, critics warn of the Burmese military's embedded power and sprawling commercial interests in the newly opened economy. Enterprises such as the Myanmar Economic Corporation, an opaque defense ministry-owned conglomerate nominally specializing in strategic sectors like port operations and telecommunications, and Myanmar Economic Holdings Ltd., a military-run conglomerate with sprawling interests as diverse as cigarettes and construction, have arguably the most to gain after the return of civilian government. The arrival of international companies, many in consumer industries, has brought in more than $30 billion in foreign investment since 2011. Tempted by the financial prospects under Aung San Suu Kyi's civilian-led administration, military-affiliated companies have made a public effort at rebranding. Nonetheless, for many who remember the years of profligate corruption, widespread land-seizure, and human rights abuses under the military junta and military-backed government, the continuing role of the military at the very core of the state economy is troubling. There are hopes that the entrance of U.S. multinationals in particular will raise standards for rule of law, accounting, labor rights, and environment governance, but such reassurances do little to allay criticism of the continuing influence of military-linked companies and their ties to troubled industries such as those for jade, rubies, and drugs.
Bonus: Gold goes green for 2020 Tokyo Olympics. Organizers of the 2020 Olympic and Paralympic Games in Tokyo announced this week that award medals will be sourced completely from recycled consumer products. The Japan Environmental Sanitation Center has partnered with NTT Docomo, the country's largest mobile phone operator, to place collection bins in 2,400 Docomo stores throughout Japan to solicit donations of cell phones, cameras, laptops, and other e-waste. Organizers estimated that millions of old devices—around eight tons' worth—will be required to gather enough metal to craft the 5,000 medals. In the past, including at the 2016 Rio Games, medals have only been partially sourced from recycled materials. The 2020 medals, according to one Japanese gymnast, "will be made out of people's thoughts and appreciation for avoiding waste." The strategy is not only a nod to Japan's commitment to recycling, but also a move to cut costs: by one recent calculation, the Games could cost up to 2 trillion yen ($18 billion), or 2.5 times the initial estimate. And despite the good intentions, the eight tons is only a drop in the bucket of the millions of tons of e-waste produced in Asia every year.