ISWA's Recent Attacks Could Signal a New, Deadlier Approach in Nigeria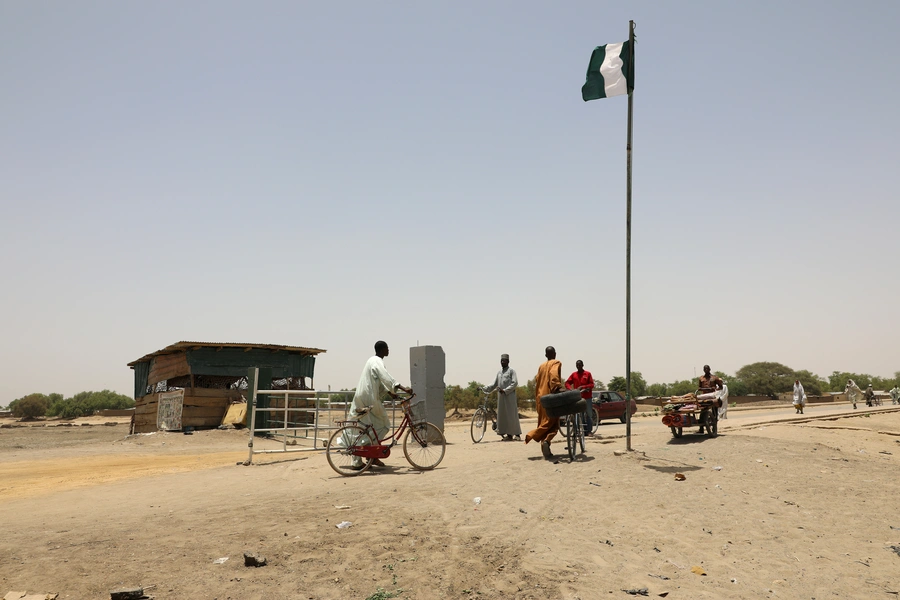 Bulama Bukarti is a sub-Saharan Africa analyst at the Tony Blair Institute for Global Change, based in London, and a PhD candidate at SOAS, University of London.
On June 9, a Boko Haram faction called a religious gathering in a village in Gubio, Borno state. It would become the group's deadliest attack on civilians this year. Claiming to be on a preaching tour, armed militants entered the village of Foduma Koloram and asked residents to give up their arms and any other weapons. According to reports, once those villagers that had dane guns and bows and arrows surrendered them, the militants started shooting at close range and used vehicles to ram those attempting to flee. The group killed eighty-one people over a period of six hours, left many others injured, and abducted seven. They stole hundreds of cattle and set the village ablaze as they left.
This was followed by news of twin attacks on the June 13 that "appalled" the United Nations. After killing thirty-eight in an assault on Goni Usmanti village, jihadis attacked Monguno with heavy weaponry and rocket launchers. A base for many international non-governmental organisations (INGOs), the attack on Manguno led to a clash with government forces in which twenty soldiers died while protecting aid workers.
The Gubio and Monguno assaults were claimed by Islamic State in West Africa (ISWA), the faction of Boko Haram affiliated to the Islamic State. ISWA's attack on Gubio, and presumably Goni Usmanti (which they did not expressly claim), represents a stark change in stance by the group. In a policy position long at odds with the Islamic State's global stance, ISWA had not—until now, at least—attacked Muslim civilians, though they made exceptions for those who work for the Nigerian government or INGOs. This was also a key factor in the group's split from the parent faction of Boko Haram in 2016. Since then, ISWA has distinguished itself by primarily targeting military, government, and INGO targets, while avoiding when possible killing Muslim civilians. This effort has been supported by a "winning hearts and minds" approach, with service provision in the areas they control.
While the Monguno attack, with INGO and military targets, fits within ISWA's bill, the ones in Gubio and Goni Usmanti, where the majority of fatalities were Muslim civilians, do not. While ISWA labelled its victims as vigilantes working with government forces, they were mostly unarmed cattle herders and residents, some of whom hold light weapons for self-defense in an utterly restive area. This signals a change in the group's modus operandi of focusing attacks on state targets and Christians, but not Muslim civilians. It is not yet clear what is responsible for this change, but there are three possible explanations.
The first is in reports that the attack was retaliation against villagers who pushed back against extortion by ISWA. The Gubio attack was against a herding village that had reportedly killed ISWA tax collectors. In pursuit of its proto-state objectives, ISWA has some territorial control in Borno and Yobe states and does tax residents. Reuters reported two years ago that ISWA provides safe grazing for about 2,500 naira ($7) a cow and 1,500 naira ($4) for smaller animals, presumably per annum. It also runs slaughterhouses, taking a cut for each animal. With cattle and other forms of livestock a key part of the economy in northeastern Nigeria, there are strong incentives for this behavior.
The second explanation is the change in ISWA's leadership in February 2020, following a successful coup within the group. Infighting in ISWA led to the execution of three of the group's most senior leaders and their replacement with hard-line commanders who favor a more brutal approach. The revolt was triggered by an attempt to further "soften" the group's approach to attacks. I concluded when this news first broke that this development may lead to a "further hardening of ISWAP's policy of attacks." This recent shift in who is a permissible target would be in line with this change in leadership and could signal an escalation in ISWA's use of brutality against civilians, particularly noncompliant ones.
The third is that these attacks might be a show of force to undermine government messaging on recent battlefield successes. Following an attack that led to the death of at least forty-seven soldiers last March, the Nigerian army announced a major offensive on both factions of Boko Haram. In April, Chad claimed to have killed 1,000 ISWA fighters in a counteroffensive that was the largest Chadian military action on record. Last week, the Nigerian army reported to have added a further 1,400 fighters to this toll. While government reports on the number of fighters killed in counter-offensives may be inflated or include misattributed civilian deaths, on-the-ground reports corroborate claims that recent efforts against the group have struck a heavy blow. With estimates from late 2019 putting ISWA's fighting force at between 3,500 and 5,000, the loss of up to 2,400 fighters would be significant.
These recent incidents could be the beginning of a new chapter in ISWA's violence. If the faction sustains its attacks on civilians, unarmed Nigerians will become the target of both factions of Boko Haram. That ISWA has more fighters, reach, and sophistication means that the group could prove far deadlier than the original parent faction, Jama'atu Ahl al-Sunnah Liddawati wa Jihad (JAS). This could make a war that has killed an estimated 38,000 people and displaced millions even bloodier.