It's Time to End Child Marriage in the United States
Child marriage remains legal in most U.S. States. Before it can curb this harmful practice abroad, the U.S. must first end it at home.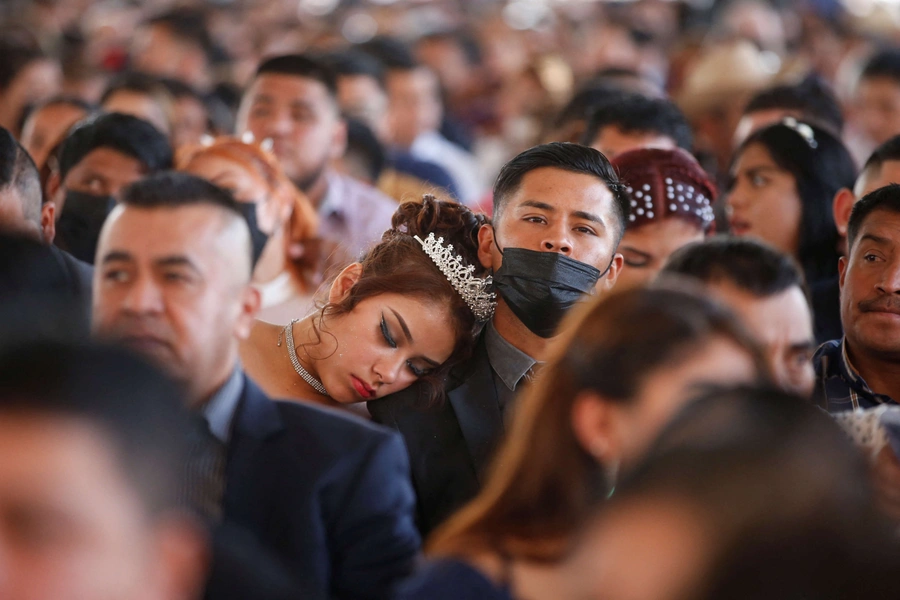 The U.S. government frequently advocates for an end to child marriage around the globe. In a 2014 statement commemorating the International Day of the Girl, President Barack Obama called child marriage a "threat to fundamental human rights." Recently, Isobel Coleman, the deputy administrator of the U.S. Agency for International Development (USAID), spoke forcefully about the need to combat child marriage, calling it a "harmful practice" in need of being brought to an end "once and for all." But both statements failed to explicitly acknowledge an inconvenient truth: we are a long way from ending child marriage in the United States.
The UN Office of the High Commissioner for Human Rights defines child marriage as one in which a party to it is under eighteen years old. Research shows that this practice often puts countless minors around the world in a position of vulnerability while also creating barriers to opportunity. For instance, child marriage denies girls education, leads to higher rates of domestic violence, and increases risks related to pregnancy and childbirth.
The data shows that these dangers are substantial and potentially rising after years of decline. Each year, more than twelve million girls around the world are married before they turn eighteen years old, and COVID-19 has made even more girls vulnerable. Many families, facing food and economic insecurity, have turned to marrying their young daughters so they have one less family member to support or to increase financial stability through the receipt of a dowry from the groom's family. In fact, the UN Children's Fund (UNICEF) has warned that an additional ten million girls could face child marriage by the end of the decade because of the pandemic. The United States is very much a part of this problem. A landmark 2021 study by Unchained at Last found that an estimated three hundred thousand children were married in the United States between 2000 and 2018, the vast majority of whom were girls married to older men. Approximately sixty thousand occurred at an age or involved a spousal age difference that should have constituted a sex crime. Some were as young as ten.
Although USAID has released a roadmap for the agency aimed at ending child marriage by 2030, the development and foreign policy focus on the issue underscores that the United States is using a double standard: treating child marriage as a scourge that must be ended abroad but not ended within its own communities. There is currently no federal law banning child marriage in the United States. Although advocates have succeeded in getting seven states to ban child marriage with no exceptions, forty-three states still allow marriage under the age of eighteen, and seven states have no minimum age requirement for marriage so long as there is a parental or judicial waiver. Until recently, Wyoming fell into this category, but enacted a law in February 2023 to raise the minimum marriage age to 16 with most minors having to go before a judge for approval.
Moreover, efforts to change this disturbing status quo face serious opposition. In California, which has no minimum legal marriage age, a 2017 bill to ban the practice was defeated after advocates—including the American Civil Liberties Union (ACLU)—lobbied against it. The ACLU specifically argued that the legislation "unnecessarily and unduly intrudes on the fundamental rights of marriage without sufficient cause," adding that "largely banning marriage under 18, before we have evidence regarding the nature and severity of the problem, however, puts the cart before the horse." Other opponents have argued that if a pregnancy is involved, the parties should be encouraged to get married, regardless of age.
This opposition makes even less sense when you consider the age restrictions that do exist for certain behavior. Before you turn eighteen in the United States, you cannot vote, purchase tobacco, or drink alcohol; in most states, you also cannot purchase a home because it involves entering a contract. The government does not make exceptions on a case-by-case basis to these other matters, so why should it allow children to marry when it could have far more profound implications for their lives and communities?
In addition to endangering girls in this country, the United States' attitude toward child marriage within its borders makes it a hypocrite beyond them, undermining its global leadership on this issue. If the United States stands for the empowerment of girls and women around the globe and denounces child marriage as a scourge that other countries need to stop, the same standard should apply to itself. The United States committed to the realization of the United Nations' Sustainable Development Goals. Goal number five—which aims to achieve gender equality and empower all women and girls—pledges to "eliminate all harmful practices, such as child, early and forced marriage" by 2030. It makes no sense for the United States to support that goal for all but its own people. 
American girls should be given every opportunity to complete their educations, to delay childbirth, and to have agency about how to live their lives. There are far too many stories of underage marriages taking place in the context of abuse in the United States—of a young girl forced by her parents to marry an older man who was abusing her, or of parents who pressured a young girl to get married because she became pregnant. Any exception here is an excuse for an ever-growing list of exceptions elsewhere. To lead the fight against child marriage around the world, the United States has to win the fight at home.