Kenya Enters Dangerous Territory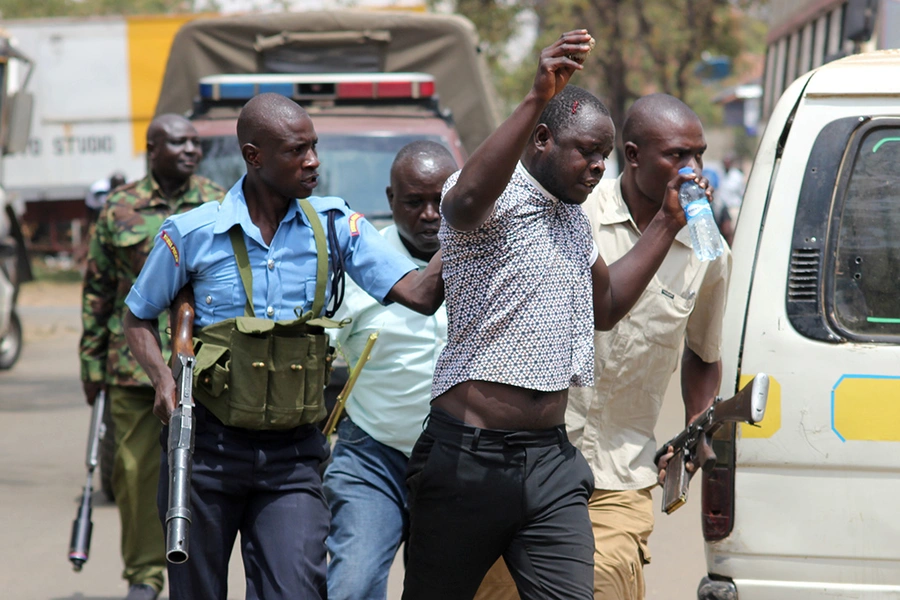 The administration of President Uhuru Kenyatta has responded to rival Raila Odinga's "inauguration" as a self-declared people's president last week in a way more characteristic of an authoritarian regime than of a new democracy. It has transformed an act in Odinga's political theater into a challenge to the legitimacy of the Kenyatta administration. Kenyatta's attorney general has called the inauguration treasonous, and one of Odinga's newly formed ancillary groups "criminal." More seriously, the administration had temporarily blacked out the transmission of Kenya's four major television stations, and it initially ignored a court order to allow the stations to resume broadcasting. The administration arrested several Odinga-allied politicians, some of whom were promptly freed by the courts. Despite rumors to the contrary, Odinga himself has not been arrested, though one of his key supporters has reportedly been deported. 
 
Kenya is generally counted as a middle-income county, a label that reflects the country's comparative wealth but obscures the huge differences in levels of development between rural and urban areas. Within the latter, there are those in the modern economy living in certain glittering Nairobi precincts and involved with the celebrated game parks catering to international tourism on the one hand, and those trapped in the slums on the other. To generalize broadly, Kenyatta is the face of the wealthy, Odinga of the poor; of at least parallel importance, however, are Kenyatta's Kikuyu and Odinga's Luo tribal identities. The two ethnic groups, like Kenyatta and Odinga, have long been rivals.
Though Kenya's postcolonial history has seen bloody ethnic conflict, flawed elections, and authoritarian government, a new constitution in 2010 distributed political power away from the center, created a more independent judiciary, and guaranteed basic human rights, including freedom of the media. A hope had been that the new constitution would guide Kenya away from its winner-take-all political culture, lowering the stakes for any one office and ultimately lowering the likelihood of violence. Yet it is not an overstatement to say that between Odinga's "inauguration" and the government's undemocratic response, Kenya faces a serious political crisis that threatens to unravel its recent economic and political progress.
It now appears that Kenya's economic progress and celebrated new constitution merely papered over both deep ethnic rivalries and those among Kenya's "big men," who show little regard for the interests of those outside their particular constituency, be it ethnic or political. As I have written previously, the precipitating cause of the current crisis is a disputed presidential election (followed by a disputed redo) between Uhuru Kenyatta and Raila Odinga. (It should be noted that the elections for other offices went well, with inevitable disputes being satisfactorily adjudicated in the courts.) Following the two elections and numerous court cases, Kenyatta was declared the winner and has been duly inaugurated as president. However, Odinga and his supporters—approaching half of the electorate—do not accept as legitimate the Kenyatta presidency. Hence, Odinga staged his own "inauguration" and claims that he, not Kenyatta, is the legitimate president of Kenya. Many Kenyans now fear that they are on a downward trajectory toward an ethnically-based civil war, as occurred following disputed elections in 2007. It is to be hoped that memories of this violence will help prevent a repeat.