Korean Support For U.S. Troops Remains High Despite Upcoming Trump-Kim Summit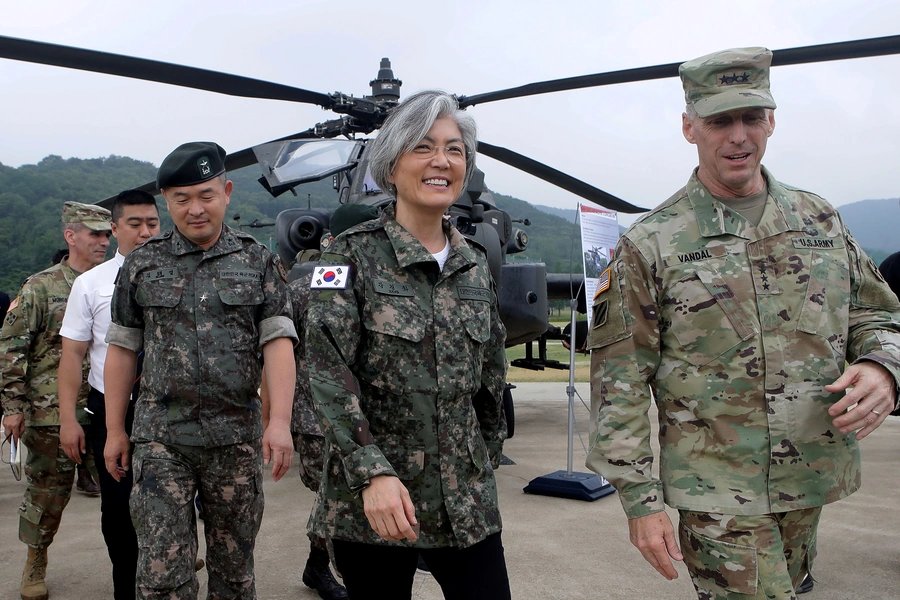 In a matter of days, Donald J. Trump and Kim Jong-un will meet to build upon progress made in the June 2018 Singapore Declaration, in which both sides pledged to normalize relations, achieve peace, and work toward "complete denuclearization." The meeting follows growing momentum in inter-Korean relations, including three summit meetings between Moon Jae-in and Kim and initial steps designed to transform the Demilitarized Zone (DMZ) into a peace zone. Meanwhile, the U.S. and South Korea have finally reached a deal in a contentious negotiation over burden sharing, concluding a one-year agreement in which South Korea pledged to increase its contribution by 8.2% over the prior year's levels.
The level of South Korean support for the U.S. military presence on the peninsula provides a useful proxy for understanding attitudes toward South Korean foreign policy and inter-Korean relations, in addition to serving as an important barometer of support for the U.S.-ROK alliance. The Asan Institute and Council on Foreign Relations conducted a joint survey of Korean attitudes in January 2019 (full results are available here) at a time of anticipation for a second U.S.-North Korea summit, dramatic initial steps toward inter-Korean tension reduction, and an impasse between the United States and South Korea over the level of South Korean financial support for USFK (U.S. Forces Korea).
Major takeaways from the survey include the following:
Despite dramatic steps toward reduction of conventional military tensions between the two Koreas around the Demilitarized Zone, there is still strong support across every cohort within Korean society for USFK as a reliable partner in assuring South Korea's security. A majority of South Koreans believe that current USFK levels should be maintained for the time being.
Two-thirds of South Koreans surveyed continue to believe that U.S. extended deterrence commitments are credible, and three out of five believe the continued USFK presence on the peninsula does not threaten peace negotiations with North Korea.
South Korean support for continued USFK presence in the future has dropped by about 10% since the peak of military tensions in 2017. Though a majority of Koreans still believe USFK will be necessary for South Korea's security in the future, the level of support for USFK decreases in the event of Korean unification.
Prior to the conclusion of the cost sharing agreement, 45% of Koreans supported maintaining Korean contributions to USFK at current levels, while 28% believed contributions should increase and 17% said contributions should decrease.
 A plurality of Koreans (40%) support implementation of the Moon administration's plans for Korea to assume the operational control of forces in wartime, while 30% oppose proceeding with the transfer.
South Korean support for the U.S.-ROK alliance remains relatively strong for the time being. This is particularly striking in contrast to the drop in South Korean support for USFK that occurred in the early 2000s during a period of inter-Korean reconciliation. Today, Korean public views of tension reduction with North Korea remain cautious, and the USFK presence provides a useful hedge that enables experimentation with the confidence and security building measures contained in the Comprehensive Military Agreement (CMA). The widespread Korean perception that the U.S. force presence does not impede the peace-building process supports this view.
Furthermore, the relationship between Trump and Moon has thus far remained more positive than the past U.S.-ROK relationship under progressive South Korean presidents and George W. Bush. Trump's outreach to Kim Jong-un and his abandonment of the rhetoric of "fire and fury" has bolstered Trump's popularity in South Korea. But his demand for a dramatic hike in South Korean financial support for USFK is at odds with the trend toward reduced inter-Korean tensions and could erode high levels of South Korean support for the U.S.-ROK alliance.
Though levels of South Korean public support for USFK remain high, alliance mismanagement or a failure by the Trump administration to maintain close relations with the Korean public may lead to a long-term slippage of public support for the alliance and for the U.S. force presence on the Korean Peninsula.
This post originally appeared on Forbes.