Latin America This Week: July 11, 2023
Guatemala's first round election upset stands; Brazil's non-alignment has a democracy blind spot; Remittances to Mexico hit a record $5.7 billion in May.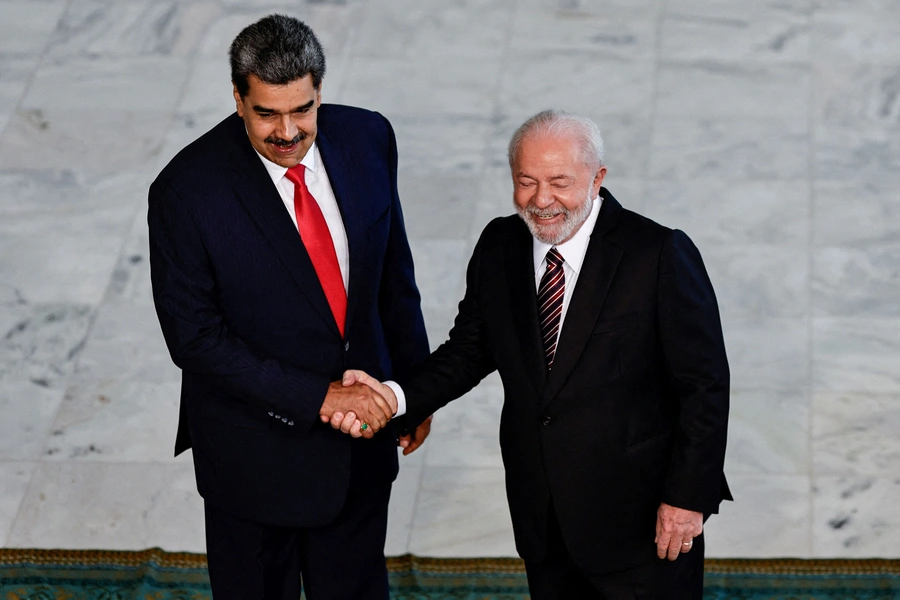 Guatemala's first round election upset stands. For over two weeks after Guatemala's June 25 first-round vote for president, several losing candidates—who baselessly cried fraud—managed to stop the electoral process from advancing through a series of legal maneuvers. On Monday, July 10, however, Guatemala's Supreme Court struck down their objections and gave the country's electoral tribunal the green light to schedule a presidential runoff, anticipated for August 20, which will pit the first round's top vote-getters against one another. One is Sandra Torres, an establishment insider who commands a powerful political machine with a rural support base but whose corruption allegations have also won her many detractors. A full 41.4 percent of respondents in a nationally-representative June poll said they would never vote for Torres. Her challenger is Bernard Arévalo, a center-left technocratic reformer from the anticorruption Seed Movement (Movimiento Semilla) party, who made a surprisingly strong showing in the first round by running as a outsider unencumbered by alliances with the political class and ready to fight corruption.
The runoff will be contentious. Torres—though not the favorite of either incumbent President Alejandro Giammattei or the traditional leaders of the private sector—is a safe bet for the political parties, businesspeople, and judicial officials who have colluded to dismantle anticorruption efforts in recent years, and who fear a return of the rule of law. Expect them to line up behind her over the next five weeks in ways seemly and less so to protect the status quo. Yet even if Arévalo, now the popular favorite, assumes the presidency, his powers to fundamentally reform Guatemala are limited. His party controls just 23 of a total of 160 seats in Congress and he has announced he would rather achieve piecemeal reforms and keep his hands clean than pact with political enemies to get big things done. Still, Guatemala's democracy yesterday dodged the lethal bullet of a canceled or delayed presidential election.
Brazil's non-alignment has a democracy blind spot. In the international realm, Lula has crafted a middle way for Brazil in the U.S.-China conflict. His first state visit out of South America was to Washington, where Lula and Biden bonded over the storming of their respective capitals by antidemocratic protesters as well as the need to bolster human rights and address climate change. Only afterward did Lula head to Beijing with a large delegation of diplomats and private sector leaders in tow. While he signed a number of memorandums of understanding and agreements on a wide range of issues, he held back on some bigger commitments, agreeing only to "explore greater synergy between [China's] Belt and Road Initiative and Brazil's reindustrialization strategy."
Less balanced or nuanced has been his take on democracy. Yes, he has called out the democratic backsliding of right-leaning governments in Guatemala and Peru. But Lula has repeatedly stood up for Venezuelan dictator Nicolás Maduro. He called authoritarianism in Venezuela nothing more than a "narrative," leading to criticism from Uruguay's right-leaning President Luis Lacalle Pou and Chile's left-leaning Gabriel Boric alike. Recently, he claimed "Venezuela has more elections than Brazil" even as the Maduro regime banned the opposition's top contender, María Corina Machado, from running in the 2024 presidential elections. Since starting his term, Lula's criticisms of Daniel Ortega's repression and tightening authoritarian grip in Nicaragua have been relatively mild. More broadly, he seems to have bought Putin's narrative that "[Ukrainian President Volodymyr Zelenskyy] is as responsible as Putin for the war."
Remittances to Mexico hit a record $5.7 billion in May. It isn't a one off: these financial flows from the United States have almost doubled since 2017. Now nearing $60 billion a year, Mexico receives more from its citizens abroad than any nation save India. The jump reflects the uptick in Mexicans leaving home. While throughout the 2010s more Mexicans left than came to the United States, those numbers have reversed since 2020, as violence, lack of economic opportunities, and costs of housing and food have driven more north. They have also been pulled by the strength of the U.S. economy and the deep ties with many of the 37.2 million Mexicans and Mexican-Americans that live in the United States.
While nowhere nearly as dependent as many Central American nations—remittances represent almost twenty-nine percent of Honduras' GDP—remittances now outpace oil exports, tourism revenue, and foreign direct investment in bringing dollars to Mexico (and part of the reason for the peso's strength).
Yet the financial boost has costs. The brain drain is real, as millions of entrepreneurial Mexicans look to make their mark elsewhere. It also has let the Mexican government off the hook to provide basic health, education, and social assistance to its people. Indeed, it was one of the only countries to not boost spending to lessen the poverty and inequality that COVID-19 and its shutdowns brought. And this, in turn, led more people to leave.