Learning to Compartmentalize: How to Prevent Big Power Frictions from Becoming Major Global Headaches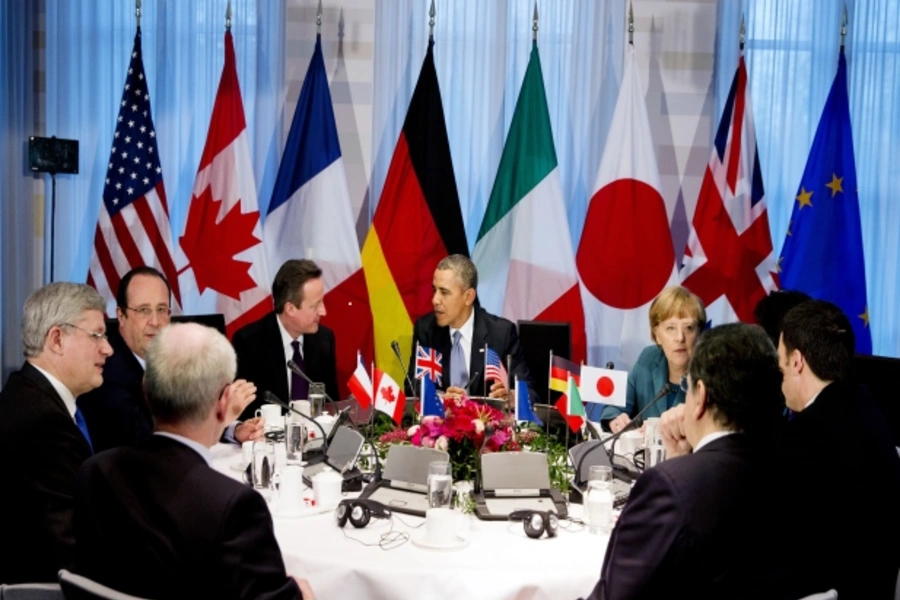 Coauthored by Stewart Patrick and Isabella Bennett, Assistant Director in the International Institutions and Global Governance program.
The G7 is back. Today in Brussels, it meets for the first time since 1998. The group—which includes the United States, France, the UK, Japan, Germany, Italy, and Canada—replaces the G8, after suspending Russia for its annexation of Crimea.
On one level, ejecting Russia was an obvious choice, on both ideological and geopolitical grounds. However, this reflects a dangerous trend. As geopolitical tensions intensify, international cooperation on global threats is faltering and U.S. leadership is absent. These are the headline findings of the latest Global Governance Report Card, released today by the Council on Foreign Relations, which assesses cooperation on nuclear nonproliferation, terrorism, armed conflict, global health, climate change, and global finance.
The United States cannot afford to abandon international cooperation, especially with potential rivals in this era of interdependence. To solve any of today's most pressing challenges, it must compartmentalize these rivalries from other forms of cooperation.
It's true that as a corrupt, authoritarian country, Russia never really belonged in this club of wealthy democracies. With Russia gone, optimists hope, the G7 can return to a tightknit community of Western nations united behind common interests and values. "Kicking Russia out" also sends a signal to other countries (see China) that territorial aggression will not be tolerated.
But let's not kid ourselves. The G7 may be useful for coordinating policies among like-minded countries. But the time is long gone when any of the world's most critical problems could be resolved within a cozy Western boardroom. Even as the United States and its G7 partners resist unreasonable Russian and Chinese ambitions, they will still need to work with both countries—as well as other big players outside the G7 like India, Brazil, and Turkey—to cope with a slew of transnational challenges.
Violent conflict rages from Syria to South Sudan, creating the worst global refugee crisis in two decades. Nuclear proliferation continues apace, as China, India, and Pakistan add to their arsenals. Al-Qaeda offshoots are multiplying and spreading throughout the Middle East and North Africa.
Meanwhile, economic coordination remains crucial as advanced economies tentatively return to growth but major emerging markets confront new challenges. Climate change is beginning to wreak havoc on water supplies and agriculture, with other potentially cataclysmic results on the horizon. Finally, major health achievements like the near eradication of polio now appear threatened.
After a frustrating year of contentious, even fruitless negotiations in larger multilateral forums like the UN or G20, the Obama administration may be tempted to focus diplomatic efforts on cooperation with like-minded G7 allies. But in our world of global interdependence, retreating from broader engagement would be perilously foolish.
The reality is that breakthroughs in global governance require hammering out agreements not among the like-minded, but among the un-likeminded—including America's geopolitical rivals. The only solution, therefore, is to compartmentalize.
Consider global efforts to prevent rampant nuclear proliferation. These require a minimum level of trust among the nuclear powers, including between the United States and Russia—whose cooperation is essential in limiting Iran's weapons capabilities.
Any meaningful agreement to limit climate change, likewise, will require cooperation between China and the United States—the planet's two largest emitters of carbon dioxide. Similarly, ensuring global financial stability and promoting economic growth demands coordination from China and the United States—the world's two largest economies—as well as with other advanced and emerging market economies (including India and Brazil). And in today's globalized world, containing public health threats necessitates worldwide cooperation with the World Health Organization and a host of other governments.
Global institutions also remain critical in managing armed conflict. To be sure, Russia has obstructed UN efforts to halt mass atrocities in Syria. But it has, along with China, supported several important UN Security Council resolutions to combat violence in Mali, the Democratic Republic of Congo, and the Central African Republic.
Compartmentalizing can be done. Even in the past two months, as politicians and pundits proclaimed a return to the Cold War, the gears of cooperation continued to grind. The State Department confirmed in early May that Washington and Moscow were continuing to cooperate on chemical weapons disarmament in Syria, in negotiations over Iran's nuclear program, and on cutting their arsenals at home.
The rebirth of the G7 reflects understandable Western pique at Russian aggression in Crimea and obduracy over Syria, among other areas. But it would be a mistake to oversell its potential to solve global problems. The enduring lesson of the global financial crisis, which gave birth to the G20 in 2008, is that global stability today depends on coordination among all the world's leading players—advanced and emerging, partners and rivals.
To navigate this new world, the Obama administration must learn to play on multiple chess boards at once. It must be nimble enough to work together with Russia, China, and other emerging powers, even as it holds the line against threats to the sanctity of borders or regional balances of power. In short, Washington must learn to compartmentalize.