Macri Floats Above Argentina's Economic Mess
A hapless political opposition fails to capitalize on the president's mistakes and adapt to the future.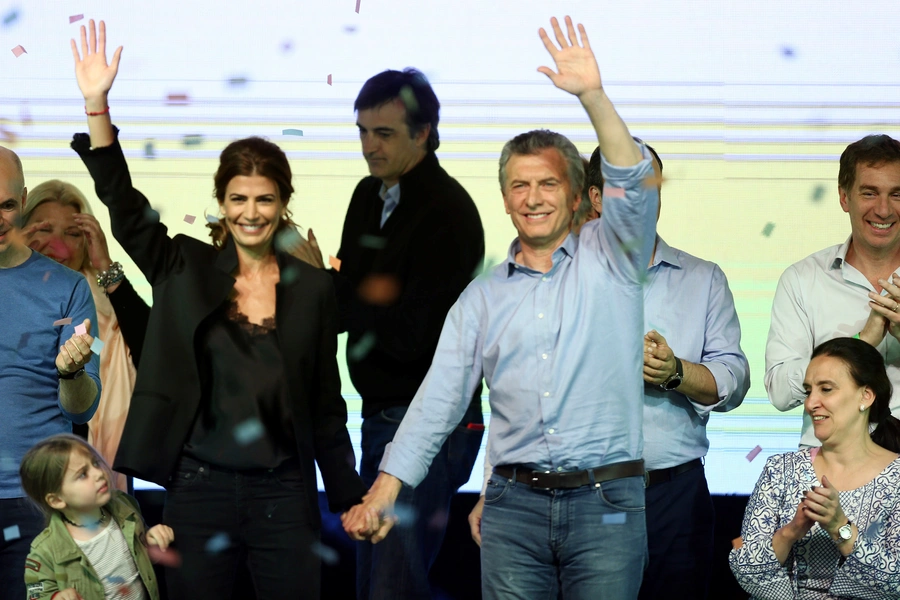 An economy in the dumps is usually a death knell for a president seeking reelection. Yet as of now, Argentina's Mauricio Macri has an even chance of winning again in October. His electoral resilience contradicts the "It's the economy, stupid" maxim, showing that other issues can and do grab the imagination of voters. More importantly, it highlights changes in Argentina to which his opponents have failed to adapt.
For Argentina, 2018 was an economic year to forget. The peso halved in value, inflation hit its highest levels since the early 1990s, an incipient recovery vanished into recession. The government had to negotiate not one but two bailouts from the reviled International Monetary Fund, to the tune of $57 billion.
Most believe the economy has now hit bottom. The upcoming harvest promises to be much better, last year's drought now past. Argentine exports are benefiting from Brazil's stronger currency and economic recovery. And energy is booming, the Vaca Muerta oil fields proving richer and more productive than expected.
Yet even in the most optimistic scenarios, few expect more than tepid economic growth when Argentines head to the presidential polls. Still, absent another financial crisis, it may not matter much for Macri's reelection chances.
One reason is that voters care about more than their pocketbooks. As other politicians around the region have recently learned, security ranks high among voter concerns: In a recent D'Alessio IROL-Berensztein poll, six out of ten Argentines named it a big issue.
Another reason relates to societal shifts that have left large voting blocs up for grabs. The once ubiquitous Argentine union member is now a privileged class: In 1990, two out of every three workers was in a union; by 2008 it was just half that. Those working off the books now make up nearly half of the workforce. And the stubborn persistence of poverty since the 2001 economic crisis has left a whole generation, and one-quarter of Argentines, on the margins.
The once dominant Peronist party hasn't adapted. It faces a crisis of leadership to be sure. Former president Cristina Fernandez de Kirchner, with all of her corruption scandals and populist baggage, is still by far the party's best polling candidate. Her continued strength has made it difficult to rally around an alternative.
But the party's lackluster performance reflects deeper institutional woes. Like Mexico's long-ruling and recently defenestrated Institutional Revolutionary Party, the Peronists have stuck to outdated and less and less representative corporatist and clientelistic structures. Although their control over their historic union base is intact, new social movements and organizations are less loyal. Rural support has disintegrated as young folk flocked to the cities, and years of punishing export tariffs enraged once stalwart agricultural allies. Although the party still controls many local offices and provincial legislatures, its cohesiveness has vanished. The 2015 presidential and 2017 midterm elections reflected this disarray: The party lost its Province of Buenos Aires stronghold and shed seats in Congress.
Macri is exploiting these vulnerabilities. He and the media have kept the former Kirchner administration's "notebook" scandal alive, an absorbing, decade-plus saga of clandestine meetings and bags of cash changing hands between business leaders, cabinet members and allegedly Kirchner herself, all meticulously recorded in drugstore spiral notebooks by a trusted driver. On issues such as security, Macri has benefited from his popular Minister of Security Patricia Bullrich (and potential vice presidential candidate), staging joint appearances like the recent announcement of an asset forfeiture decree.
His campaign benefits from social media savvy, micro-targeting, and personal outreach: The Cambiemos coalition's website has already signed up hundreds of thousands of volunteers. His government hasn't been above building its own clientelistic networks, cultivating civil society organizations through generous social development ministry funding.
Macri could easily lose his current advantage. Another financial crisis would sink him. The opposition might rally around one candidate. But the biggest risk is that Macri's political coalition founders. Debate within his inner circle is already brewing over how broad a net to cast. Those governing Buenos Aires and the surrounding province want a big tent that brings in the opposition: They see that despite the battering Peronism has taken, its local party machines can still drum up votes. Others in the Casa Rosada, Argentina's White House, believe such alliances betray the change that "Cambiemos" promises, and would tarnish Macri's reputation for doing things differently.
The next administration will have a difficult path. The IMF lifeline came with unpopular strings attached: Erasing the deficit will require revamping pensions, shedding government jobs and cutting overall spending. And the financial safety net will be gone, the government owing a hefty $57 billion to the IMF alongside tens of billions to private investors.
At this point Macri looks to be the person who will have to face these immediate challenges. Yet he will also have to wrestle with more fundamental shifts: Argentina's limited competitiveness, the aging of the nation's population, and broader economic trends relegating commodity producers to the margins of global value chains. Winning reelection may prove easier than adapting Argentina to the future ahead