Making Anti-Corruption Reforms Stick in the Northern Triangle
The Biden administration made a bold commitment to support the region's prosecutors in their fight against impunity. But corrupt courts, business associations, and legislatures could derail the progress if they are not reformed in time.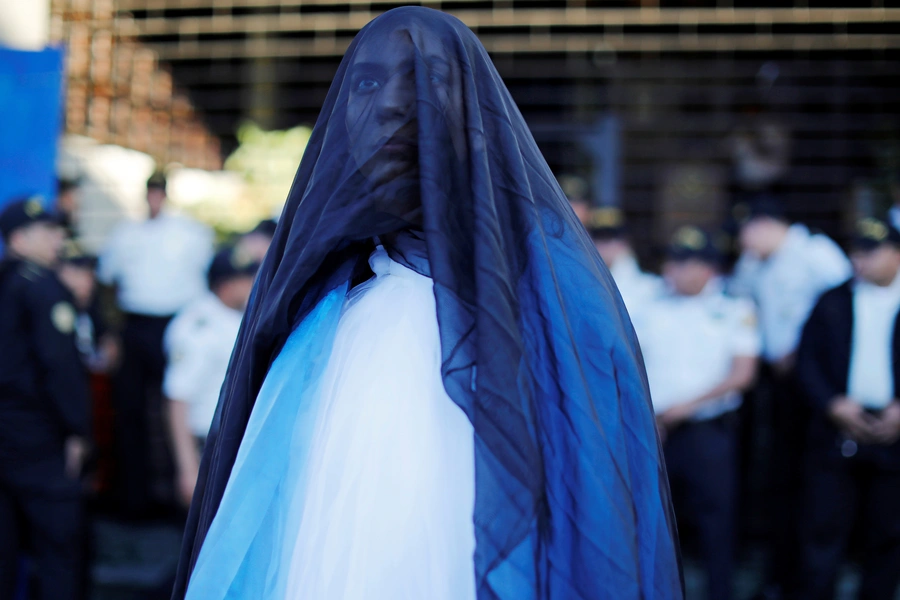 Will Freeman is a Ph.D. candidate in politics at Princeton University.
"For a brief moment in time, everyone was within the reach of justice." That's how Thelma Aldana, the former Attorney General of Guatemala, described the anti-corruption movement in Central America in the 2010s. But in recent years, the scales of justice have tipped in favor of the region's worst offenders.
The Joe Biden administration has prioritized addressing poor governance, a root cause of migration from the region. Yet the challenge is bigger than getting anti-corruption efforts off the ground. It's making them stick. If they don't, much of President Biden's proposed $4 billion in assistance to the Northern Triangle could go to waste.
There are already signs Biden is making good on his promises. Administration officials spoke out against a corrupt judge who nearly made it onto Guatemala's constitutional court. The U.S. Congress passed a law to create the Engel List, a directory of corrupt officials in the Northern Triangle who will face sanctions, and Senate Democrats introduced a bill to sanction Honduran President Juan Orlando Hernández for suspected drug-trafficking ties. The U.S. Treasury and Justice Departments have pledged to step up support for local prosecutors.
For reformers to succeed, though, they cannot let the past repeat itself. In the late 2010s, elites in Guatemala and Honduras mounted a powerful backlash against anti-corruption initiatives. Venal judges let the powerful off the hook. Business groups like Guatemala's CACIF lobbied Washington to retract anti-corruption support. And the region's legislatures reduced sentences for grift and blocked campaign finance reforms.  
Reformers need to prevent the kind of backlash that upended their previous efforts. That means loosening the grip of corrupt elites over the three institutions they used to quash anti-corruption efforts last time: the courts, private sector associations, and legislatures.
Cleaning up the bench
During the 2010s, international missions to Guatemala and Honduras—known by their Spanish acronyms CICIG and MACCIH, respectively—helped domestic prosecutors become more independent. The courts were a different story. It's true that Guatemala set up "high-risk" courts to protect judges from intimidation, and Honduras set up its own special anti-corruption courts.
But the fundamentals of the justice system—the method by which judges are selected—remain broken across the Northern Triangle. Look no further than Guatemala. Last summer, prosecutors exposed that criminal groups were picking nominees for the Supreme and appellate courts. Many of the top candidates to sit on the Constitutional Court from 2021 to 2026 have ties to politicians investigated for corruption. Honduras' procedure for choosing top judges is little better, and El Salvador's President Nayib Bukele is poised to stack the country's Supreme Court later this year.
The Biden administration can help clean up the bench. Conditioning the pledged $4 billion in assistance on reforming judicial selection processes could give Northern Triangle governments the push they need. The State Department should also add judicial nominees with criminal pasts to the Engel List. Corrupt would-be judges might think twice before taking the bench if they faced the prospect of seeing their assets frozen abroad.  
Getting business in order
Private sector support for anti-corruption in the Northern Triangle has been inconsistent. Guatemala's leading business association, CACIF, was one of the early supporters of the CICIG. It threw its weight behind protests that pushed corrupt President Otto Pérez Molina to resign in 2015. But just four years later, after the CICIG began to investigate leading firms for illegal campaign donations, the CACIF loudly supported the CICIG's closure. In Honduras, the private sector split over whether to support anti-corruption efforts. When the MACCIH shuttered in early 2020, only a handful of business leaders spoke out.
A broader pattern tends to hold across the countries of the Northern Triangle: big, well-connected firms that finance campaigns and live off government contracts oppose anti-corruption. But with more autonomous medium-sized firms, there's hope. They have little to gain from the monopolistic status quo, and much to gain from a more level playing field. In Guatemala, these firms generate over 35 percent of GDP and 80 percent of jobs, but they lack a powerful lobbying arm like the megafirms of CACIF. The Biden administration should look for ways to empower and organize these firms. Selecting them as partners in the implementation of USAID development projects and helping them organize an anti-corruption policy agenda could be a start.  
Taking the dirty money out of politics
Illicit campaign finance has been called the "original sin" of the Northern Triangle's corruption: it entrenches corrupt actors in the public and private sectors and strengthens the bond between them. That's why the CICIG and MACCIH both made it a priority to investigate dirty money in politics. In fact, these were the investigations that shifted elite backlash into high gear. That alone should be proof of how much influence the corrupt stand to lose through thorough campaign finance reform. As long as dirty money continues poisoning elections, corrupt legislators will win elections and block further reforms.
An easy step is making sure that individuals who supply and receive dirty money end up on the U.S. sanctions list. But the Biden administration should also support audit agencies in the Northern Triangle to monitor campaign finance. Honduras set up a special campaign finance auditing body just months before the 2017 elections. Under its scrutiny, candidate spending fell by more than half from 2013 levels. Still, a lack of funding and a staff of just 42 have been major limitations. Auditors may be further from the limelight than anti-corruption prosecutors, but supporting their work is just as important.
Looking ahead
Thelma Aldana is proof of what a brave prosecutor can accomplish. As Guatemala's Attorney General, she exposed corruption at the highest ranks of government.
For a new generation of reformers to make headway, however, it will take more than brave prosecutors.  Only when they are joined by honorable judges, business leaders, and law-abiding legislators will anti-corruption progress prove lasting. Indeed, their support—and the support of Washington—will be indispensable to placing the wealthy and powerful once again within the reach of justice.