Argentina's Latest Anti-Speech Scandal: Free Press on the Rocks?
Already the most dangerous region in the world for journalists, press freedom in Latin America is under attack. A recent case in Argentina underscores the pressures journalists face in speaking truth to power.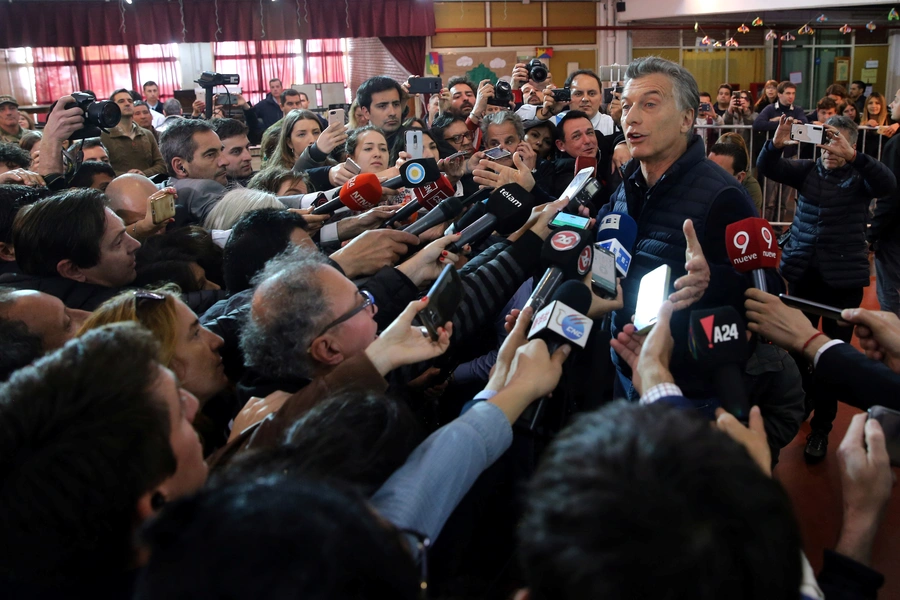 Jennifer Heiman is a master's candidate in international relations at New York University. She is also a managing editor for the Journal of Political Inquiry at NYU.
On February 22, Argentine journalist Santiago O'Donnell published a shocking exposé on the family of former Argentine president, Mauricio Macri. The article discusses a secret agreement signed by five of the six Macri children, including Mauricio, to allocate their father's inheritance. "Macri's Secret," as the article is titled, provides clarity regarding the ex-president's mysterious and convoluted inheritance of wealth. However, the article is also the latest development in a brewing conflict over freedom of the press in Argentina. It is a letter from O'Donnell to the Macri family: you cannot intimidate me.
Two weeks ago, O'Donnell was ordered by Judge Susana Margarita Gastaldi to turn over his recordings of interviews with Mariano Macri—estranged younger brother of the former Argentine president—in a pre-trial civil court decision. The 17 hours of interviews served as the primary basis for O'Donnell's book, Hermano, published in October 2020, which discusses intimate details of one of Argentina's most powerful families.
The book details instances of alleged fraud involving Mauricio Macri, as well as the Macri family's construction business. Hermano reads like a soap opera, replete with estrangement, inheritance disputes, and kidnappings of the Macri children. Most importantly, it details the rise of Mauricio Macri to the Argentine presidency. The Macri family expressed outrage over the book, and O'Donnell believes that Mauricio Macri himself led the charge to stop the book's release last October in a bid to protect his own reputation.
Judge Gastaldi's order—made with the objective to "provide certainty for the preparation of a subsequent lawsuit for damages"—originally gave O'Donnell five days to hand over the recordings to Mariano or face debilitating daily fines. When the February 9th deadline passed, O'Donnell stood his ground and waited for the decision on an appeal he filed. O'Donnell's appeal has since been accepted by the judge, suspending the deadline until the appeal is resolved.
According to O'Donnell, Judge Gastaldi's unusual decision went in the face of "all sorts of jurisprudence" in the capital, in the country, and in the international agreements to which Argentina is a signatory. Requiring a journalist to turn over confidential source information violates the rights of a free press, O'Donnell alleged, explaining why many journalists, press organizations, and even jurists have come out in opposition to the dangerous precedent that would be set by Judge Gastaldi's decision, should it be sustained.
A coalition of journalists from across the political spectrum has marshaled around O'Donnell to protect the freedom of the Argentine press and condemn this perceived threat to the profession. The diversity of support that O'Donnell—himself the foreign affairs editor of a left-leaning newspaper—has received raises the question: what led Judge Gastaldi to issue such an unusual and extreme pre-trial decision?
The answer may lie with ex-president Mauricio Macri, the power he still wields, and his history of tension with the media. Judge Gastaldi has yet to release an official statement since the order, and the reasoning behind her decision remains unclear. Her request for O'Donnell's recordings, however, challenges freedom of expression in Argentina and favors the interest of the Macri family. Depending on how the appeal process plays out, this court case could end up being a watershed for freedom of the press in Argentina.
Just as importantly, though, this case speaks to concerns surrounding wider trends of media suppression in the region. Elsewhere in Latin America, politicians and criminal groups silence a dissenting media through threats and physical violence. In Mexico, for instance, 9 reporters were killed in 2020 in direct response to their work. This represents a significant increase in slain journalists from the previous year and makes Mexico one of the most dangerous countries for members of the free press. Colombia, Honduras, Guatemala, Brazil, and Bolivia have also reported assassinations of journalists in recent years.
Although alarming, such violence is not surprising in a region where heads of state routinely denigrate and discredit journalists by accusing them of peddling fake news. Anti-media rhetoric pushes citizens to distrust journalists and has contributed to a decrease of confidence in the media in recent years. President of Mexico Andrés Manuel López Obrador's has issued harsh condemnation of the press that criticized him. The leaders of El Salvador, Nicaragua, Brazil, and Venezuela have created similarly hostile environments for journalists. These officials' attacks on free press have been compounded with cyber-harassment campaigns that attempt to censor media outlets that contest undemocratic behavior in a region where autocratic leadership has made a resurgence.
A free press remains a vital feature of democracy with its role as a check on corruption, institutional overreach, and abuse of authority. After all, the independence of the press has been essential to unearthing the region's most explosive corruption scandals, including the Odebrecht ordeal and the Panama Papers. The O'Donnell case in Argentina is one to watch, given that the future of the free press is unclear. As O'Donnell awaits a review of his appeal, his commitment to unhindered reporting remains strong. Still, he and his coalition of support may not be enough to preserve the institution against those who seek to undermine it.    
This post was edited to accurately reflect the number of journalists killed in Mexico in 2020.