Malaysia's Upcoming General Election: What to Expect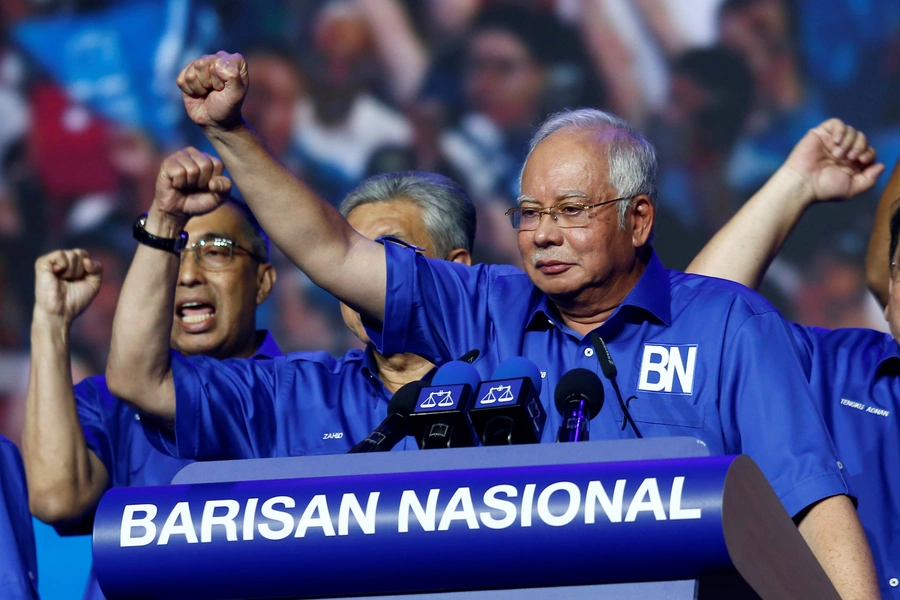 Last week, Malaysian prime minister Najib tun Razak dissolved parliament and called a general election, which will now occur no more than sixty days after April 7, the day of dissolution. Najib and other leaders of the governing coalition, which has ruled Malaysia since independence, likely set this timetable in part so the election would be held while the longtime opposition leader, Anwar Ibrahim, remains in jail. In the last national election, Anwar's coalition, a diverse group of parties held together by his personality, actually won the popular vote, although extreme gerrymandering (and possibly fraud) ensured that Najib's coalition retained control of parliament.
It would be a major upset if the opposition coalition, led by former prime minister Mahathir Mohamad with Anwar in jail, won the election this time around. It is true that the opposition made major gains in 2013, that there is significant public discontent in Malaysia with the 1MDB scandal and the other allegations of corruption swirling around the government, and – at least among urban Malaysians – that there is anger about Malaysia's outflow of capital and lack of jobs in higher-value industries. In addition, high living costs are a major problem for Malaysians of all income levels, and despite being cleared by the domestic justice system, Najib's administration still faces ongoing investigations into the 1MDB scandal in the United States and multiple other countries.
Still, Najib and his coalition are likely to win. Mahathir remains distrusted by some in the opposition, and he does not have the ability to galvanize the broad opposition coalition the way that Anwar had. The Najib government has dished out a massive pre-election budget, which is a norm in Malaysia, to appeal to voters. Under new election regulations, many districts are even more gerrymandered than in past year, further diluting the power of urban voters, who tend to support the opposition. And Najib's parliament recently passed a law against "fake news" designed to further chill political discourse in Malaysia, a country where Najib has already overseen significant crackdowns on expression over the past five years.  
Najib also has benefitted from a divide between the Parti Islam Se Malaysia, or PAS, a vital part of the opposition coalition last time, and the current, Mahathir-led opposition coalition. This divide could badly hurt the opposition in the election, leaving Najib and his allies the winners as PAS siphons votes from the opposition without winning many seats for PAS itself.
In addition, if Najib and his coalition win the election – and especially if they win by a considerable amount – they are likely to usher in an era of a much more repressive Malaysia. Najib has wielded power repressively in his current term, but in another term he could well try to turn Malaysia in a direction closer to Turkey or other more personalized authoritarian states.
However, a massive victory by Najib's coalition would not necessarily lead to a further empowerment of conservative and Islamist groups in Malaysia, which have been wielding greater political power in recent years. If Najib scores a large victory, PAS will be less equipped to extract concessions from the new government. However, if Najib does not win big, and PAS's split of the opposition is a major factor in Najib's win, PAS and its Islamist allies will be poised to make sizable demands on the government.
Finally, as James Chin notes in New Mandala, the states of Sabah and Sarawak will again play a critical role in the election. In the past, they have been virtual vote banks for the ruling coalition, and the opposition has failed to make much headway in either of these states. For Sabah and Sarawak's reliability, the governing coalition has lavished money and political power on these two states located on the island of Borneo.