Meet Amy Klobuchar, Democratic Presidential Candidate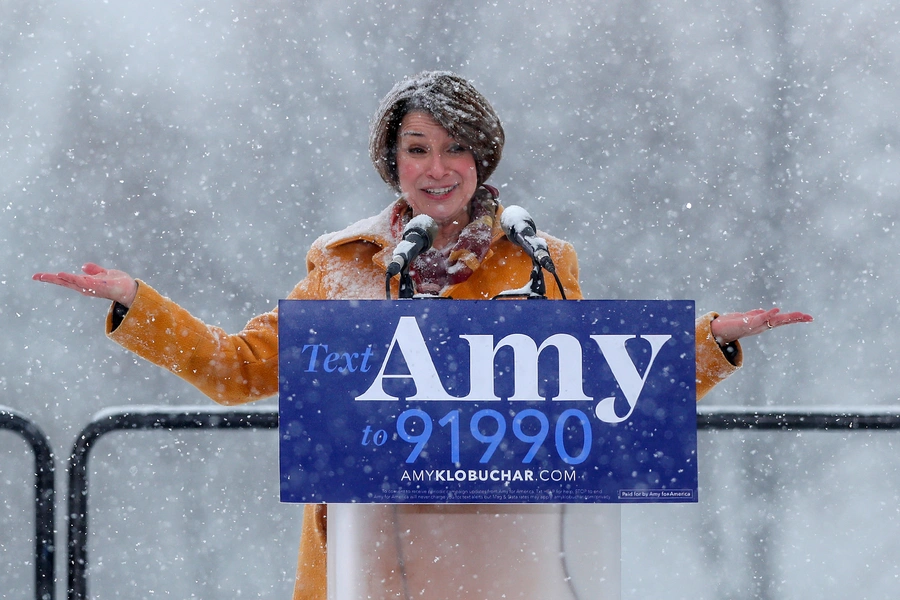 Update: Amy Klobuchar announced on March 2, 2020, that she was ending her campaign.
Harvard and Yale have a storied rivalry. Yale holds the advantage when it comes to victories on the gridiron and, at least since 1945, on the hardwood. But when it comes to who has had more undergraduates become president, Harvard holds the lead. Five of its undergrads have become president—both Adamses, both Roosevelts, and John F. Kennedy. In contrast, just three Yalies can make the same claim—William Howard Taft and the elder and younger Bush. Minnesota's senior senator, Amy Klobuchar, hopes to narrow that gap. A magna cum laude graduate of Yale College, Class of 1982, she would also be the first Minnesotan to become president. And yes, the first woman president.
The Basics
Name: Amy Jean Klobuchar
Date of Birth: May 25, 1960
Place of Birth: Plymouth, Minnesota
Religion: United Church of Christ
Political Party: Democratic Party
Marital Status: Married (John Bessler)
Children: Abigail (23)
Alma Mater: Yale University (BA); University of Chicago (JD)
Career: County Attorney for Hennepin County (1999-2007); U.S. Senator (2007-present)
Campaign Website: https://www.amyklobuchar.com/ 
Twitter Handle: @amyklobuchar
Klobuchar's Announcement
Amy Klobuchar announced her bid for president on February 10 in Minneapolis. A less hardy politician might have noted that the average high temperature in the Twin Cities in February is 26 degrees and given the speech indoors at a local sports arena or civic auditorium. The Minnesota senator opted instead to roll the dice with the weather and give her speech outdoors. She lost. Almost as soon as she began speaking it began to snow heavily. The hatless Klobuchar was unfazed. She spoke for twenty-four minutes. What is perhaps even more impressive is that some nine thousand Minnesotans braved the elements to listen to her lay out her agenda, which includes lowering the cost of prescription drugs, protecting online privacy, and rejoining the Paris climate agreement.
Unlike most of her fellow Democratic presidential contenders, Klobuchar discussed foreign policy in her announcement speech. Alluding to President Trump's America First policies, she said, "Even if you want to isolate yourselves from the rest of the world, the rest of the world won't let you. International problems come banging at your door, just as opportunities come knocking." She went on to say, "We need to stand strong and consistently with our allies. We need to be clear in our purpose. We must respect our front-line troops, diplomats and intelligence officers who are there every day risking their lives for us. They deserve better than foreign policy by tweet."
Klobuchar's Story
Klobuchar grew up in Plymouth, a suburb of Minneapolis. Her mother was an elementary school teacher and her father a columnist for the Minneapolis Star-Tribune. Klobuchar was valedictorian of her high school class. She then headed to New Haven, where she eventually graduated magna cum laude with a bachelor's degree in political science. While at Yale, she interned for fellow Minnesotan, Vice President Walter Mondale. He became her mentor.
After graduating from the University of Chicago Law School in 1985, Klobuchar returned to Minneapolis to join the law firm of Dorsey & Whitney. She concentrated on telecommunications law. In 1993, she became a partner at Gray, Plant, Mooty, Mooty & Bennett—one of Minneapolis's oldest law firms.
Klobuchar notched her first political win before she even ran for public office. Twenty-four hours after her daughter was born, Klobuchar was forced to leave the hospital even though her daughter Abigail had been born with a condition that prevented her from being able to swallow. Klobuchar lobbied the Minnesota state legislature to pass a bill that became one of the first laws in the country allowing mothers and newborns to stay in the hospital for forty-eight hours. That provision became federal law during the Clinton presidency.
Klobuchar turned to politics in 1998, winning election as Hennepin County Attorney. (Hennepin County encompasses Minneapolis and several of its suburbs, but not St. Paul.) Her fellow lawyers thought she was pretty good at her job. In 2001, Minnesota Lawyer named her "Attorney of the Year." The voters of Hennepin County agreed. They reelected her as county attorney in 2002. 
Klobuchar won an open U.S. Senate seat in 2006, making her the first woman elected senator from the "Land of 10,000 Lakes." She won reelection handily in 2012 and again in 2018.
In 2016, Medill News Service ranked Klobuchar first on a list of senators who had the most bills enacted into the law. Klobuchar sits on the Senate Agriculture, Commerce, Judiciary, and Rules committees.
Klobuchar's Message
Klobuchar likes to depict herself as "Minnesota nice"—someone who has the ability to "disagree without being disagreeable." That image took a hit as she was declaring her candidacy. Several news outlets ran stories alleging that she routinely mistreated her staff, so much so that in 2015 the Senate Democratic Leader, Sen. Harry Reid of Nevada, told her privately to change her behavior. Old stories about how Klobuchar's office staff had the highest turnover rate quickly resurfaced even as some of her staffers defended her leadership and accused critics of a sexist double standard. Klobuchar took the stories, which included one that had her eating a salad with a comb, in stride. "Yes, I can be tough, and yes, I can push people," she admitted. "I have high expectations for myself. I have high expectations for the people that work for me. But I have high expectations for this country."
Klobuchar is presenting herself as the candidate for everyone, delivering a message of unity. She also describes herself as someone who can get things done, pointing to her record in Senate and her time as Hennepin County Attorney as proof. She describes her campaign as "homegrown," saying "I don't have a political machine. I don't come from money. But what I do have is this: I have grit."
Klobuchar's Foreign Policy Views
Klobuchar outlined her foreign-policy worldview during a CNN town hall in February. She says that America's relationships abroad have "certainly been damaged" during the Trump administration and she believes "we must stand with our allies." She also said "We must invest in diplomacy," but at the same time, she believes there's a need to "modernize our military," which includes cybersecurity. She also thinks that the United States should "stand as a beacon of democracy .… To me, we must stand with our allies. We must be consistent with our foreign policy, and we must listen to our troops, listen to what the military is saying, listen to our intelligence officers."
Klobuchar fleshed out some of her national security views in an article she wrote in 2015 after terrorist attacks in San Bernardino, Mali, Paris, and Egypt. She argued against "large-scale deployment of American troops" and instead supported "intensified air strikes with our allies and the deployment of American Special Forces to help support local forces combating terrorists." She thinks "strong local and regional troops on the front lines" are necessary "to make real progress."
Klobuchar supports the Iran nuclear deal. When the Obama administration negotiated the deal back in 2015, she wrote: "While the agreement is by no means perfect, I have concluded that it is our best available option to put the brakes on Iran's development of a nuclear weapon." She thinks Trump was wrong to withdraw from the deal. "Donald Trump told us when he got out of it that he was going to give us a better deal. Those were his words. And now we are a month away from the Iranians, who claim now that they're going to blow the caps on enriching uranium …. He has made us less safe than we were when he became president. So what I would do is negotiate us back into that agreement, is stand with our allies, and not give unlimited leverage to China and Russia, which is what he has done." 
Klobuchar similarly opposes the Trump administration's decision to continue U.S. support for the Saudi-backed war in Yemen. She acknowledges that "we have an important alliance with Saudi Arabia and an important trade relationship, but that doesn't mean that you don't stand up when you see the kind of horror we have seen in Yemen and when you see the kinds of human rights violations we have seen in the death of Mr. Khashoggi." She voted first in December 2018 and then again in March 2019 in favor of legislation that would have ended U.S. support for the war. The first bill died in the House and the second was eventually vetoed by the president.
One national security issue on which Klobuchar departs from both the president and some of her Democratic presidential rivals is the U.S. military presence in Syria. She opposed Trump's decision last December, later reversed, to withdraw U.S. troops from Syria. She said at the time: "I just don't think you pull out suddenly and do this to your allies, and especially to the Kurds who we trained to fight for us and who are going to be sitting ducks there." However, she voted no when Mitch McConnell offered a sense-of-the-Senate resolution expressing concern that a "precipitous withdrawal" of U.S. forces from Afghanistan and Syria "could put at risk hard-won gains and United States national security." She then voted for the larger bill that contained the sense-of-the-Senate resolution that she opposed.
It's hard to say where Klobuchar comes down on trade issues. Her campaign website lists five broad issue areas—health care, shared prosperity and economic justice, climate, a safer world, and a strong democracy. None of them includes a discussion of trade policy. Minnesota is a farming state that has felt the consequences of the trade war with China. When the president first imposed tariffs on Chinese imports, Klobuchar said "Trade is important to Minnesota agriculture. That trade must be fair." She added that "China must come to the table and negotiate with the U.S. instead of retaliating." Klobuchar has said that some of America's trade deals needed to be revisited. At the same time, however, she is "concerned with some of the rhetoric." Her plan for her first 100 days in office refers a few times to trade. However, those mentions are secondary topics like trade with Cuba and restarting the President's Trade Council. Tariffs, NAFTA, the Trans-Pacific Partnership, and the World Trade Organization don't draw a mention.
Klobuchar has co-sponsored the Honest Ads Act. It seeks to prevent foreign interference in future elections by ensuring that political ads sold online have the same transparency and disclosure requirements as ads sold on TV, radio, and satellite. "First and foremost this is an issue of national security—Russia attacked us and will continue to use different tactics to undermine our democracy and divide our country, including by purchasing disruptive online political ads. We have to secure our election systems and we have to do it now."
Klobuchar has used her time in the Senate to try to combat human trafficking. At the 2016 Democratic National Convention she said, "As long as ISIS is selling girls for 156 dollars and parents in Nigeria are left with nothing but bows and arrows to chase a terrorist who steal their daughters in the middle of the night, we will never have a just and good world."
More on Klobuchar
Klobuchar turned her senior essay at Yale into a book titled Uncovering the Dome. It tells the story of the ten-year political battle behind the building of the Hubert H. Humphrey Metrodome in Minneapolis. (The "Dome" was demolished in 2014.) She also published a memoir in 2015 called The Senator Next Door.
Elle profiled Klobuchar back in 2010, saying "She is scary smart (and not just because she graduated from Yale in political science and then went to law school at the University of Chicago). She has managed in her first couple of years in the Senate to be disarmingly effective."
A 2014 New York Times article about rising women in the Democratic Party dubbed Klobuchar "the former prosecutor with made-for-state-fair charms."
Vogue recently called her "Personable, Popular, [and] Pragmatic" and noticed "She loves to turn a gaffe into a joke, and a joke into an opportunity to win over a crowd."
A New York Times video described Klobuchar as a "worker bee" who "isn't a centrist" but also "hasn't embraced some of the party's most progressive ideas either."
Vox profiled Klobuchar, saying "Her candidacy will likely be focused on trying to make the case for pragmatism. The question is whether her vision, or the rising progressive wing's vision, is where Democratic Party voters want to go."
Vogue wondered back in January whether Klobuchar might be the Democrats' "secret weapon."
Klobuchar answered eighteen questions for the New York Times. When she was asked where she would go on her first international trip as president, she answered: "I would go to Canada, and I would go to visit our NATO allies."
Corey Cooper, Brenden Ebertz, and Elizabeth Lordi assisted in the preparation of this post.